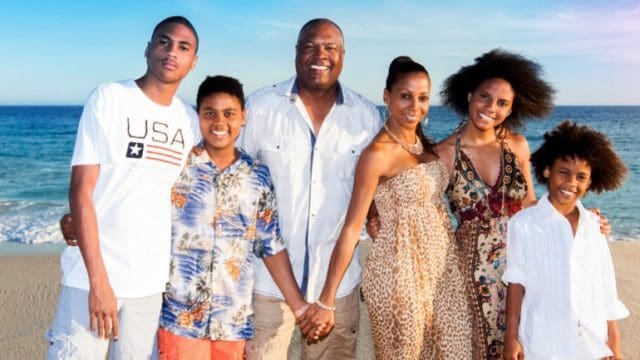 In the entertainment industry today, we are seeing dozens and dozens of reality shows taking over the silver screen, and depicting the lives of famous individuals that we hear about day in and day out. The next family to make their debut with their own reality series is that of Holly Robinson Peete and Rodney Peete, with their new show entitled 'Meet the Peetes' that is set to air on the Hallmark Channel. In this article, we are going to count down five things that are good to know before you set your DVR to the series, and tune in for all the drama and craziness that might just ensue on the show. With that said, let's get to our countdown.
Holly Robinson Peete
The matriarch of this new television family, Holly Robinson Peete, has had a very successful career leading up to the new hit series. She is an acclaimed actress who has been on four different series to hit syndication throughout her lifetime. She is also a very good singer, and has sung theme songs for various television series and films as well. She has also written books in recent years, and strongly devotes her life to her philanthropic work, which we will discuss later.
Rodney Peete
Robinson Peete's other half, Rodney Peete, is most well known for his time in the NFL, in which he played for different franchises in the sport for sixteen years. Since his retirement from the game, he has become involved with many different charities and has also written a book or two about his life. He and Holly Robinson Peete married in June of 1995.
Family's Medical History
The family has seen their fair share of medical diagnoses in the past several years, and has inspired them to change their lives and others lives for the better as well. It first began with Robinson Peete's father, famed actor Matthew Robinson, who was diagnosed with Parkinson's Disease. Then, in 2005, the Peete's were handed another battle to overcome when their oldest son was diagnosed with autism.
Other Members Of The Show
Several other family members will join Holly and Rodney Peete when the series takes off. This lineup includes the couple's four children, Ryan and Rodney (who are twins, age 20; Rodney has a mild form of autism), Robinson (age 15), and Roman (age 12). The show will also feature Holly's mother, Dolores, who lives with the family.
Charitable Work
In 1997, Holly and Rodney began their foundation, entitled the HollyRod Foundation, which initially was used to help expand the awareness and improve the quality of life for those who live with Parkinson's disease, in honor of her father. After their son Rodney's autism diagnosis in 2005, however, the couple expanded their foundation to also help those suffering with autism as well. Along with this foundation, the couple also participates with various other charitable organizations as well.
Needless to say, it seems that we can expect a lot from this family, and all of their amazing work that they do in their own lives to help others in need as well. We have officially concluded our list of the top five things you need to know before you tune in to their new hit reality series. You can catch 'Meet The Peetes' on Sunday nights on the Hallmark Channel.