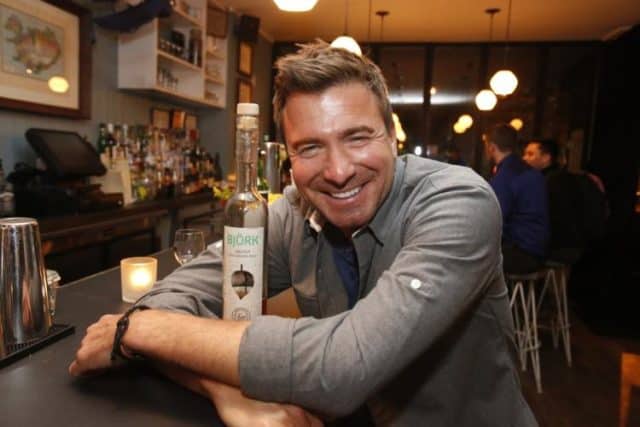 Jack Maxwell is the charming host of The Travel Channel's series "Booze Traveler". The successful show that takes Maxwell on journals around the world to discover different cultures and the use of alcohol in them has helped make the show a success. Maxwell recently announced his diagnosis and treatment of cancer last year. Maxwell has kept quiet about the diagnosis and has a positive outlook on his life which he credits, along with, his family of getting him through this difficult time.
Here are 5 things you didn't know about Jack Maxwell.
Cancer Diagnosis
In the spring of 2016 Jack Maxwell was feeling tired which he assumed was the result of his traveling for "Booze Traveler". He had some steps done in a medical clinic where his stepbrother works which revealed he had Non-Hodgkin's Lymphoma. Non-Hodgkin's Lymphoma is a type of cancer that stems from the white blood cells. Ironically, one of the symptoms of this type of cancer that typically appears is intolerance toward alcohol along with fatigue and the swelling of lymph nodes. The 54 year old Maxwell had a biopsy in April 2016 that confirmed the diagnosis. The cancer was advanced but was still treatable. He underwent chemotherapy and appears to being doing well mostly do to his positive attitude.
Outlook on the future
Despite his cancer diagnosis and treatment, Jack Maxwell has continued to film the fourth season of "Booze Traveler" which recently premiered. Maxwell says that he was surprised by the diagnosis as his only symptom was fatigue. As terribly crushing as the news was to the father of two, Maxwell credits his mother and grandmother with his positive outlook. They were strong women who were both important in his life and they taught him how to stay strong under the worst of circumstances. Much of his upbringing helped Jack Maxwell become the charming person we have come to adore on "Booze Traveler". Maxwell chose to stay quiet about his cancer diagnosis and to move forward with treatment, which he didn't find too terrible, and move forward with taping his television series with the support of his wife and kids, family and friends.
Season 4 of "Booze Traveler"
The Travel Channel's "Booze Traveler" takes us around the globe with Jack Maxwell as he discovers different cultures and the way alcohol plays in their traditiions. Maxwell, by no means, over imbibes during his journeys. The point of the show is not drinking but how drinking plays a role in different cultures. "Booze Traveler" premiered in November 2014 to positive reviews. The show has traveled to Turkey, Nepal, Peru, Spain, The Netherlands, Cuba, Ireland, Mississippi, Florida, New Orleans, Tennessee and many other international places. In Turkey, Maxwell introduced us to Raki, the grape liquor that turns cloudy before you drink it. In Peru, he introduced us to a sweet corn-based beer. In Mongolia, visitors enjoy three bowls camel milk and vodka. Do pass on this is considered rude. Each destination teaches us about the long standing traditions of a culture, exotic folklore and drinking customs.
Acting Career
Jack Maxwell was born in South Boston, Massachusetts and grew up in a tight knit family. With good looks and a charming personality, Maxwell was sure to become an actor. He began acting in 1996 and has appeared in several movies and television shows. He hosted the daily show "National Enquirer's Uncovered in 2001. He appeared in movies including 1997's "Just Add Love", 1999's "Sonic Speed", and 2009's "Irene In Time". He has appeared on several television shows including "Beverly Hills 90210", "Charmed", "Ugly Betty", "Lost", and "24" before joining "Booze Traveler" in 2014.
Future
Jack Maxwell has a healthy outlook on the future. While the diagnosis of cancer in 2016 was a blow, Maxwell did not give up. With the support of his family and friends, Maxwell got through chemotherapy, continued to exercise and work on "Booze Traveler", and carried on with life. He is happy to have gotten through this difficult year, but credits a positive outlook on not giving up. He is looking forward to the future.