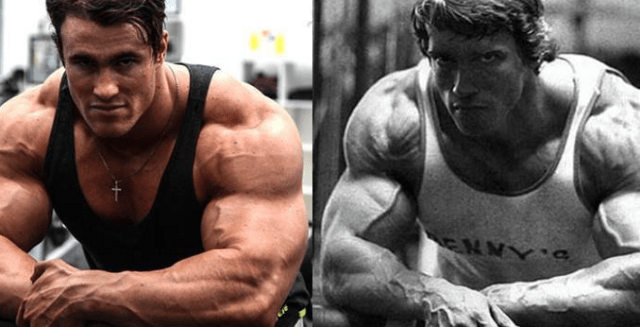 Could it be true that as the great action film star Arnold Schwarzenegger is showing signs of aging that Hollywood has found a younger version of the mega star? From all appearances, we'd say so. While we all know that there will only be one Arnold, there is a newcomer on the scene who could assume a similar role and forge his own way to superstardom. His name is Calum Von Moger. He's already built an impressive fan base but one look at him is all you need to know to understand why. Here are five things that you didn't know about the new star of "Generation Iron 2" and "Bigger" in which he plays the role of the young Arnold Schwarzenegger.
1. Calum Von Moger is Australian
With a name like Von Moger there has been speculation that the new and rising star was from the same country as Arnold Schwarzenegger, but the heavily ripped actor is of Dutch and Austrian ancestry, transplanted to the land down under. He was born in Victoria, Australia on June 9th of 1990 and he doesn't go by a nickname as many professional celebrities do. He was born Calum Von Moger. He was raised on a farm by his parents along with five siblings. He is currently 27 years old.
2. Prior to acting he was a sports professional
Calum is a world class bodybuilder and has the trophies to prove it. He came in first place at the NABBA Junior International Championships in Melbourne, Australia in May of 2011 at the age of 21. He placed thirst at the Junior Southern Hemisphere Championships in Gold Coast Australia in the same month and year. He won first place the next month at the Junior Mr. Universe competition in Baden, Austria. Two years later, Von Moger took first place at the NABBA Class 1 International Championships in Melbourne. He went on to take third place at the NABBA Class 1 Southern Hemisphere Championships in Gold Coast, Australia.
3. His father was gravely injured
Being raised on a farm with a moderately large family, Calum is close to his parents and siblings. Although he has enjoyed his share of high moments, there have also been some very low times as well. His father was severely injured in a road accident in 2007 that left his paralyzed as a result. Calum had moved to Geelong at the age of 14 where he began his bodybuilding career. He later moved to Los Angeles, California in October of 2014.
4. His weight fluctuates with the seasons
Most people are aware that muscle mass weighs more than fat, but you won't find any extra cellulite deposits on Calum Von Moger. The professional bodybuilder turned actor knows how to maintain the perfect weight for whatever is going on in his life at the time. During his on season, when he is busy with competitions, his weight is a spot on 235 pounds. During the off season when he's not as involved in competition it can fluctuate between 255 and 260 pounds.
5. He is a three time Mr. Universe winner
Calum has not taken first place in every competition that he's entered, but he has done quite well in his career. In 2013, he participated in the WFF Universe contest in Thessaloniki and placed fifth in the under 35 Superbody event. He went on the next year to win first place at the Pro-WFF/NABBA Mr. Universe contest in South Korea in 2014. The following year, he took first at the Pro-WFF/NABBA Mr. Universe competition held in La Ciotat, France in 2015.
Tell us what's wrong with this post? How could we improve it? :)
Let us improve this post!