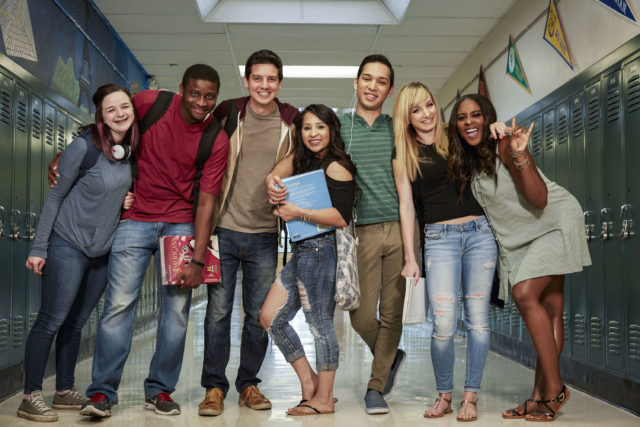 Undercover High" is a gripping A&E docuseries that follows seven young adults, ranging in age from 21 to 26, who embed themselves for a semester in Topeka, Kansas' Highland Park High School. The participants pose as typical students — attending classes and making friends for an inside look at what it's like to be a teenager today. Each with personal motivations driving them to help enact positive change, the participants, unaware of each other, arrive on campus where only the school administrators and select members of the community know their true identities and the reason for their semester-long stay. From bullying and the pervasiveness of social media to the struggle to excel in the classroom and navigate evolving social standards, participants discover the challenges and complexities, both new and familiar, facing today's teens. The season finale airs tonight at 10/9c on A&E.
The undercover adult participants range in age from 21-26 and come from a variety of backgrounds and fields
The seven undercover students who embedded themselves into Topeka's Highland Park High School came from all across the country, and each had different motivations for participating. They range from an aspiring superintendent, a youth pastor and a former teen mom, to a Kindergarten teacher and a youth advocate who runs a non-profit organization.
As a result of the show, Highland Park High School has implemented a program to control cell phone use
One of the first major revelations among the undercover participants as they entered their first classes as "new students" was the extent at which social media and cell phone use has become a distraction for teenagers. Following the series, a pilot program has been implemented at Highland Park to control this issue in classrooms via Yondr phone pouches, which create phone-free spaces without actually removing the phones from individuals' possession.
Highland Park also began a "Student Ambassadors" program, after filming for Undercover High concluded
After the series spotlighted some of the challenges new students face upon starting at the school, administrators instituted a "Student Ambassadors" program in order to help newcomers acclimate and adjust more easily to life at Highland Park.
The series is produced by production company Lucky 8 TV
Lucky 8 is a full-service production company based in New York that produces a broad range of non-fiction and unscripted television, as well as feature documentaries. The company's other current and recent projects include the docuseries Released for OWN, 60 Days In for A&E, The Real Story with María Elena Salinas for ID, Manson Speaks: Inside the Mind of a Madman for History and Secrets of the Underground for Science Channel.
Topeka Public Schools administrators are using Undercover High to help train new staff members
Administrators in the Topeka Public Schools district are now using the series for training purposes with new teachers and staff members — as the show offers unprecedented insight into the many different experiences and challenges students in the area, and across the country, are facing today.