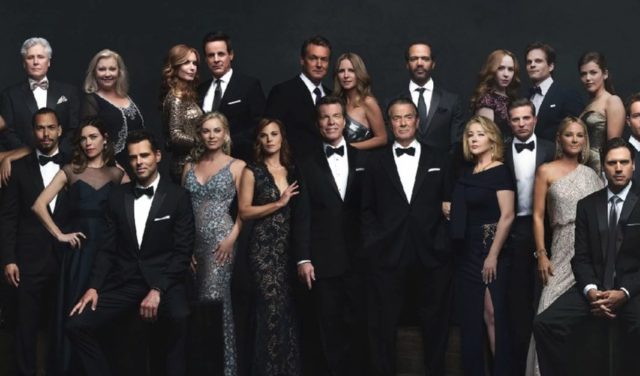 So who are your favorite soap opera actors? Who are the best? This list includes actors and actresses, though many people aren't aware that an actor technically refers to both men and women. This list includes daytime and nighttime soap opera actors since as you will see, the best of the best sometimes will come from the late developing nighttime genre. The genre of the soap opera goes back to radio broadcasts of the 1930's, and the drama/melodramas got their name because the main advertising during their broadcasts came from soap companies.
The fact that we can go back more than 50 years to come up with the list means that some worthy candidates will be left out. There will an attempt at balancing the number of men and women, but there seems to be a tendency for more women to stand out in soap operas. Perhaps one reason is that more women watched them in days gone by.
Susan Lucci
You knew this name was going to make the list. What would "All My Children" have been without Susan Lucci and her Erica Kane character? She recently showed up on a Progressive Insurance ad on TV. If there is a soap opera and culture icon of daytime television in the 20th century, it is Lucci. She has been awarded the name of "Daytime's Leading Lady" by TV Guide. When it comes to money, Lucci is no stranger to being recognized and paid for her talents, as The New York Times and the Los Angeles Times both stating she is the highest paid actor in daytime television (not just soaps). The estimates are she makes at least $1 million a year for her iconic status.
Anthony Geary
Some say Geary should be in the top 5 on anyone's list of best soap opera actors, and for good reason. His role in General Hospital as Luke Spenser dominated the soap opera genre for many years. In fact, the 1981 marriage of Luke and Laura on the soap remains the single highest rated soap show in TV history. Unlike many of the actors and actresses on the list, Geary was a Daytime Emmy darling, racking up 16 nominations and 8 wins as Lead Actor. One reason for some controversy about his number 1 ranking is that the other half of the Luke and Laura pair played by Genie Francis is equally responsible for his success. We are not going to make the call here, but like any married couple, would their success of one be possible without the other?
John Clarke
What is it like when a dominant actor leaves a soap opera? Look no further than John Clarke's departure from Days of Our Lives back in 2004. Back in 1965 he began casting the role of Mickey Horton and kept going strong for almost 40 years until his health did not allow him to continue acting. He passed away in 2010, and though he was recast by other actors, there still seems to be a part of the soap that is missing. Clarke's character represented justice, but alkso exhibited the qualities necessary to keep a marriage together. Before he passed away he was honored with a Lifetime Achievement Award from his peers of the Daytime Emmy Awards.
Erika Slezak
Erika earns a spot on this for many reasons, but what makes her stand out is how life can redirect you to success but only if you are willing to see the opportunities in front of you. In 1971, she was competing for the role of Mary Kennicott on All My Children, but Susan Blanchard won the spot. (Seriously, was anyone else even close to playing Blanchard's character?) But as it turned out, Slezak was offered the role of Viki on One Life to Live. It worked out for both of the actresses, as Erika took home 6 Daytime Emmys, a record for any female performer. Her success became a dominant force in the course of the series, as some controversy erupted between her and the show's head writer in 2007, Dena Higley. Higley no longer writes for the show, having left in 2007. Four years later, ABC announced the show's cancellation, but it hung around for another 4 years, finally ending in 2011. Erika remained its most dominating actress until the very end.
Kristian Alfonso
Many people don't know Kristian was once an Olympic figure skating hopeful until an accident derailed her hopes. But she would take on the role of Hope Williams on Days of Our Lives and return not once, not twice, but three times to reprise the role. She left once for what appeared to be greener nighttime soap opera opportunities in Falcon Crest, but when that failed she came back to her daytime home. But that return was short lived, as it lasted only 4 months before trying out a film career. For the third, and final, time she would return, and by doing so demonstrated her popularity and talent as one of the most influential actresses in daytime soaps. Maybe she can be criticized for not staying with the soap that gave her career break, but as they say, you can always come home.
David Canary
If you think the face of David Canary seems familiar even if you aren't an ardent soap opera fan, your eyes are not deceiving you. Canary was once regularly seem on the TV Western "Bonanza" and in the movie "The St. Valentine's Day Massacre." But soap opera fans will recognize him as Adam Chandler of All My Children. Canary was a fixture of the series from his first appearance back in 1983 all the way to his retirement from acting in 2010. The show ended in 2013, but when there were online episodes in the works, he agreed to reprise his role. As they say, you can't keep a good man down.
Darnell Williams
One quality Darnell brings to this list is variety. He would begin his career in 1981 with All My Children, which went for a 7 year stint, which he left to pursue other acting options, including a dance show, another soap opera, and the semi-famous TV show, "Felicity." It took him a number of years to return to All My Children but as a director and dancing coach. He would do some work with The Guiding Light, but end his soap opera tour by returning to All My Children in 2007. Unfortunately, the show was cancelled only one year later, but Darnell left his mark as the oldest contracted male actor cast member of the show, second only to You Know Who (Susan Lucci).
Peter Bergman
Where would the Young and the Restless be without the Abbott-Newman feud? That is a question that cannot be answered because Peter Bergman has been around not only on the Young and Restless but having spent some time on competitor All My Children. But his commitment to his soap opera fans has not escaped the attention of those giving out Daytime Emmy awards. Consider that Bergman was nominated an insane 18 times consecutively (1983 — 2002) for Lead Actor and took home 3 Emmys. Now that may not seem like a high batting average, but when you consider the other names on this list it is quite an impressive accomplishment.
MacDonald Carey
For those of us old enough to remember, who can forget that voice for the introduction to Days of Our Lives? "As sands through the hourglass, so are the days of our lives." That voice was McDonald Carey, who in a bit of irony was also influential in the entire soap opera industry at one time. If there is one word that sums up Carey's influence on daytime soap operas, it is "legendary." Though Carey is gone from the series, his fingerprints are everywhere to be seen in its most recent episodes. He earned two Outstanding Actor Daytime Emmy awards in consecutive years — 1974 and 1975. Carey is an example of why awards are not the only measurement of success in the soap opera genre.
Robin Strasser
A fun fact about Robin was that her birth name is actually Robin "Victory in Europe" Strasser. She was born on the day of Germany's surrender in WW II. But her career spans a number of soaps, and her talent is unquestioned. Along the way she has been a founder of the American Conservatory Theatre and been awarded the honor of Dame of the Imperial Court of New York. She has paraded through a number of soaps, including the sometimes-forgotten Another World, All My Children, and of course, One Life to Live. The more familiar awards to soap opera devotees she has earned are the Daytime Emmy for Outstanding Actress in a Daytime Drama Series (1982) and a nomination for the award in 1981, 1983, and 1985. Soap Opera Digest gave her nominations for her role as Dorian 1986, 1988, 1994, 1995 and 2005. She finally was given the award in 1996 for Outstanding Lead Actress.
Michael E. Knight
Knight, like some other actors on this list, tried to use daytime soap operas as a springboard to success in other areas of acting. And like many others, he discovered that his true calling was to be a mainstay on daytime television. He started out on All My Children, then moved to thatre, acting in several Broadway and off Broadway plays. After an on and off relationship with All My Children for almost 30 years, he was recognized by his peers, taking home both Daytime Emmy and Soap Opera Digest awards, including Outstanding Younger Leading Actor in both 1986 and 1987. Knight was not yet finished with soaps, as he moved over to The Young and the Restless in 2015.
Deidre Hall
Hall may best be described as a talent who was torn between two lovers in real life. Thiose two lovers were daytime and primetime television series, a feat that she once thought she could handle. But in the end she had to choose. She opened as Dr. Marlena Evans in Days of Our Lives in 1976, a part she admitted she thought she had zero chance in getting. But it never hurts to try, and it was that role that launched her to daytime stardom. How popular was she? When the series had begun rumors that her character was going to be killed off in 1979, her fans loudly protested the thought of such an event. She left Days of Our Lives in 1987 because her working and family schedules proved too much to handle. She would return to the soap in 1991 and stay on for the next 18 years.
Laura Wright
Laura may be the one person on this list who can be said to require some convincing to make a lot of money and stay on to keep her fans happy. Social media can said to have a hand in this. After appearing on The Guiding Light for 8 years, she moved to General Hospital where she was welcomed with open arms in 2005. She had announced several times that she would be calling her daytime soap acting career quits, citing family preferences. She changed her mind first in 2009, then a second time in 2013 where she is under contract through 2017. We often talk about persistence of acting, but the persistence of fans in this day can never be underestimated!
Susan Blanchard
There are many reasons Susan makes the list, but perhaps the most compelling is that there is no one who could better play the role of Mary Kennecott on All My Children than her. She has to beat out another A-lister that also made this list, which says something about her unique acting talent. In fact, her and Jeff may be considered to be the couple that best defined "soapy" for the genre. She would take that same soapiness to an episode of M*A*S*H* as a nurse who appeared to be overly sensitive and unable to handle the responsibilities of a nurse.
A Martinez
Martinez can be seen in many places on television and in the movies. His credit come from both nighttime soaps such as Falcon Crest and daytime soaps such as General Hospital and The Bold and the Beautiful. His appearance on this list is largely due to the wide variety of characters he has played both on soaps and in other melodrama genres. He has earned not only a Daytime Emmy award, but also 3 awards from Soap Opera digest for his many roles.
Jeanne Cooper
One of the soap opera groundbreakers on this list is Jeanne Cooper. Her character on The Young and the Restless challenged a number of TV soap taboos, as her character Katharine went through serious issues with alcoholism many times, had a severe stroke as a result of those bouts, kept becoming a widow over and over (4 times total), and had a child given away after its birth. But she went beyond character issues, actually having a facelift done on CBS as part of the episode. Through all this she racked up ten Daytime Emmy nominations, of which 9 were for Outstanding Lead Actress. Add to the total 2 Primetime Emmy nominations, a Lifetime Achievement Award from the Daytime Emmys, and a star on the Hollywood Walk of Fame.
Larry Hagman
Ditto for Hagman as he played J. R. Ewing in the 1970's nighttime soap opera "Dallas." It is hard to imagine Dallas being a success without Hagman. They tried a reboot of Dallas a few years ago and it expectedly flopped, largely because of the absence of Hagman. He accumulated a considerable amount of acting hardware for his efforts, which included him being the only character on the Dallas series to star in every one of its 357 episodes. He earned 2 Emmy nominations without winning (they must not like villains), 4 Golden Globes, and perhaps most importantly, the Soap Opera Digest award 7 times for Outstanding Villain on a Prime Time Serial. For all his nominations he took home only 5 awards, which given the current interest in the soap opera seems completely unfair.
Teri Hatcher
Though Hatcher had parts in movies like "Tango and Cash" and also made appearances on "Seinfeld" it was her "Desperate Housewives" role that made her a household name. But her role and her lack of collaboration with the other actresses on the show brought some controversy with it that remains to this day. Eva Longoria, Felicity Huffman, Marcia Cross, and Vanessa Williams, the other stars of the soap, all maintain to one degree or another that Hatcher was visible distant from them before, during, and after shooting. The question is whether it was a matter of professional jealousy or was Hatcher impossible to work with? Teri brings along considerable acting success prior to and after the series ended, and continues her success today. Despite all the rumors and kerfuffle, she has earned a spot on this list.
Ellen Pompeo
Though she has recently announced that her days as Meredith Grey are coming to an end, Pompeo will always be remembered as one of Grey's Anatomy's finest actresses. The good news is that because she has become a star in the 21st century she has been well-rewarded for her efforts, not only in acting hardware but also in her bank account. She was recently listed as the 4th highest paid actress in 2016, coming in at an estimated $350k per episode. Nominated 5 times for the People's Choice Awards she has won 3 times. What is interesting about Pompeo is that she doesn't have a problem not getting a significant amount of awards because the cast of Grey's Anatomy has taken away a number of ensemble awards. Whether the surrounding cast has made her great or she has made them great is something that can be debated, but with her announcement of her planned departure the doubts will soon be cleared up.
Susan Haskell
The last actor on this list and the only one to be fired, is Susan Haskell. But she left some of the most memorable scenes in the minds of viewers during her 10 year stint. One of those scenes was where she was gang raped has bene described as "one of the show's most remembered and impactful." For her efforts, she picked up a number of daytime awards, including Outstanding Supporting Actress in 1994 and Outstanding Lead Actress in 2009. She was fired on June 6, 2011 (D-Day).
All of the actors and actresses on this list deserve a spot for a number of reasons. Not only are their acting talents unique, but those talents carry over into the roles they play. For many of those on this list, it can be asked whether the popularity and success of the show as a whole is largely dependent on their individual talents.
There is also much to be said about the ambition of these actors. Many exited stage right from their success to try and be even more successful in other areas of acting. Interestingly, many, if not most, came back home to where their first love and fans were. Do not make the mistake that these actors and actresses were forced to come back out of desperation. Many of them simple knew where their place in acting was.
Tell us what's wrong with this post? How could we improve it? :)
Let us improve this post!