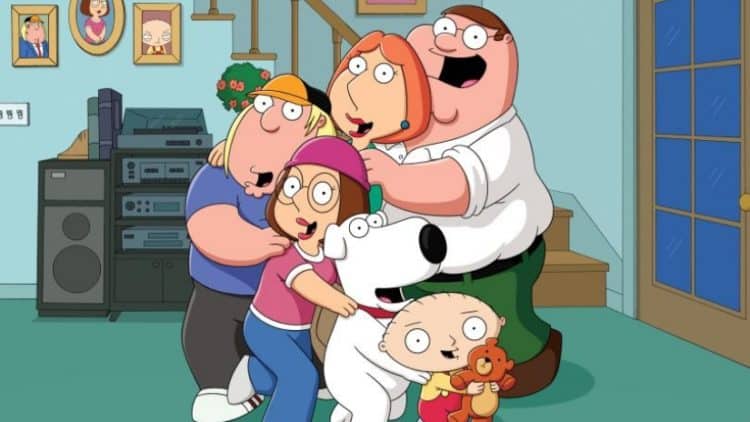 Family Guy isn't usually one of the shows that people go to when they want to see sentimental moments, but there are still plenty of times when the show manages to tone down on the jokes for a few moments so that some real emotion can come seeping through. Obviously the jokes kick off not too long after this, but the fact is that Family Guy does show a bit of feeling now and again and has been a little better for it, though don't go thinking that it would ever become another Little House on the Prairie kind of sap since the show just isn't built that way. It is kind of a nice break every now and then when the show has managed to create a very real sense of emotion between the characters, but it's not bound to last for more than a minute or two since if that was the case the show might not have lasted for this long. Obviously the Griffin's have a huge laundry list of issues that need to be worked out by a team of skilled and hardened therapists, but now and again, they do manage to make it appear that they care about one another in a very genuine way.
Here are some of the deepest moments of Family Guy.
5. Quagmire's speech to his sister
This episode actually put the show in hot water since domestic abuse isn't something that really gets laughed off that easily and since Quagmire's sister was being beaten severely and in front of people no less, it's kind of hard to say that the show had any ground to stand on. Let's just leave it that any self-respecting individual who saw their sister being beaten would have been breaking down the door pretty quickly and the boyfriend would have mysteriously disappeared a lot sooner. Some might ask 'what about her feelings?'. To that, it feels as though Quagmire might have been able to take care of his sister until she was able to support herself. Yeah, kind of dark, even for Family Guy.
4. Brian writes an article about Meg
A person that's never seen the show would be among the only people in the world that didn't know that Meg is constantly taking abuse from her family, be it actual physical abuse in the form of a joke, or psychological abuse since she's the whipping post of the Griffin clan. But when she gets sent to a correctional facility and comes out hardened Brian decides to write an article detailing just why she's far tougher than people think and why she was fine just the way she was. It's kind of hard to say that seeing Meg as a tough person was a bad thing since it's obvious that she'd whip her family into shape, but it's also possible that she'd take things too far.
3. The issue between Stewie and Olivia
The wedding of the toddlers was disturbing in a way, but when Olivia visits Stewie one last time to see how he's doing and finds out that he's gone off the deep end the moment gets really solemn as she walks back to her limo. The fact that she turns out to be the famous and talented one and Stewie is basically just Stewie without her is kind of depressing really since no one ever thinks of someone Stewie's age having a breakdown, but it's fair to say that someone in the world might think that it's entirely possible.
2. Lois has to put her brother back into a mental institution.
When Lois finds out she has a brother she naturally wants to get to know him, but when she finds out that he strangles fat people as a compulsion she has to make a tough choice since Peter isn't exactly safe in the presence of her sibling. It's actually a pretty emotional moment when she has to re-admit him to the mental institution, which is something that the show has been able to get better at each time it has to use some real emotion to make a scene work. Of course, they usually have to go through something completely messed up to get there, but the point is that it still happens.
1. Quagmire's daughter
The way Quagmire behaves one would think that the last thing he needs in his life is a kid, but somehow he ends up falling in love with his daughter, in a good parental way thankfully, and can't bear being away from her. But really, how good of a father would Quagmire be? That's hard to say since we only get to see his emotional side every now and then, otherwise it's all about sex and sarcasm.
For such a snarky show it's pretty easy for Family Guy to get deep sometimes.
Tell us what's wrong with this post? How could we improve it? :)
Let us improve this post!