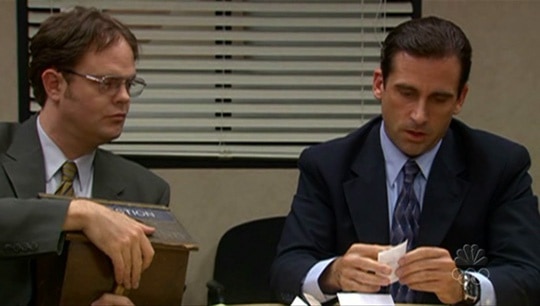 The Office is the kind of show you watch when you're into reality shows but don't care for the contrived manner that they tend to follow. It's a reality in a way, but it's also still a sitcom that's being filmed for a specific purpose that a lot of people have guessed at over the years. Many upon many people have come up with their own theories about the show over the course of its many seasons, but there are a few aspects that get decidedly dark, and that are for the most part ignored to focus on the funny and more endearing qualities that the show pushed. It's safe to say that a lot of viewers wanted to focus primarily on the comedy and the storylines that were delivered that didn't make them feel depressed or as if the show had a much darker side to it. There is evidence of this however in many episodes, though there are definitely moments when the show gets a little too dark for its own good. These are the times when people either ignore the more depressing aspects or make a mental note of it and might come back to view it again to see if they might have misinterpreted the moment.
Here are some of the darker moments of The Office.
5. The idea that Tom, a disturbed employee, was just shrugged off.
Michael is a bit insensitive, that much was made clear early on in the show, and he's a bit of a moron now and again. But when opening the box of suggestions and finding one by an employee named Tom, who he didn't remember, it gets worse when he's told that Tom killed himself. Apparently Tom, who was suffering from depression, made a suggestion that there be a greater outreach program put in place for employees that needed it. Michael's dismissal of this is pretty bleak since despite being a comedy it's something that people who have suffered through depression might take the wrong way.
4. The Office is basically Jim's story.
This would explain why he gets to look at the camera so often, though he's not the only one obviously. But it would also go a long way towards explaining why his arc is one of the most noticeable. It's not really dark until one gets to thinking that it might be a bit of revisionist history in Jim's case since he might be taking in the information that makes him look the best and ends up making everyone else look like a fool at some point or another. It would also be a great explanation of why Dwight comes off looking the way he does since in Jim's estimation Dwight is little more than an annoyance.
3. Michael's attitude towards Toby is definitely dark.
Let's be honest, Michael's attitude towards Toby is just horrible. When a coworker says that if he were stuck somewhere with Osama bin Laden, Saddam Hussein, and their coworker and given a gun and two bullets that they would shoot their coworker twice, there's a bigger issue at work. Why Michael didn't like Toby has managed to amass a number of theories, some that hit home and others that are a bit outlandish, but the point is that he's rarely acted polite or even appropriate towards Toby. This tends to make Michael look like the bad guy at times since Toby doesn't really do anything to deserve this kind of behavior.
2. Kevin and Phyllis' obesity is kind of ignored.
In all honesty, obesity can be hilarious and turned into a funny trope that has become something that Hollywood has taken a firm hold of throughout the years. But many people would advise caution when using obesity as a comedic tool that often since it is a real condition that many people warn isn't to be taken lightly. It's also a fairly negative thing since Kevin is a habitual eater and no one really appears to care that much about whether or not they get in shape or stay the way they are. It's dark in a way, but it really depends on the perspective of those that decide to comment on this aspect.
1. Creed is decidedly dark in a weird, twisted sort of way.
Creed is just odd, that's about all that needs to be said since the things that come out of his mouth from time to time are enough to make anyone do a doubletake when trying to understand him. Plus, his demeanor and his attitude are so far out there that trying to gain any comprehension of what he's all about is something that would likely require an on-call psychiatrist and a medical journal on hand to understand the terminology that applies to his condition.
The Office is pretty dark at times, but somehow the comedy glosses over it now and again.