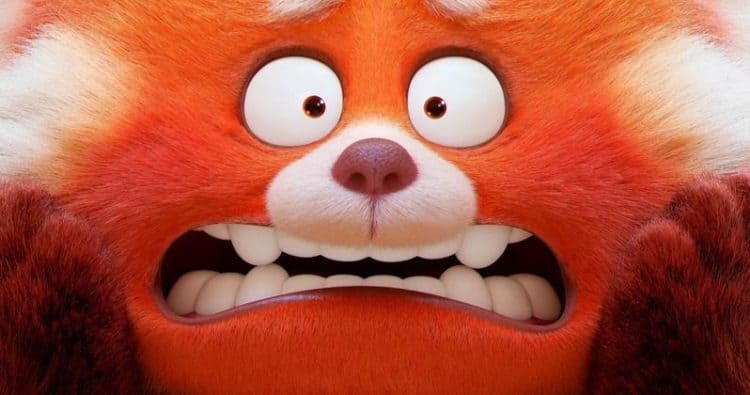 The latest Pixar movie Turning Red had its world premiere on March 1 and was released on the Disney+ streaming service on March 11. It was directed by Domee Shi, in her feature directorial debut, and written by Shi and Julia Cho. The film features the voices of Rosalie Chiang, Sandra Oh, Ava Morse, Hyein Park, Maitreyi Ramakrishnan, Orion Lee, Wai Ching Ho, Tristan Allerick Chen, and James Hong. As Pixar's 25th feature film, Turning Red is the first Pixar film solely directed by a woman. The film is set in 2002 in Toronto, Ontario, and follows 13-year-old Chinese-Canadian student "Mei" Lee, who wakes up one day as a giant red panda. It turns out that she turns into the cuddly giant red panda when she experiences strong emotions and this ability to transform has been passed down through generations on her mom's side of the family. The film has received generally positive reviews giving special mention to the film's take on the female experience and on puberty. New York Times published an article about how the film is a good conversation starter.
They interviewed child and adolescent psychologists, a sex educator, and some parents to understand more about how parents could use the movie in family conversations. Judith Smetana, a psychologist at the University of Rochester who studies the relationships between parents and adolescents, shared how the film provides "a really good representation of adolescent-parent relationships and adolescent development. She added that the issues portrayed by the film are real and these open up "an opportunity for discussion." The Guardian also praised the film for its portrayal of Y2k boyband fandom saying, "Turning Red works because director Domee Shi takes boyband dynamics seriously, and the hyperbolic and self-aware qualities of fandom. 4*Town are a delightful and heavily referenced confection." If you enjoyed Turning Red as much as we did, here are five more movies to watch that tackle issues on growing up, fitting in, and friendship.
Brave
Another Pixar film that shares themes about a curse and a special bond between mother and daughter is the 2012 computer-animated fantasy film Brave. It was directed by Mark Andrews and Brenda Chapman and co-directed by Steve Purcell, with the screenplay by Andrews, Purcell, Chapman, and Irene Mecchi. The film features the voices of Kelly Macdonald, Billy Connolly, Emma Thompson, Julie Walters, Robbie Coltrane, Kevin McKidd, and Craig Ferguson. The movie is set in the Scottish Highlands and tells the story of Princess Merida who defies the set customs of her kingdom leading to chaos and conflict with her mother. In Merida's desire to carve her own path, she asks help from a witch but her granted wish leads to a beastly curse that she must undo. Merida is Pixar's first Disney Princess and Brave received generally positive reviews. The film won the Academy Award, the Golden Globe, and the BAFTA Award for Best Animated Feature Film. In a review published by Common Sense Media, they wrote, "The emotion between mother and daughter is remarkably genuine and believably fraught; even when Elinor is in bear form, she's still fussing at Merida to get her weapon off their makeshift dinner table."
Inside Out
The 2015 American computer-animated film Inside Out also portrays the experience of growing up and embracing change just like Turning Red. The film is written and directed by Pete Docter, with a screenplay by Meg LeFauve and Josh Cooley, based on a story by Ronnie del Carmen. The cast includes the voices of Amy Poehler, Phyllis Smith, Richard Kind, Bill Hader, Lewis Black, Mindy Kaling, Kaitlyn Dias, Diane Lane, and Kyle MacLachlan. The film follows a young girl named Riley who struggles to adjust when she and her parents move from Minnesota to San Francisco. The movie centers on the five personified emotions inside Riley's mind: Joy, Sadness, Fear, Anger, and Disgust who try their best to be in control and help Riley cope with the changes she is experiencing. Inside Out received critical acclaim and won Best Animated Feature and received two other nominations at 88th Academy Awards. It also earned fourteen nominations and won ten awards at the 43rd Annie Awards and won Best Animated Feature Film at the 73rd Golden Globe Awards. New York Times wrote a review of the film perfectly describing how both adults and children can enjoy the film. "Inside Out" is an absolute delight — funny and charming, fast-moving and full of surprises. It is also a defense of sorrow, an argument for the necessity of melancholy dressed in the bright colors of entertainment. The youngest viewers will have a blast, while those older than Riley are likely to find themselves in tears. Not of grief, but of gratitude and recognition."
Luca
The 2021 Pixar film Luca is another coming-of-age film that focuses on the struggles of fitting in and embracing your true self. The film was directed by Enrico Casarosa (also his feature-length directorial debut), written by Jesse Andrews and Mike Jones, from a story by Casarosa, Andrews, and Simon Stephenson, and produced by Andrea Warren. It features the voices of Jacob Tremblay and Jack Dylan Grazer, with Emma Berman, Saverio Raimondo, Marco Barricelli, Maya Rudolph, Jim Gaffigan, Peter Sohn, Lorenzo Crisci, Marina Massironi, and Sandy Martin in supporting roles. The film is set on the charming Italian Riviera and follows the young sea monster Luca. With his ability to transform into a human while on land, he one day decides to explore the town of Portorosso and meets an older boy named Alberto, who is also a sea monster. The two become best friends and together go on an adventure as they try to fit in among the humans in the town of Portorosso. The film received generally positive reviews and the film has been nominated for Best Animated Feature at the 94th Academy Awards. Disney+ also released a related short film starring Alberto, titled Ciao Alberto, last November 12, 2021. In a review by The Guardian, they wrote, "There's kinship here with Finding Nemo and with Studio Ghibli's Ponyo, both in the marine setting and in the fact that it plays to the younger end of the audience spectrum. But while Luca might lack some of the dizzying inventiveness that marks out top-tier Pixar, it's packed to the gills with charm."
Booksmart
The 2019 American coming-of-age comedy film Booksmart, directed by Olivia Wilde from a screenplay by Emily Halpern, Sarah Haskins, Susanna Fogel, and Katie Silberman, has similar themes with Turning Red. It stars Beanie Feldstein and Kaitlyn Dever as best friends Amy and Molly who are about to graduate high school. Being goody-two-shoes throughout their high school life, the two decide to break the rules and party on their last day of classes just like how Mei Mei embraces her fun side in Turning Red. Jessica Williams, Will Forte, Lisa Kudrow, and Jason Sudeikis also appear in supporting roles, and Will Ferrell and Adam McKay as executive producers. The film received generally positive reviews and praise for the lead performances with Feldstein receiving a nomination for Best Actress – Comedy or Musical at the 77th Golden Globe Awards. In a review published by Vox, they described how the film stands out from other right-around-graduation movies such as Can't Hardly Wait and Dazed and Confused. "Booksmart feels like an evolution for the genre. That's probably because it focuses on more than just Amy and Molly (though Feldstein and Dever are hilarious and pitch-perfect in their roles). A rich cast of teens proves that neither virtue nor vice exclusively belongs to one social group."
The Edge of Seventeen
The 2016 coming-of-age comedy-drama film Edge of Seventeen, written and directed by Kelly Fremon Craig in her directorial debut, stars Hailee Steinfeld, Woody Harrelson, Kyra Sedgwick, and Haley Lu Richardson. Just like Mei Mei, high school junior Nadine is facing the struggles of growing up. For Nadine who is at the peak of her awkwardness, things become more difficult when her older brother starts dating her best friend making her feel alone in facing the challenges of adolescence and high school life. In an article by New York Times, they shared how the film deserves a top spot for teen movies saying, "To call "The Edge of Seventeen" one of the best films about high school kids in 25 years isn't to say it's a masterpiece. In its raw honesty, it barely begins to approach Marielle Heller's far tougher, more realistic "The Diary of a Teenage Girl," whose sexually curious 15-year-old title character entices her mother's boyfriend into a clandestine affair. But it can hold its own against "The Perks of Being a Wallflower," "Clueless" and other movies that have raised the bar on teenage movies."
Tell us what's wrong with this post? How could we improve it? :)
Let us improve this post!