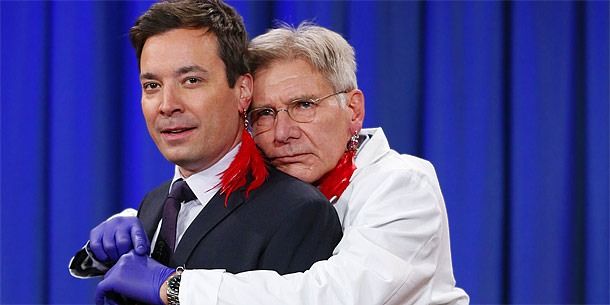 Harrison Ford is one of the funniest actors in the business. Although he can come across as being serious, there is a comedic side that seems to always shine through. We've enjoyed watching him perform on the big screen, but some of his funniest moments have been in the appearances that he's made in various talk shows. Here are five of the best.
1. Harrison Ford discusses his plane crash
Ford recently had a close call when he crashed his airplane. He's a licensed pilot, and when Ellen DeGeneres asked him about the incident on her talk show, the serious topic turned into a riot. The best part of the interview was when Ellen disclosed that she was riding in a helicopter that he was flying several years back and a film producer casually mentioned that he wasn't licensed to fly it. This is a must see.
2. Harrison Ford Pierces Jimmy Fallon's Ear
Ford gives a hilarious performance with Jimmy Fallon, host of the popular talk show in one of the most off-the wall scenes we have seen from him yet. Dressed in a lab coat as though ready to perform surgery, Ford pierces the ear of a petrified Jimmy Fallon. He urged Fallon to ask the question, "What's the worst thing that could happen to me? Could I get an infection?" Ford responded to the question that he posed and stated, "Nah – you could bleed to death." Ford, pepped Fallon for the procedure and got to business. We can hear Fallon squealing throughout the process as Ford mumbled, "What a puss."
3. Harrison Ford settling a dispute with Chewbacca
This is a hilarious skit that begins with Chewbacca atop the studio rooftop getting ready to jump. He's despondent over an affair that has been going on between co-star Harrison Ford and himself. As Jimmy Kimmel tries to talk him off the roof, Chewbacca attempts to tell him what's going on but Kimmel can't understand him. After a few repeats, Harrison Ford shows up in the crowd. When Kimmel explains he's going to jump, Ford says, "good." When Fallon chastises him, he returns and grabs the megaphone and encourages Chewie to jump, alluding to a situation where he may have had an inappropriate relationship with Ford's wife.
4. Ford demonstrates his "Star Wars" injury using a Han Solo doll
Jimmy Fallon asks about the broken leg that Harrison Ford sustained in the filming of the last instalment of the "Star Wars" franchise. His performance is hilarious as he tears the leg off the doll in a hilarious demonstration of how his leg was injured. He placed the blame on director J.J. Abrams and at the mention of the name, he spits his drink all over the set.
5. Harrison Ford on being bored as an actor and dressing in drag – The Graham Norton Show
In this hilarious segment Norton kicks the conversation off with the fact that Ford is a carpenter in addition to being an actor. Ford replied that he was an actor first and became a carpenter because he was bored with the gigs he was pulling. The best comes next as Norton shows a clip of ford on Halloween dressed in drag.
Save
Tell us what's wrong with this post? How could we improve it? :)
Let us improve this post!