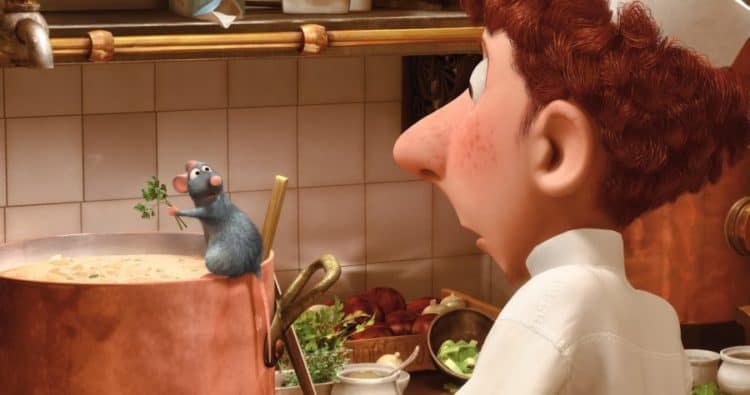 Paris is not only the city of love. It is also the city of food. The capital of France is probably the gastronomic centre of the world, hosting over 100 Michelin star restaurants and containing four entrants in the culture-making World's 50 Best Restaurants list. Ranging from traditional steakhouses to small bistros to upscale haute cuisine, Paris really has it all when it comes to high quality food.
As a result, various films about Paris have portrayed its rich food culture, using the art of cooking to express deeper things about love, ambition and self-actualization. Featuring uniquely French dishes like L'escargot, Coq au vin, Beef Bourguignon, Soupe à l'oignon and yes, of course, Ratatouille, as well as far more complex and regional dishes, these films will make you want to book a flight or (if you live in Europe) a train right away!
To help you learn more about Paris and food in the movies, we have created a list of five films that we believe are essential. Spanning from the ultimate rags-to-riches tale to a New Wave short to high-end farce, these portrayals of Paris and food in the movies are essential for anyone who claims to be a true lover of their gastronomic culture. Read on now to see what we've picked.
Julie and Julia
Julie and Julia features one of the most delightful performances by Meryl Street as a younger Julia Child, who would later go on to become one of America's most famous TV chefs. Attending Paris as the wife of her diplomat husband, she studies at Le Cordon Bleu – a world-famous cooking institution – as the only woman in her class.
She clashes with her superiors, yet her talent for knocking out great dishes seems unquestionable. As a result she starts collaborating with two of her friends on a book entitled Mastering the Art of French Cooking – one that would go on to reshape America's relationship with gourmet cuisine. This story is contrasted with that of Julia (Amy Adams), a food blogger back in the USA who tried to cook through all her recipes. The result is a brilliant cinematic confection that deeply ruminates on the nature of success and perseverance against the odds while showing the great complexity of French dishes and the joy found in mastering them.
Ratatouille
It was inevitable that Ratatouille would be on this list. The Pixar animation remains not only the quintessential portrayal of Paris, but also one of the finest animated films ever made. A true tale of social mobility, the Brad Bird-film tells the story of Remy, who wants to be a chef. He has a great talent for cooking, a strong knowledge for ingredients and an even greater will to make fine dishes. The only problem: he's a rat!
Landing accidentally in Paris, he gets tangled up with Linguini, who, despite working at the famous Gusteau's restaurant, actually knows very little about food. Together they figure out an ingenious scheme to make Remy the top chef in the business, fighting ingrained prejudice against the way. It reminds us that great cooking can come from anywhere, and that the worst thing in the world one can do is be biased based upon appearance rather than talent.
It also boasts the finest critic in cinematic history in the form of Anton Ego, who delivers an brilliant, heartrending speech on the importance of criticism, making Ratatouille that rare bridge between those who create and those who write about art.
Haute Cuisine
Inspired by the true story of the woman who was François Mitterand's Private Chef, the French-language film Haute Cuisine explores what its like to cook inside the Champs–Élysées. As food in France is seen as a source of national pride, it makes sense the most powerful man in the land eats its best food.
Like Anton Ego and his love of ratatouille, this fictional French president like simple and authentic dishes, bold on flavour and low on sophistication. Our chef hero wants to get this right, insisting that they source very specific local ingredients from her Périgord region, especially truffles and cep mushrooms. This leads to much clashing with the Palace's administration, who are more concerned with cost-cutting and dietary requirements than celebrating great food. The result is a fascinating exploration of what it means to do authentic work in the face of adversity.
L'Opéra Mouffe
To source great ingredients, chefs are up in the early hours of the morning to check out the local markets. Agnes Varda's short film L'Opéra Mouffe, filmed in Rue Moufftard, starts with a huge squash being chopped in half before showing us multiple shots of fish, potatoes, onions and more.
This food is tied to themes of pregnancy, used as metaphor for childbirth and female dislocation. Only running 16 minutes, it displays Varda's great eye for faces as well as her preoccupation with reversing the male gaze to focus on contemporary motherhood. It ends with an absurdist touch, featuring a young woman eating a flower; as if to comment on the way that beauty can be all-consuming. A complex, fiendish work, it is a must-see for fans of the iconic Belgian filmmaker.
Who is Killing The Great Chefs of Europe?
Parisian chefs are known for their ego. Who Is Killing The Great Chefs of Europe? skewers it like no other food comedy. It tells the story of a serial killer who kills chefs in the style of their signature dishes. After one cook is roasted like a goose in London and another is laid to rest with the lobsters in Venice, the Parisian cooks are nervous that they will be next.
This leads them to a central conundrum: would they rather be killed or would they rather live knowing that they aren't a great chef? Easily the funniest film on this list, this comedy mystery has a famous pastry chef and her ex-husband on the hunt for the killer, with an enormously fat food critic, played by Robert Morley, offering endless put-downs and reflections on why eating is the best thing in the world. An essential watch for all food lovers.
Tell us what's wrong with this post? How could we improve it? :)
Let us improve this post!