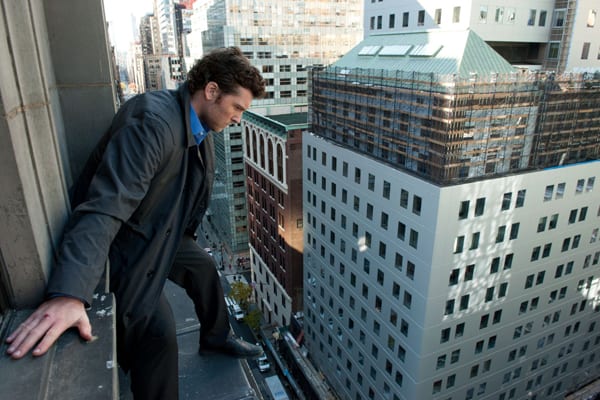 Only if you are a thrill seeker would you try to stand on the ledge or the edge of tall building, otherwise people tend to think that you're suicidal and need to be talked down. In the movies this can go a couple of ways. The person doesn't want to talk and just finds their own way down, ouch. Another way is that there's something down there to catch them but there's that pesky idea that the person can move faster than the people below can move their flotation device. And then there's the idea that someone will talk them down by convincing them that they have something to live for. In the movies, every avenue is explored, and technically they all work for getting the person down.
Shall we see how it works?
5. Lethal Weapon
You don't want Martin Riggs talking to a suicidal man. He's a cop that's already on the edge and can snap if a twig breaks so sending him out to talk to a guy that's already jumpy, nervy, and standing on the edge of a building to boot isn't exactly the type of scene that Riggs needs to be in. And yet guess where he goes, and then guess what happens, it's kind of the law of physics when crazy meets gravity.
4. Van Wilder
Remember the days when the guy playing Booger would have been picking his nose while watching and waiting to see if the guy would actually jump? Now he spills his morning coffee or juice and acts like a responsible security guard. What is the world coming to? So Van didn't exactly talk the kid down in the traditional way, but he did get down safely.
3. Yes Man
How many people in this world would go to the length of serenading a person back off the ledge with the use of a song like Jumper from Third Eye Blind? I know there's a lot of people that say that they might do such a thing but would they really? It's a nice thought but in the real world I get the feeling that some folks might look at you funny before taking the plunge.
2. The Game
Technically there was no talking down here since there was no time to do so but he kind of didn't give them the option to say anything other than his name before he was over the edge. I do think that I would first punch my brother upon seeing him alive and well before hugging him again just because he was alive and well. That's perhaps one of the worst birthday presents ever.
1. Man on A Ledge
How many people that walk out on ledges would use it as a public forum to plead their case to the world and to the justice system? How many do you think would be brought down in a forcible manner if they tried it? And then how many hotels would be sealing their windows for good after this?
Unless you're in a movie the ledge of a building is for function and decoration, honestly.