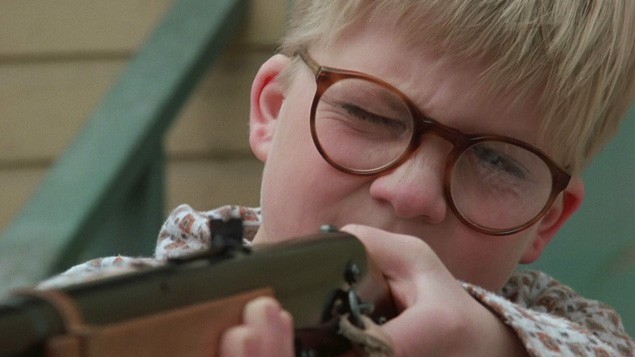 We all know the joy and the expectation of opening a gift on Christmas, or for your birthday, or even just a special occasion. It's that moment of anticipation that you can just barely stand when you have the gift in your hands and you're ready to start tearing the paper and see what lies underneath. If you have a very sarcastic relative or parent, or friend, then it might be a box that was previously used for something that you have absolutely no use for. But what's inside is usually something that the special people in your life know that you desperately wanted or were at least thinking about.
That's the best part of the present.
5. Wayne's World
So we'll kick off with one of the more pointless gifts that is given for a reason that is more than a little ridiculous. Now pay attention men. If you're with a woman, WITH her, then paying attention to anniversaries is very important. God help you if you ever miss a single one, because no one else will. But, if your ex decides to keep giving you anniversary gifts even months after you split up, feel free to respond with something like this.
4. How the Grinch Stole Christmas
The holidays are known for a time to be of good cheer and to enjoy the people around you. It's really not the best time to bring up the most traumatic times of a person's life on purpose. And if that person you're antagonizing is the Grinch then it's best to send it through the mail and hope that he's too busy to offer a reply. Otherwise there's really no telling what he's going to do as a means of saying 'thank you'.
3. Better Off Dead
I'm not sure which is worse, getting TV dinners for Christmas or getting a picture of Ricky while his mom is blowing smoke in your face and somehow trying to be nice while belittling you for coming from another country. I guess it's kind of a toss up really since to be honest one is just plain sad and one is unbearably tragic. You pick which is which.
2. The Nightmare Before Christmas
https://www.youtube.com/watch?v=rD6YAvMgjkA
Jack had the right idea, but just very poor execution. He knew enough to leave presents and be nice to the little kids but the presents he left were something straight out of, well, a nightmare. You don't expect to see Santa leaving toys behind that can actually come alive to terrorize the children and given them a reason to seek therapy when they're older.
1. A Christmas Story
All through the movie we have to hear about this Red Ryder BB gun. It's the only thing that's constantly on Ralphie's mind and to be quite honest we've all been there a time or two haven't we? Go on and admit it, there were toys that you absolutely obsessed over in your childhood and were so disappointed that you didn't get. But if you got them for Christmas or your birthday, then life was good and all that waiting was vindicated.
Yeah, the moment you saw that thing you coveted so much, that's the kind of stuff a parent lives for.
Save
Tell us what's wrong with this post? How could we improve it? :)
Let us improve this post!