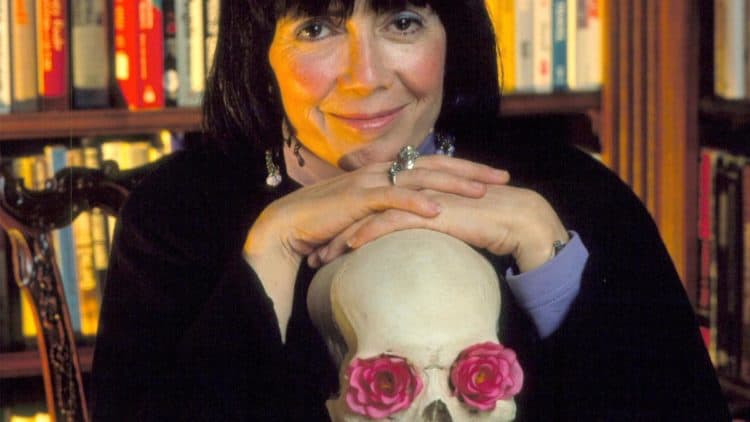 Acclaimed gothic horror author Anne Rice passed away on December 11, 2021. The news was a shock to all her fans for the better part of nearly 50 years, but her legacy will certainly live on. Anne's writing wasn't for everybody; there are those that find her writing style too long-winded, too romantic, too morbid et al,–but nobody can deny that she had a vivid imagination. She will undoubtedly always be known for The Vampire Chronicles, the first of which, Interview With the Vampire (1976) catapulted her into the world of bestselling fiction. She also wrote about witches, ghosts, mummies, genies, wolves, and an entire slate of fantastical characters, but there was always a strong dramatic and metaphorical element to her writing as well; she explored the human condition through fantasy. In addition to the supernatural, Rice also wrote a few real-world stories, some historical fiction, a series about the life of Jesus Christ, and even some very intense and titillating erotica. Her bibliography just screams to be represented in a visual medium, but like Clive Barker, her work has never quite made the leap to the screen as Stephen King's has. This is a shame since her vivid and descriptive prose serves the visual imagination very well. Her Vampire Chronicles will soon play out on the small screen, but there is so much more that deserves a strong Tv or film adaptation. Here are 5.
The Mummy, or Ramses the Damned (1989)
In 1989, the same year Rice released The Queen of the Damned and returned to her childhood hometown of New Orleans, the author also put out a single, standalone novel called The Mummy, or Ramses the Damned. Upending the typical stories of mummies that had defined horror fiction for centuries, Rice's mummy was bold, sexualized, flawed, and incredibly charismatic. The central protagonist and the title character is an ancient Pharoah who reigned over Egypt in the BC era that is awakened after his tomb is disturbed. The plot is not perfect but it is both addictive and compelling reading as the stark contrast between the ancient and contemporary world play out in situational drama. Another ancient Pharaoh is also revived that turns out to be Cleopatra, by which the strife that embattled the two Pharaohs against one another in antiquity immediately picks right back up in the contemporary world. The series was continued in 2017 and a third volume will be released in 2022, but a film or TV adaptation could also easily be done with today's CGI.
Servant of the Bones (1996)
1996's Servant of the Bones was another stand-alone Rice novel and is truly one of her most underrated writings. The novel tells the story of Azriel, an immortal genie since the time of the Babylonian Empire. Unlike some of Rice's other supernatural offerings, this novel is not completely concerned with a cohesive plot, and simply tells Azriel's story as a fireside chat of sorts as he grapples with his immortality and inability to alter his powers no matter who calls upon him and what they wish for. The novel explores heavy themes such as redemption, guilt, life and death, the circumstances of fate, and the importance of having emotions and the ability to feel joy and pain. Making this into a film or TV series would likely not be an attractive prospect for filmmakers and showrunners because the text is very dense and more dramatic than it is wholly supernatural. But with the right filmmaker, this could be a very special film.
The Witching Hour (1990)
The Witching Hour was the first novel in a three-part trilogy known as The Lives of the Mayfair Witches. Outside of the Vampire Chronicles, The Witching Hour is certainly one of Rice's most celebrated novels and series, and this is because the story is so richly detailed with expert world-building. The novel and its two sequels revolve around the Mayfair Sisters, a coven of witches who have long been under the beneficiary of a powerful spirit named Lasher. What makes this novel so great is the Southern Gothic-drenched atmosphere that Rice allows to flow page after page. In addition to the dynamic central characters, each with a unique personality showcasing some of Rice's finest writing, The Witching Hour and its two sequels would absolutely thrive on a pay cable or streaming network in a long-form series format. The good news with this book is that it and its sequels will soon have just that thanks to a major purchase of the rights by AMC networks in 2020.
Cry to Heaven (1982)
Cry to Heaven is one of Anne Rice's early historical novels that followed 1979's The Feast of All Saints. That novel and this one did not meet the sales of her blockbuster first book, Interview With the Vampire, which sent Rice into a bit of depression since she felt she was now and forever to be a genre writer. For fans of this esoteric, lavishly detailed, and sensual book, it has always remained a personal favorite, even if sales never reflected its cult status. Set in 1700s Italy, the story is about two opera singers who were castrated in boyhood as a means to preserve their high, soprano voices. There is nothing supernatural at all in this book, and it is essentially a compelling slice-of-life story between two friends who turn into bitter rivals. A screen adaptation of this book would be tricky if for any other reason it's evocative (and highly sexual) narrative, but the right director could work wonders with it.
Belinda (1986)
An even lesser-known Rice book is Belinda, which was published under her pen name Anne Rampling. This highly atmospheric book was coined by many at the time as a Lolita rip-off, but to simply let that dictate your curiosity is to miss out on what is both a vividly-nuanced and quite sexy reading experience. The plot involves a forbidden love affair between a 44-year old man and a 16-year old girl, but Rice imbues the narrative with so much pain and pathos as to make it compelling. I doubt this will ever get an adaptation.
Tell us what's wrong with this post? How could we improve it? :)
Let us improve this post!