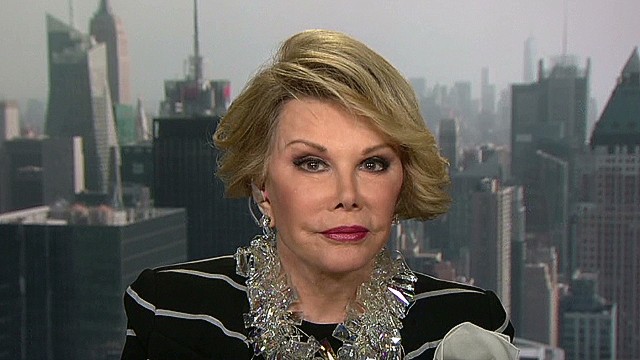 There are only a few comedians who match Joan Rivers' life and legacy. The New-York-born comedian made her mark in entertainment, being responsible for a number of firsts in show business history. Celebrating Rivers' legacy, E! Online wrote of the entertainer: "Without her carving out space for herself in comedy's boy's club out of sheer force of will and impeccable timing, it's hard to imagine a world where all those other funny women would get the opportunity to do their thing. Hell, it's hard to imagine what contemporary comedy, full stop, would look like without Rivers' influence on the art form." If there's any late entertainer who deserves a biopic, it's Joan Rivers. One was actually in the works until recently, supposedly starring Kathryn Hahn as the late comedian. Things didn't pan out, however, due to legal issues concerning the rights to Joan Rivers' life story. If ever movie execs are able to pull off actually bringing Joan Rivers' life story on screen, here are a few casting suggestions on who should play the legendary funny woman in front of the camera.
Christine Baranski
Christine Baranski is an excellent candidate to portray Joan Rivers in a biopic. Aside from uncanny facial similarities between Baranski and Rivers that make the former a contender for a potential biopic about the late comedian, Christine Baranski also boasts an impressive list of films and TV projects under her repertoire. The 69-year-old actress most notably played Diane Lockhart in The Good Wife and its sequel, The Good Fight, a role for which she received widespread critical acclaim. She also won an Emmy in 1995 for her supporting role in the sitcom Cybill. Baranski has also played roles in prominent TV shows like The Big Bang Theory and Psych, and is set to star in an HBO TV show created by Downton Abbey showrunner Julian Fellowes titled The Gilded Age. On the big screen, she's starred alongside Meryl Streep and Julie Walters in Mamma Mia! as well as its sequel, Mamma Mia! Here We Go Again. While Baranski doesn't have a lot of biopic experience under her belt, her decades of acting experience should be more than necessary if ever she's tapped to play Joan Rivers in front of the camera.
Nicole Kidman
Is anyone still doubting Nicole Kidman's ability to play real-life personalities on screen? She's played many historical figures in biopics, portraying even their minor quirks and mannerisms to perfection. One role even snagged her an Oscar nod in the movie The Hours, playing writer Virginia Woolf. Her most recent take on a real-life figure as legendary comedienne Lucille Ball in Being The Ricardos is already generating Academy Awards buzz. Other biopics she's appeared in include Bombshell, where she played former Fox anchor Gretchen Carlson; Grace of Monaco as actress Grace Kelly, and Queen of the Dessert as archeologist Gertrude Bell. Given these biopic credentials, fans of Joan Rivers should rest assured that her legacy is in capable hands if ever the role of playing the funny woman lands on Kidman's agent's desk.
Sally Hawkins
Sally Hawkins is an English actress, which might be a challenge if she's asked to imitate Joan Rivers' distinct and heavy New York accent. We bet she'd still do an excellent job, however, given Hawkins' ability to take on a range of characters in different movies, from family-friendly comedies like Paddington and Paddington 2 to art movies like Spencer. Hawkins has some experience taking on biopic roles. She portrayed folk artist Maud Lewis in the drama film Maudie and actress Rebecca West in the TV movie H.G. Wells: War with the World.
Renee Zellweger
Another actress who should be a top contender for a potential Joan Rivers biopic role is Renee Zellweger. The actress has come a long way from her days playing Bridget Jones in Bridget Jones' Diary. She has since become a multi-award-winning actress, snagging two Oscars and many other trophies from other award-giving bodies. Zellweger's first Oscars was from Cold Mountain, where she won an Academy Award for Best Supporting Actress. Her second one was for a biopic, Judy, where she portrayed entertainer Judy Garland during her troubled final years. Zellweger is perhaps most popularly known for her role as Roxie Hart in the hit musical Chicago, where she was also nominated for an Oscars. Zellweger performs real-life characters very well. Aside from Judy, for which she has received critical acclaim, she's also played children's author Beatrix Potter in the movie Miss Potter. She also played schoolteacher Novalyne Price in The Whole Wide World and journalist Ellen Gulden in One True Thing. Zellweger is set to play convicted murderer Pam Hupp in a limited series the actress is also producing, titled The Thing About Pam.
Jennifer Lawrence
If the focus of a Joan Rivers biopic is her earlier life, then Jennifer Lawrence would be the perfect actress to play her. An actress still pretty much at the beginning of her career, Lawrence has already achieved so much, starring in her own fantasy trilogy The Hunger Games as well as X-Men, and later on playing lead roles in American Hustle, Passenger, and Don't Look Up. At 31, Lawrence is already an Academy-Award-winning actress, having won for her role in Silver Linings Playbook. Lawrence was subsequently nominated for another for her role in the biopic Joy, where she played self-made millionaire and inventor Joy Mangano. Given this, playing Joan Rivers should be a breeze for Lawrence, who obviously has what it takes to steer a biopic towards Oscars greatness. Jennifer Lawrence took a bit of a break from acting, not appearing in anything for two years since Dark Phoenix. Writing about her brief break from on-screen work, Vanity Fair wrote in an interview they had with the actress: "If anything was clarifying about Lawrence's time away, it's that she wants to be more thoughtful with her choices and words and less of a people pleaser, however excruciating she finds the practice of restraint." Her comeback movie was Don't Look Up, co-starring Leonardo DiCaprio, Meryl Streep, Jonah Hill, Ron Perlman, and many others. Lawrence is set to appear in an upcoming drama film titled Red, White and Water, a movie she is also producing.
Tell us what's wrong with this post? How could we improve it? :)
Let us improve this post!