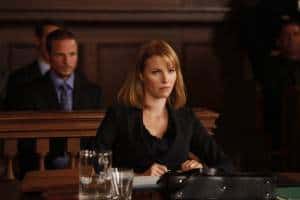 There's a running joke that everyone has been on Law & Order at some point. With seven incarnations over two decades, it's become less of a joke and more of a reality. From perpetrators to defense attorneys to victims, the franchise has featured some notable names and outstanding performances (like in last night's SVU). Below are a list of some of my favorites – who are yours?
Spoiler Alert: Since we're discussing entire guest arcs here, there are spoilers for episodes below.
In no particular order:
1. Jason Wiles, Law & Order: Special Victims Unit ("Branded," 2010)
Anyone who knows me could have guessed that Jason Wiles would end up on this list; I've been a fan of his since his work as hotheaded, dedicated cop Maurice "Bosco" Boscorelli on Third Watch. Yet as Alexander Gammon, he was the kind of guy Bosco would love to destroy – a rich, arrogant, controlling person who not only raped a 14-year-old, but encouraged two other men to do the same and then cover it up. Of course, he's smug the entire way through, until the last moment when Stabler confronts him with the knowledge that he's about to be prosecuted for two prior rape charges and then that defeated, almost afraid look in his eyes is perfect.
Wiles (pictured above, behind Melissa Sagemiller) has always been such a facially expressive actor, and while we still see that talent on full display, he also manages to make himself completely repulsive. I was completely excited to see him on the show and yet, by the time the episode was over, wanted to punch him in the face myself. He was able to move me from one end of the spectrum to the other with his performance. It's how good he was here that made me think of this article, so it would be wrong not to include him.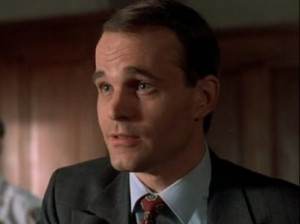 2. Zeljko Ivanek, Law & Order ("American Dream," 1993)
The veteran actor made one of the all-time great guest appearances on Law & Order when he played Philip Swann, a man that EADA Ben Stone had previously convicted for murder 14 years earlier. When the victim's body is finally located and that exposes inconsistencies in the case, Swann wins a new trial and insists on representing himself. Smart, smarmy and self-assured, Ivanek's portrayal of Swann was more than a match for the courtroom presence of Michael Moriarty as Ben Stone. Furthermore, he was so deliciously bad that I loved to hate him. For fans of the Stone character, "American Dream" is always on their favorite episode lists, and Ivanek's bad guy is a big part of why.
There's also a layer of behind-the-scenes greatness here: the same year that Ivanek shot this episode, he began his recurring role as Assistant State's Attorney Ed Danvers on Homicide: Life on the Street, a role which the versatile actor pulled off just as well. Talk about irony in action.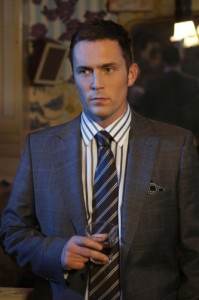 3. Desmond Harrington, Law & Order: Criminal Intent ("Vacancy," 2006)
Before Gossip Girl and Dexter, Desmond Harrington stepped into the role of Tim Rainey, a cab driver and would-be actor who happened to take Method acting a little too far – into murder. It's a role that could easily become over the top in the wrong hands, but Harrington (who's been down this role before, having played the bad guy in horror films Ghost Ship and Love Object) mixes his natural charm with just enough quirkiness; as much as I naturally adore the actor, I could feel that there were screws loose with the character from moment one. There was another layer as well; Tim had a wife and child that he loved dearly, which added a heartwrenching aspect to seeing him arrested and put away. I knew he had it coming, but at the same time, I could feel his confusion and desperation, and felt for him on some level.
Trivia buffs will remember that Harrington was on the right side of the law two years earlier, when he was a regular as Detective Jimmy McCarron in Dick Wolf's update of Dragnet, entitled L.A. Dragnet. The show only lasted two seasons, but his performance was one of the bright spots of the dismal remake.
4. Robert Patrick, Law & Order: Special Victims Unit ("Demons," 2005)
Before his role as Colonel Tom Ryan on The Unit, one of my all-time favorite actors appeared on SVU in the chilling seventh-season opener. He portrayed Ray Schenkel, a recently paroled sex offender that Stabler had put away several years prior. Convinced that Ray hasn't reformed, Elliot goes undercover to keep an eye on him and (depending on how you look at it) either is proven right or himself drives Ray to attempt another rape. The episode lets viewers judge which is true, something which made it even more interesting to me.
I've been a Robert Patrick fan for almost 20 years now, and I've seen almost everything he's done. His performance in "Demons" brings everything he has to the table. We see a nervous, tightly wound Ray trying his hardest to adhere to the conditions of his parole and straighten his life out. He's almost a weak character. Yet by episode's end, all that has been stripped away and we also see his dark side, the one that scares and intimidates. Definitely not a weak man. It's a performance that goes across a complete arc in the hour, and together with Chris Meloni, Patrick creates a gripping and terrifying episode.
5. Mark Valley, Law & Order: Special Victims Unit ("Paternity," 2007)
Prior to rejoining the ranks of TV leading men, Mark Valley turned in a performance that had me in tears when he starred in the SVU episode "Paternity." As Jake Keegan, Valley is in the middle of a mess involving a lost child, the murder of his nanny, and – as the episode indicates – a paternity debacle. When Jake finds out that his son is not his biological child (and all that entails), he goes off the rails in a major way and ends up committing a crime of his own. It's a stroke of genius for the always-underrated Valley, who goes from suspect in one crime to collateral damage of same to perpetrator of another in the hour.
At first fairly buttoned-up and collected, Jake completely unravels by episode's end, and it's a believable and emotionally involving collapse. I felt for him, and understood perfectly why he had been driven to do what he did, even if it was morally wrong. By the end of the episode, as Jake was at his complete wit's end, my heart was breaking. Any actor who can move the audience to an emotional reaction is doing something very, very right.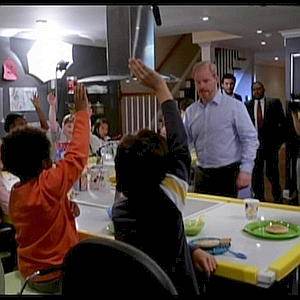 6. Jim Gaffigan, Law & Order ("Flight," 1998 & "Reality Bites," 2009) and Law & Order: Criminal Intent ("Dead," 2002 & "Smile," 2007)
I just love this pick for how against the grain it is. Jim Gaffigan is one of my all-time favorite stand-up comedians, so imagine my surprise to find out that he's booked not one, but four guest spots on two different Law & Order shows over the years. Surprise – he's actually good at it, too. Gaffigan does not at all look like the kind of man who'd cheat on his wife with the babysitter, only to murder his wife anyway because she wouldn't let him sign a lucrative TV deal ("Reality Bites"), but he pulls it off. Maybe it's because he's such a nice guy in real life (I've met him myself), but I just couldn't hate the man. At the same time, he made me completely forget that he's also one of the best stand-up comics. I thought he might be ridiculous, but as it turns out, Gaffigan has been a successful actor for a very long time.
More trivia for you: Gaffigan also appeared in an early episode of Third Watch (though not opposite Jason Wiles, sadly) and is, of course, best known for his role on My Boys. He is not the first nor the last stand-up comic to appear on a Law & Order, either. Criminal Intent has featured Lewis Black and Stephen Colbert, and the original saw an appearance from Michael Showalter…and those are just the ones I can think of off the top of my head.
I could go on forever with a rundown of the guest stars that all these shows have seen. (Some, like Jeremy Sisto, even go on to become series regulars, albeit in different roles.) It seems as if every week I'm seeing someone that I know from somewhere else. Love them or hate them, you have to admit that the Law & Order shows draw some of the best talent on television.
Who are your favorite Law & Order franchise guest stars? Who would you like to see appear? Tell us below.