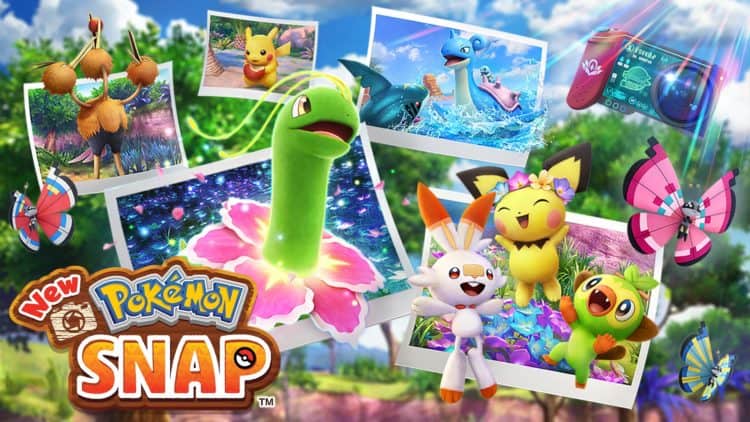 In order to celebrate the launch of New Pokemon Snap for Nintendo Switch, Pokemon Go players will be able to take part in a brand new special Pokemon Go and New Pokemon Snap crossover event that will begin on April 29, 2021. This even is set to bring all new features to the game as well as exciting new research tasks and new Pokemon from New Pokemon Snap's Lental region, and of course, you'll be able to pick yourself up some new camera-themed avatar items from the Pokemon Go Style Shop. So what will you gain access to with this new Pokemon Go x New Pokemon Snap crossover event? What will you be able to do, and what cool new cosmetics will you be able to get your hands on? Find out everything you need to know about the brand new Pokemon Go and New Pokemon Snap crossover event!
Pokemon Go and New Pokemon Snap Crossover
With a brand new crossover event featuring both Pokemon Go and New Pokemon Snap, there's a ton of new stuff that will be available to trainers all over the globe! "The 'New Pokémon Snap Celebration' will give Trainers the chance to tackle a new type of research task featuring a Pokémon GO Snapshot theme, catch different Pokémon that are found across New Pokémon Snap's Lental region, and grab new camera-themed avatar items from the Pokémon GO Style Shop." Oh boy, more microtransactions, right? Wrong! This is great news for fans of Pokemon Snap and Pokemon Go alike, especially if you love saving money, because all of the camera-themed avatar items will be available in the Pokemon Go Style Shop at no additional cost, so you'll be able to look like the next Cindy Sherman as you go about your exciting adventure into the photographic world of Pokemon!
Shiny Spottings
For the duration of this Pokemon Go and New Pokemon Snap crossover event, players will also be able to encounter the Painter Pokemon, Smeargle, as he hops in and out of players' snapshots! You can encounter Smeargle by completing certain research tasks as well as checking some of your snapshots' surroundings. If you're lucky enough, you may even be able to encounter a wild Shiny Smeargle, so this is a perfect incentive to go out and make sure you take a lot of snapshots throughout the New Pokemon Snap Celebration event in Pokemon Go! Believe me, if you've got a shiny Smeargle, then everyone will want to trade with you.
When is the event?
The New Pokemon Snap collaboration event in Pokemon Go is set to begin promptly on April 29, 2021 at 10 AM local time and will run all the way until Sunday, May 2, 2021 at 8 PM local time. This will give you plenty of time to go out to catch all of the wild Smeargle (and Shiny Smeargle) that you can, as well as complete your research tasks and encounter various other Pokemon that will be featured in New Pokemon Snap including Venusaur, Dodrio, and Skarmory!
What is New Pokemon Snap?
New Pokemon Snap is a brand new Pokemon game that is set in the Lental region, the islands of which hold everything from dense jungles to vast deserts. New Pokemon Snap is a brand new game that is inspired by the 1999 Nintendo 64 game, Pokemon Snap, and will take you on an adventure from island to island on an ecological survey, photographing Pokemon and building your own Pokemon Photodex! You can edit your photos by adding stickers, frames, and filters, and you can even share your photos online and see what kinds of photos all of your friends have been taking as well! The game will be available on Nintendo Switch on April 30, and is available now for pre-order on the Nintendo eShop, or most physical retailers, for $59.99.
As I've gotten more and more back into Pokemon Go recently, the news of this crossover event is very exciting. I never got a chance to play the Nintendo 64 version of Pokemon Snap, but I believe that this short crossover event with Pokemon Go will be enough to introduce many other players into the world of Pokemon Snap. Personally, I can't wait to see what new research tasks are available in this event, and I'll be making extra sure I am able to catch a shiny Smeargle. I missed out on a shiny Snivey with the latest Snivey Community Day event, and I'm still not over that, but this time around, you bet that I'll be getting all of the shinies.
Tell us what's wrong with this post? How could we improve it? :)
Let us improve this post!