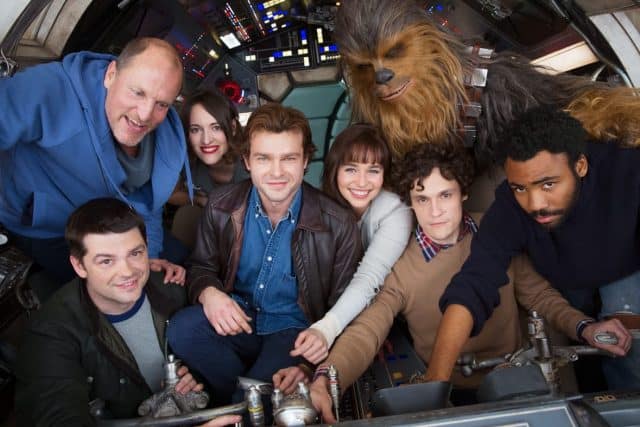 It certainly didn't take long for the Star Wars movie universe to get back into the news. As if we ever needed proof that a movie could exist out of the actual "Star Wars" movies, Rogue One brought in over $1 billion. Why do I bring this up? Because a Han Solo movie may very well top that. People are loving the cast already and this new image should only help that cause. While we're not sure what Star Wars has in store for us beyond the year 2019, I think it's safe to say we're covered for the next two years. Speaking of a Han Solo movie. According to Screenrant
A main quartet consisting of Alden Ehrenreich (Han Solo), Donald Glover (Lando Calrissian), Emilia Clarke (the mysterious female lead), and Woody Harrelson (Han's mentor) has been established for a while, and recently some other names became attached to the project. Though Lucasfilm remained mum on the potential involvement of Phoebe Waller-Bridge and Thandie Newton when the rumors first popped up, the studio has now confirmed they're in Han Solo with the release of an official cast photo.
In a recent release on the official Star Wars site, we've found out the principal photography has begun on the movie. As such, they've posted a picture of Lord and Miller with most of the main cast assembled in the Millennium Falcon.
Is anyone else having a hard time picturing Woody Harrelson in a Star Wars movie? I keep thinking of either his character from Cheers or Hunger Games someone finding their ways into his character. P.S. this picture is great.
Via Starwars.com