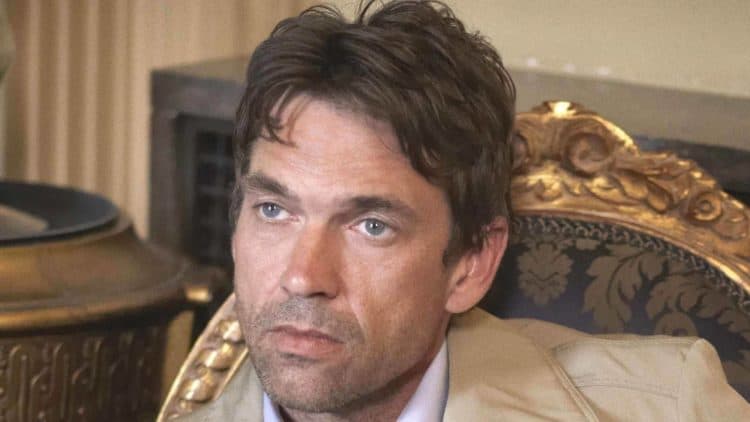 There aren't many actors who can play just about any character that comes their way, but Dougray Scott is one of the few. With more than 30 years of professional acting experience and 80 on screen credits to his name, Dougray's resume easily speaks for itself. He is widely known for several projects, but his most recent role in Batwoman has earned him widespread attention. Dougray has two film projects coming up that will continue to show the world just how talented he really is. Those who aren't familiar with Dougray's work are definitely missing out on a top-notch actor. Continue reading to learn 10 things you didn't know about Dougray Scott.
1. His Father Was An Actor
The apple certainly didn't fall far from the tree when it came to Dougray. His father, Alan Scott, was also an actor for a while during his younger years. Eventually, however, Alan gave up his acting dreams in favor of more traditional work as a salesman. Fortunately, he was still able to put his acting skills to good use as a way to help persuade potential buyers.
2. Dougray Isn't Actually His Name
People all over the world may know him as Dougray, but what they don't know is that Dougray isn't really his first name. He was born Stephen Dougray Scott but the name Stephen Scott was always registered. He decided to use Dougray which was also his grandmother's maiden name.
3. He Isn't Active On Social Media
These days lots of people flock to social media when they want to see what their favorite actors are working on. Unfortunately, if you were hoping to catch Dougray on social media I have some bad news for you. He doesn't appear to have social media accounts on any platforms.
4. Tom Cruise Personally Chose Him For Mission: Impossible 2
In 2000, Dougray played Sean Ambrose in the film Mission: Impossible 2. What many people may not know is that Tom Cruise specifically chose him for the role. While it was definitely an honor to be handpicked, it impacted his opportunity for another big role. He was supposed to play Wolverine in X-Men series but he says Tom Cruise Dougray wouldn't allow it. told The Telegraph, "That one was out of my control. Tom Cruise didn't let me do it. We were doing Mission Impossible and he was like, 'you've got to stay and finish the film', and I said I will, but I'll go and do that as well. For whatever reason he said I couldn't. He was a very powerful guy. Other people were doing everything to make it work."
5. He's A Father Of Twins
Acting isn't the only thing Dougray is dedicated too, he's also a very devoted family man. He was married to Sarah Trevis from 2000 to 2005 and the couple had a set of twins together. In 2007, he married actress Claire Forlani and they adopted a son together.
6. He Is A Formally Trained Actor
Natural talent is always nice to have, but it's hard work that truly sets people apart. Dougray has definitely put that work in over the course of his career. He studied acting at Royal Welsh College of Music & Drama in Cardiff. While there he won the Most Promising Drama Student award. He moved to London after graduating.
7. He's Always Loved To Read
Dougray has always been a big bookwork. During an interview with The Scotsman he said, "I was always reading and felt an incredible affinity for the power of the written word, fell in love with it. I'm just such a fan of writers, and feel so empowered by them."
8. He's A Soccer Fan
As someone who was born and raised in the United Kingdom, it does without saying that Dougray is a huge soccer fan. He has loved the sport for his entire life. Dougray even played soccer for a while and hoped to become a professional athlete but he didn't quite have the skill level.
9. He's Had Some Supernatural Experiences
Do you believe in ghosts? Dougray does and he's even had experiences with them. While talking to The Scotsman he said, "when I was a kid I saw ghosts when I was lying in bed back home in Fife. I remember seeing these figures floating across my bedroom and going out through the windows. I was petrified, couldn't move I was so scared, frozen to the spot."
10. Ewan McGregor Was In His Wedding
It's always nice to have friends who work in your field and can directly relate to some of the things you have to deal with on the job. Dougray has found this in his good friend and fellow actor, Ewan McGregor. McGregor served as the best man in Dougray's first wedding.
Tell us what's wrong with this post? How could we improve it? :)
Let us improve this post!