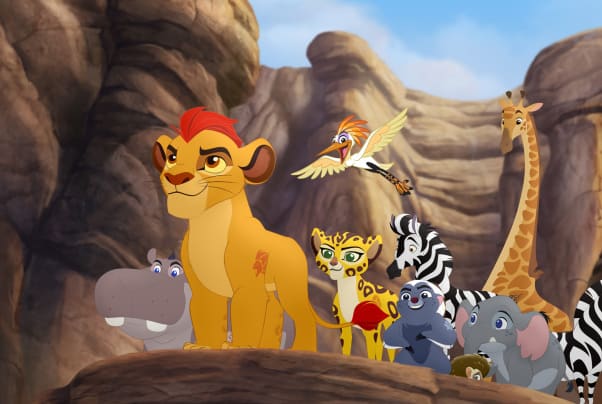 If you are a parent like me and have a child between the ages of 3-5 then you should be familiar with The Lion Guard on Disney Junior. The Lion Guard continues the epic storytelling of The Lion King and follows the adventures of Kion, the second-born cub of Simba and Nala, and his diverse group of friends as they unite to protect the Pride Lands. Deadline just announced that Disney Junior will be renewing the show and that season 2 should start airing this summer.
The Lion Guard voice cast includes: Rob Lowe as Simba; Gabrielle Union as Nala; Max Charles as Kion; Joshua Rush as Bunga; Atticus Shaffer as Ono; Diamond White as Fuli and Dusan Brown as Beshte. And if you pay attention you'll hear James Earl Jones saying "The Lion Guard" in the introduction. I'm guessing he got paid 6 figures just to say that line. The show also features guest celebrity voices nearly every episode.
Why do I even report this news? Because as a parent I must admit The Lion Guard is probably my favorite of all my son's shows that he watches. And that library has probably grown to at least 100 so whenever you can put on a show that both you and your child can stand, it's a big win. So parents out there, if you haven't gotten your child onto The Lion Guard, get on it so you can avoid the Bubble Guppies and Team Umizoomis of the world. By the way, the theme song for The Lion Guard has been in my head for at least 3 months. Here it is just to spite you people.
Tell us what's wrong with this post? How could we improve it? :)
Let us improve this post!