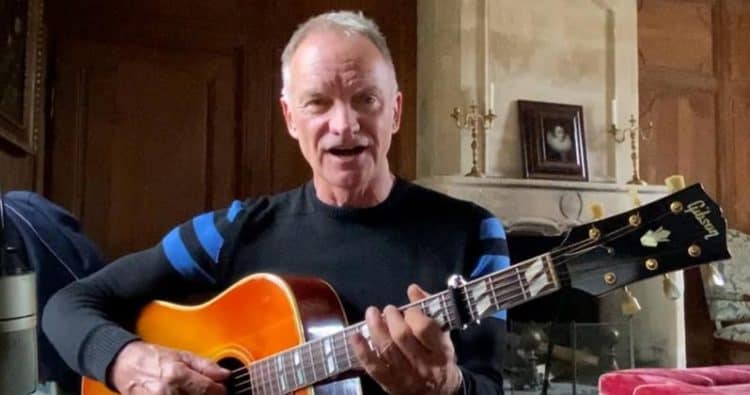 If you're stuck thinking that the Jeopardy theme sounds like a variation of 'I'm a Little Teapot' then you're not alone since plenty of people have been thinking this for quite a while considering that two pieces of music are so similar that it kinds of stands to reason that they're closely related. Sting likely isn't the first person to put lyrics to the theme, but he's one of those that are bound to be listened to when it comes to revealing his own lyrics online thanks to his celebrity status. Another thought that came to mind is that he must have had enough downtime to complete this short little blurb or has nothing else to do at the moment and was just playing around. The truth though is that this clip was created especially for this episode of Jeopardy, and it was no doubt a great treat for everyone involved, since having such a well-respected artist as Sting show up on the program only made things better. With his extensive career and the ability to come up with various lyrics now and then it's very easy to think that he might have had little to no trouble composing this without that much effort. Seriously, if a person does something for long enough it tends to happen that something such as this won't take that much time if they simply let it flow and allow the idea to expand.
Sting has been such a popular artist for so long that it's likely that he could do pretty much anything in terms of creating a song and people would be into it. The history behind the jingle that introduces the show is that it was a lullaby created by Merv Griffin for his child. Griffin was the guy that was responsible for the show's success early on and he did end up producing the version of the show that so many people have come to love over the years. There's been more than one surprise on Jeopardy over the years, but this one in general appears to have plenty of fans swooning over the mere fact that Sting decided to agree to this collaboration. The idea of fawning over the idea of Sting contributing to the show is enough to make a person roll their eyes since it's enough to admit that Sting is one of the most popular artists of his time and is still lauded as one of the best musicians ever, but worshiping anyone in the way that some tend to do is a bit much.
The same goes for the show and for the late Alex Trebek since there is a great deal of respect and some admiration for the man since he pushed through and continued to give people the performance they wanted. But this spoke to his personal strength and stubbornness that he wouldn't allow cancer to win, it didn't call for the continual fawning that people are known to exhibit so often when it comes to celebrities. Those 'brave' and 'compassionate' celebrities are in fact worthy of praise when they push through adversity, as much as anyone else. In fact, the only difference between a celebrity working while fighting cancer and a regular person working while fighting cancer is that the former is lauded as being brave because people can see them and are made privy to their every move, while the latter is just another face in the crowd, who might not be considered brave simply because know on knows about them. The hero-worship that is given to celebrities is a bit nauseating at times, especially since after the cameras are turned off and they return to their over-priced abode, they're still just people. Bravery is more than pushing through a wasting disease to give people what they want in terms of entertainment, it's the effort given by anyone, celebrity or otherwise, to simply keep living and to give hope to others that might need that inspiration to keep going. Appreciating celebrities because of their talent, or their personality, and their willingness to share themselves with the people is all well and good since it acknowledges that they've done something that so many others could not at one point or another. But fawning over them is simply hard to stomach.
On that note, it's easy to think that anytime another celebrity shows up on Jeopardy is bound to get some type of notice, but when they end up creating lyrics that are meant as a clue to an answer on the board it's going to be even more special, especially if it's someone like Sting that's doing the singing. It's not quite the same without Trebek, but it's fair to think that he would approve of this and would be just as appreciative.