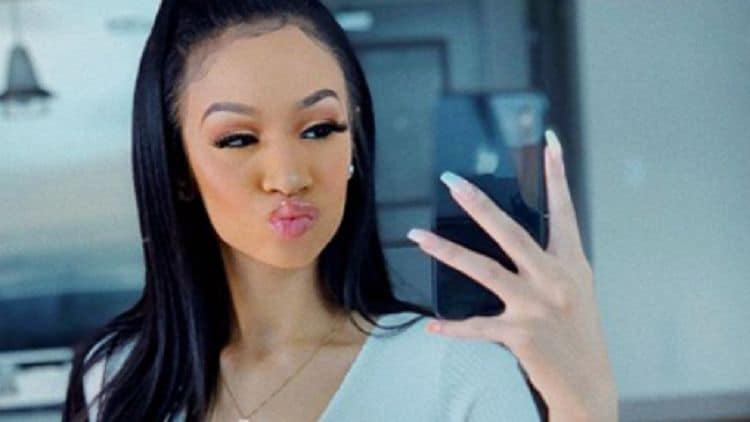 On June 17, 2001, Deyjah Imani Harris was born to T.I. and Ms Niko, making her T.I.'s eldest biological daughter. The public has seen her grow up on television since she is featured on the family's reality television show. However, since her father announced that he takes her to her annual pelvic exams to check if she is still a virgin, people have become more curious to know more about the teenager. She is a closed book, but we have managed to gather up the following ten facts.
1. She thinks her father is possessive
It is one thing to want the best for your child, but it is quite another when you intrude her privacy like T.I. does to Deyjah. T.I. does not mind that his teenage son is sexually active, but he will go to extreme measures to ensure that his daughter remains a virgin. Consequently, he disclosed that he takes her to the gynecologist for her annual pelvic exam to confirm that her hymen is intact. He started doing that since she turned 16 and when people commented that the behavior is disgusting and possessive, Deyjah agreed by liking such comments.
2. Why she deleted her social media
Of course, Deyjah felt terrible about her father sharing with the world about her sexual health but being the respectful daughter that she is, she did not say anything. All she could do was like comments that felt resonated with her feelings at the time. However, later on, after ruminating on the experience, she decided to show her disapproval by unfollowing her father and Tiny Harris on their social media. She also went ahead to delete all her social media accounts.
3. She prefers a private life
Some people will let the world know of their every move through social media, but Deyjah is not on that list. After the hymen-checking scandal, one fan commented that her daughter went to the same high school as Deyjah and she can confirm that the reality star likes to keep everything under wraps. We can attest to that considering that her dating life is a mystery; even if she is not allowed to have sex, she must have gone out with someone.
4. She does not mind not dating
In 2017, it was estimated that 55% of teenage boys and girls had had sex by the age of 18. Deyjah fits in the remaining 45% because not only has she not had sex, but she also does not have a boyfriend. While some teenage girls would be raising hell to be allowed to have a boyfriend at least, Deyjah does not complain. Matter of fact is she likes it because she wrote on her Instagram that she would not be entertaining any men even after her 18th birthday.
5. She is defensive of her family
Various sources reported an incident when Deyjah showed that she would not let anyone come near her family without good reason. When she and her brother, King, were out shopping, an older man accused King of being disrespectful and rude, yet he had not done anything wrong. Deyjah, therefore, pushed King behind her to confront the man asking him what her brother had done for him to deserve such treatment. It turned out that it was a prank, but the girl proved she can take care of herself and younger siblings as well.
6. She has been suffering from depression since the age of 11
Most people would think that Deyjah has it all but being beautiful and having a wealthy family is not what it takes to be happy. In her first-ever video since returning to social media after deleting her accounts, Deyjah revealed that since she was 11, she has been suffering from depression and anxiety. She added that she was unmotivated to continue with her journey hence had some suicidal thoughts. Luckily she did not act on them, but her mental health has only gotten worse because when the anxiety attacks return, they come crashing ten times harder as published on Metro.
7. Her father was apologetic for his behavior
In January 2020, T.I. said that he should be forgiven for any imperfections that result in misunderstandings between him and his children. Funny thing is while at the time people were expecting him to address the hymen controversy, the rapper did not bother with apologizing to Deyjah for that. Instead, he defended his actions saying that his statements had been misconstrued; according to him, he never said that it was being done to her presently.
8. She cannot dance in public
At the age of 18, most teenagers usually have their freedom and even venture out on their own in search of a better life or to fulfil their dreams. Deyjah, unfortunately, is not that lucky; besides being monitored like a child, she cannot go out with friends or family and have teenage fun. Therefore when she, Zonnique Pullins, and Regina Carter were having a girls' night out in Mexico, Regina filmed them dancing. When Deyjah realized that she was being recorded dirty-dancing, she got out of the camera's view, and the public assumed it is because her father is hard on her.
9. She is a beauty with brains to match
During her high school graduation, Deyjah was surrounded by her family, including her father, mother, step-mother and grandmother. Her mother, Ms Niko, could not help but shower her with praise on Instagram talking about how wonderful, smart and thoughtful Deyjah is. T.I. also described his daughter as articulate, beautiful and brilliant. She gave the senior class speech, which goes to show that indeed she is smart since that privilege is usually left to high-scoring students.
10. She once sparked engagement rumors
Some people could easily get a job as FBI agents given how quick they are to notice the slightest details. In December 2017 when Deyjah posted a few pictures rocking different outfits, some of her fans spotted a ring on her middle finger and being the nosy bunch they are, they asked if she had any news to announce. However, for a girl who said she does not want any boyfriend, it is safe to conclude it was merely a piece of jewelry.