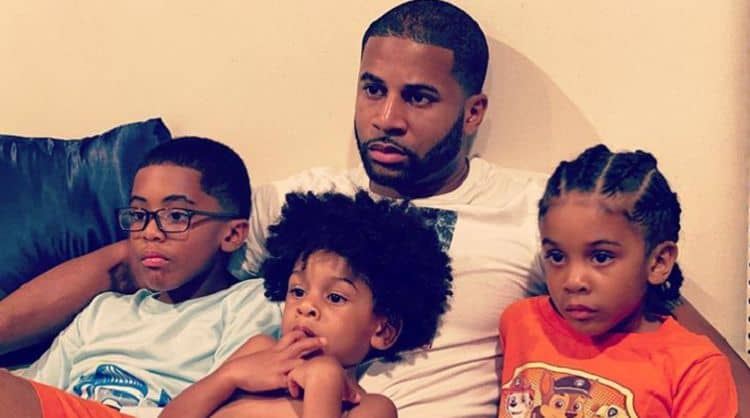 He is half of a famous couple who likes to share their lives and their stories on the internet, and we love him. Devale Ellis is married to the lovely Khadeen Ellis, and they have won over the hearts of just about everyone know watches their YouTube channels. They are funny, they are family-oriented, and they have so much to offer. This man has been bringing his A game his entire life, and people want to know as much as they can about him. So, we figured we'd go ahead and get started on that.
1. He's an 80s Guy
Devale Ellis was born on April 2, 1984. This means he got to spend his childhood playing outside with his friends and not coming home until the lights came on. Well, we assume. That's what so many of us got to do when we were that age. It was a good time, and we do miss it.
2. He's a New Yorker
Not only was he born in the 80s, he was born in New York. He's from Brooklyn. He grew up there, went to high school there, and had a good time there. He played both football and basketball in high school, but it was the football that kept him going and provided him with his future.
3. He's a Former Football Player
When he was done making a name for himself on the football field in high school, he then took it upon himself to play for college. He was a Hofstra University player, and he did well. When he graduated, he went on to play for the Detroit Lions and later for the Cleveland Browns before his career in the NFL was over.
4. He's a Boy Dad
He married his college sweetheart, and they had some babies. They had three babies, to be exact. All three of their kids are boys, which means he's a boy dad and his house is probably a little loud and rambunctious. Of course, if you have a house filled with boys, what do you think you're getting?
5. He's Creative and Sweet
He's been married 10 years in 2020, and the global pandemic really did derail his plans to have a romantic trip with his wife. They were meant to spend their anniversary soaking up the sun in Jamaica, but that did not happen. Instead, he planned a whole thing – fake argument to get his wife out of the house and all – and he recorded a sweet video message that included their favorite person – Jamie Foxx – playing piano and singing them a song. He did this for his lovely wife, and she was so happy about it.
6. He Spent Five Weeks Away in 2020
He was filming a project when the entire quarantine situation hit, and he was not permitted to leave the set, and his family was unable to come see him. This meant he had to spend five weeks away from his kids and wife, and that is not something he'd ever done before. He'd never been away that long, and it was not easy on him – or his family.
7. He's a Family Man
He and his wife made it very clear from the start that their life would always be one that puts their family first. All that they do is all for their family, it's all for themselves, and it's all for the good that is their kids, their marriage, and their extended family. Even his in-laws live with them to help them raise their kids and be amazing.
8. He's Faithful
He is a man of faith, and we love that. He knows that his situation being cut from the NFL was God's way of sending him in a different direction, changing his life, and changing his mind. He's been able to take hard lessons like that one and make them turn out far better than he ever imagined, and that is nothing short of a gift.
9. He's a Believer in Education
When it comes to wanting to do something and wanting to be something, Devale Ellis knows that education is the key. You cannot just make up your mind to be something or do something and then be amazing. This is not to say you can't have natural talent and be good, but you have to study it, learn it, and educate yourself if you want to be great. We love that.
10. He's Funny
Of course, if you watch their YouTube show, you know this. This is one funny guy, and his wife is equally hilarious. We love them, and we highly recommend you get to know this family a little better on your own time. Study them, and become a great fan.