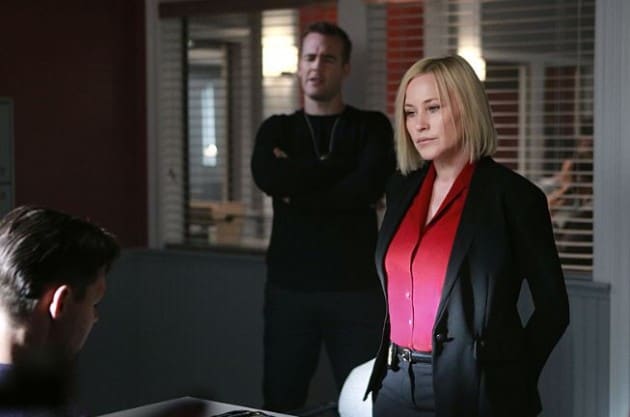 On this week's episode of CSI: Cyber, the team tracks down a hacker/killer who covers up a crime by creating fake cyber evidence. It started when the Kirkendahl Hotel in New York City reported a hack into their WiFi, which could allow the hacker to steal personal information from their system if he is not stopped. It was then determined that the top secret files stored by the hotel and the confidential emails sent by hotel guests might not be what the hacker was after when the team discovered that the hotel's surveillance footage had been wiped clean for a certain period of time. When the hotel manager was sent up to investigate loud music coming from one of the suites, he got the shock of his life when he found the body of the room's occupant in the bathtub.
The victim was later identified as Adel Foster (guest star Kelly Albanese), and it was definitely a crime of passion by the way that her hotel room looked. The coffee table was smashed into a million pieces, and everything was very disorganized. The team found some useful clues, despite the well-covered tracks of the killer, including a smashed smartphone, or "poop phone" as it was later referred to by Nelson, that the killer had tried to flush down the toilet. It was also odd that Ms. Foster had ordered room service, movies, and even spa treatments from her room, three days after her murder.
Turns out the killer made sure to put in a "do not disturb" command on Adel's room when he hacked into the hotel's computer system by using a hospitality hack, which means hacking into a hotel's computer network to prey on employees and guests; this kept the housekeeping staff away from Adel's room for three days. The hacker/killer also sent a fake party invitation to all of the hotel employees, allowing the hacker/killer to hack into the hotel's computer system via WiFi when the RSVPs were being sent back.
However, this proved to be the killer's undoing, as it was traced back to a specific source and destination by Agent Krumitz: a man named Evan Wescott (guest star Justin Bruening) and a club called Evade. A quick trace of Evan's cell phone using Location Services put Evan in Adel's hotel room at the time of the murder, and there was also surveillance footage of him kissing the girl in question at Club Evade, which Evan lied about as he was being questioned by Agent Mundo.
Agents Ryan and Mundo then tracked down Adel's boyfriend, Shane Tillman (guest star Kristopher Higgins), who was shocked and dismayed to hear that his girlfriend was dead. He told Agent Ryan that he thought that Adel had lost her phone, something that she does often, and she had saved up a lot of money to come to New York. When Agent Ryan asked him why he didn't go with her, Shane said that he got called into work last minute so he could save up money for him and Adel to go to Europe.
The team later realized that all the evidence that they had collected, which included texts between Evan and Adel, was all faked. This meant that Evan was hacked himself and was framed for Adel's murder and the hotel hack, meaning that Evan was telling the truth about not being the culprit and that his only mistake was lying about knowing Adel. After looking into his movements before Adel's murder, the team determined that Evan's phone must have been hacked at a local coffee shop that offers free WiFi. The hacker had used an "evil twin" router and waited for Evan to log onto it with his laptop, thinking it was the coffee shop's WiFi, when it was actually the hacker's network that he had logged onto. From there, it was easy to frame Evan for the crime and the murder.
Raven was then able to trace the bought evil twin router to a specific store, which in turn traced back to Shane. The team went to Shane's place, which was in disarray, seeming to indicate a fight had occurred between Shane and Adel. Remembering that Shane had some bruises on his hand when she and Agent Mundo went to talk to him, Agent Ryan realized that Shane must have thought that Adel was cheating on him with Evan, which was the reason Shane framed Evan for Adel's murder and the hotel hack. The team rushed to Club Evade and saw that Shane had a gun pointed at Evan. Agent Mundo was able to talk Shane into dropping the gun and was able to rescue Evan before all hell broke loose.
Shane then made a run for it and went toward the roof, with Agent Mundo hot on his heels. When Agent Mundo reached the rooftop, he saw Shane standing on the ledge, intending to kill himself by stepping off, but Agent Mundo saved him in the nick of time. Shane was then handcuffed after being rescued, but there was still not enough evidence to put him in the hotel room with Adel at the time of her murder. The team then came up with the idea to look at the motion sensor installed on Shane and Adel's phones, which indicated that Shane was at the scene of the crime and that he was the one who killed Adel, even though it was an accident caused by their fight.
This was a decent, solid episode of CSI: Cyber, except the unnecessary flash-forward scene at the beginning. I liked the scene where Agent Ryan tried to rescue a spider that had somehow gotten into her office and Nelson came in and was chastised by her for being tardy; it was hilarious. I laughed when Nelson came up with the ingenious excuse that he would have a conversation with his body so that he can wake up earlier and get to work on time.
The laughter continued when I saw Nelson scramble in fear of the spider on the file folder that Agent Ryan was using to carry it and when Agent Ryan told Nelson that spiders don't like it when he's late was awesome. I also applaud Nelson for his semi-rant about Apple, where every time they introduce a new device, there's a new cord, a new connector, which tends to be incompatible with the new stuff, so more money is wasted trying to correct the problem. Bravo, Brody Nelson, bravo.
How did you find this week's episode of CSI: Cyber? Did you find the hotel guest aliases as amusing as I did?
[Photo via CBS]