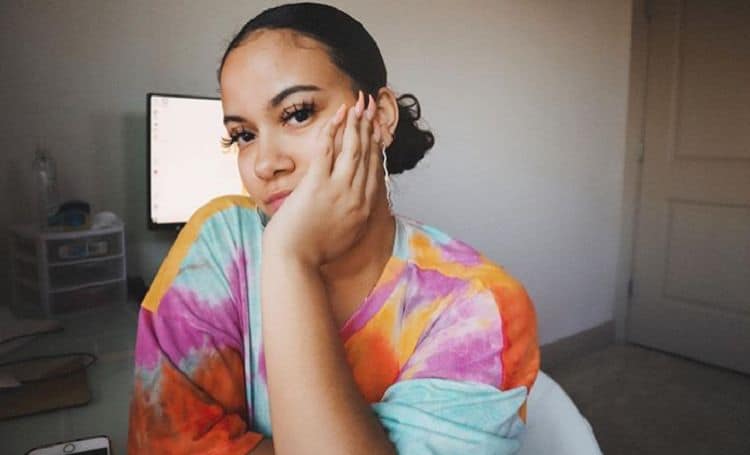 Crissy Danielle never planned on becoming a YouTube star, but that's exactly what happened. While dating fellow YouTuber, Domo Wilson, the couple created a YouTube channel to document their relationship. Their channel eventually grew to more than 3 million subscribers. Fans were shocked in 2018 when they suddenly announced they had broken up. While some assumed that Crissy would decide to leave YouTube behind, she instead decided to create her own channel. Since then, she has been posting regularly and her channel currently has more than 735,000 subscribers. Now on the brink of a rebranding period, Crissy will be switching things up, and will probably gain some new subscribers in the process. Keep reading for 10 things you didn't know about Crissy Danielle.
1. She Had A Son
During her relationship with Domo, the couple had a son named Dominic. When they decided to go their separate ways, they initially said they planned to co-parent. However, it quickly became clear that what seemed like an amicable breakup was anything but. Eventually, their co-parenting relationship dissolved completely and Domo continued to raise Dominic on her own.
2. She Has Two Cars
Lots of people have criticized Crissy for not having a 'real' job, but clearly she's doing okay. Being a successful YouTuber can mean making some serious money. At least, that's been the case for Crissy. From YouTube alone, she has been able to sustain a pretty comfortable lifestyle and she owns two luxury cars: a 2017 Range Rover and a 2018 Mercedes Benz.
3. She's From Indiana
Crissy was born and raised in Indiana. However, she relocated to Arizona in 2017 while she was dating Domo. She stayed in Arizona after the breakup. For a while, it seemed like she planned to live there forever, but she has since decided to move back home to Indiana to be closer to her friends and family. Sometimes, no matter how much you love living somewhere, it can be hard to be away from your loved ones.
4. She Sells Merchandise
One of the best things about people popular on social media is that you already have a captive audience to market to if you ever decide to transition into other opportunities. Crissy has capitalized on this by launching her own line of merchandise that includes t-shirts, hoodies, phone cases, and other items.
5. She's Struggled With Mental Health Issues
Lots of people struggle with their mental health, but not everyone is willing to talk about it. Over the last couple years, Crissy has opened up about her struggles with mental health and has revealed that she has deal with anxiety and depression. Improving her mental health is one of the main reasons she's decided to move back to Indiana.
6. She's Still With Mila
After her break up with Domo, many people accused Crissy of moving on too quickly when she began dating someone else. However, Crissy's relationship with Mila has proven to be much more than a rebound. Once Crissy announced that she was moving, many speculated that the couple had broken up, but Crissy confirmed they're still going strong although they are now in a long distance relationship.
7. She Has A Close Relationship With Her Parents
For many members of the LGBT community, maintaining healthy relationships with family members isn't always easy. However, Crissy is fortunate to have parents who love and accept her. She has a great relationship with her parents and they sometimes appear in her YouTube videos and other social media posts.
8. She Is Biracial
Once you become popular on the internet, people want to know everything about you. When Crissy and Domo were together, lots of people had questions about her ethnicity. People assumed that she was part of the Latinx community, but she is actually biracial. Her mother is white and her father is black.
9. She's Been Smoking Since She Was 15
We all have habits that we're not exactly proud of. For Crissy, that habit is smoking. She has been smoking since she was about 15-years-old. In a video on her YouTube channel, she says that she smokes 2-3 Black and Milds a day. Even though she understands that smoking isn't a good look for her health, it's one of the way she copes with stress.
10. She's A Gamer
Crissy's main YouTube channel is about her personal life, so some people may not know that she's a gamer at heart. But she also has a separate channel dedicated to her love for gaming. She is a huge fan of The Sims and plays on a regular basis. Her Sims Channel currently has 19,000 followers and more than 580,000 total views.