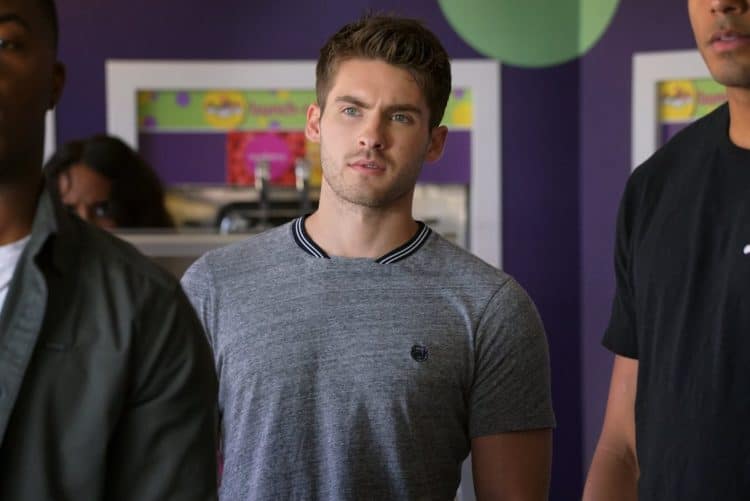 Cody Christian is no stranger to success. Since making his on screen debut in 2006, he has gone on to land main and recurring roles in several popular series. He got his first big break in 2010 when he was cast as Mike Montgomery in Pretty Little Liars. These days, people will probably know him best for his role as Asher Adams in the hit CW series All American. Although Asher may seem like the typical good looking popular athlete, there is much more to his character and Cody has done a great job of bringing that to light. On top of the series, he also has some other projects in the works that his fans are sure to enjoy. Keep reading to learn 10 things you didn't know about Cody Christian.
1. He Really Does Love Football
Not everything about Cody's portrayal of Asher is just an act. He has always been a football fan in real life and grew up playing the sport. While he doesn't play competitively, he enjoys playing for fun and his existing knowledge of the game has come in handy for his role.
2. He Has Native American Roots
Cody comes from a very diverse background. He was born in Maine to a Native American mother and a white father. Cody's mother is part of the Penobscot who are native to Maine and parts of Canada. She grew up on a reservation in Maine. Although Cody only lived in Maine himself for a short time, he is still very proud of his roots.
3. He Loves Video Games
Cody may have the appearance of a typical jock, but that doesn't mean that he doesn't have a nerdy side. During an interview with Talk Nerdy With Us Cody said, "Some people may know this about me, some people may not. I'm a huge video game advocate. I love playing video games! I grew up playing Halo, that's my favorite game/ I played it competitively." He has also had a voice role in the 2020 game, Final Fantasy VII Remake.
4. He Is Passionate About Breast Cancer Awareness
Breast cancer awareness and research is a cause that is very close to Cody's heart. His mom is a survivor of the disease and he witnessed just how brutal it can be. He has made it a point to use his platform to help in any way possible. In 2015, started a t-shirt campaign to raise money for breast cancer research.
5. He's A Musician
Acting isn't the only talent Cody loves to share with the world. He is also a rapper and he has released a handful of songs over the years. Unfortunately, it looks like all of the musical content he posted has since been deleted which means he's either going through a rebranding period or he's done with music
6. He's In A Relationship
There's no doubt that Cody Christian is right at the top of countless people's crush lists. Unfortunately for them, however, Cody is happily taken. He is in a relationship with Alex Swift. She appears to work in the entertainment industry as well although we weren't able to find any official acting credits for her.
7. He Has Tattoos Dedicated To His Family
Family has always been one of the most important things in Alex's life. In 2018, he got a series of tattoos on his fingers in honor of his mother, father, and brother. Cody has an especially close relationship with his mom and credits her for making his acting dreams possible. During an interview with Bello Magazine he said, "My mom provided me this opportunity. I cannot wait for the day when I can go to her and say, "You never have to work again your entire life because without you I wouldn't be here. So now it's my turn to give you everything you want in life." I told her when I was twelve-years-old that I want to win and Oscar when I'm twenty-five. I believe that to be true, and nobody outside of me can tell me otherwise. I want to see the look in her eyes when my name is called."
8. He's A Very Adventurous Person
Cody has never been someone who is afraid to take risks and he has a very adventurous spirit. He's all about making the most out of every moment life has to offer. He enjoys doing all sorts of exciting activities such as hiking, snowboarding, diving, and simply exploring.
9. He Was In An Episode Of Grey's Anatomy
Most people are aware of the bigger roles Cody has had in his career, but he's also made a few smaller appearances in some popular shows. In 2010, when he was only about 15-years-old, he appeared in an episode of Grey's Anatomy playing a character named Brad,
10. He Has A YouTube Channel
Okay so I have some good news and some bad news. The good news is that Cody has a YouTube channel, the bad news is that he only has one video. Although there was a time where he had more uploads on the channel, he appears to have taken them down. That said, he may may have plans to resume posting one day.
Tell us what's wrong with this post? How could we improve it? :)
Let us improve this post!