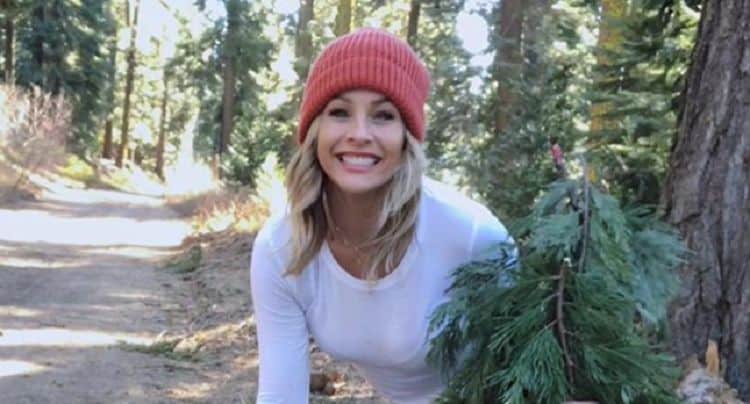 There is a new face on the 2020 season of "The Bachelorette" It was officially announced that Clare Crawley would become the 16th Bachelorette on "Good Morning America" recently. This put an end to viewer speculation about who would be chosen. Not all fans are familiar with Crawley, but here are 10 things you probably didn't know about her to help you become more familiar with the new reality star before the season officially kicks off.
1. She was on "The Bachelor" in 2014
It's been more than 5 years since Clare Crawley first made her debut on "The Bachelor." She vied fro the heart of Juan Pablo Galavis in a season that resulted in her being dumped by him, placing as a runner up. She didn't take it well but she had good reason for her feelings. She had plenty to say to Juan Pablo and when summarized, she let him know that he put her through hell and he was not the kind of man that she'd consider having children with.
2. Clare is more mature than most
Clare Crawley is a little different than what you're used to seeing on the franchise. She is a hairstylist from Sacramento, California. She is also 38 years old. This is a departure from the younger ladies in their 20s who are still trying to figure some things out when it comes to love and life, simply because of their lack of experience. Clare has had more life experience and it's going to present an interesting new point of view for viewers.
3. Clare hasn't had much luck in the Bachelor Nation
Clare appeared in the first two seasons of "Bachelor in Paradise," in 2014, then again in 2015. She was also featured on "Bachelor Winter Games" which aired in 2018. After two consecutive seasons of no luck in love, she took time off from the franchise. She came back for 2018 to give it another try with the international crowd. Although she did forge a connection with French-Canadian Benoit Beausejour-Savard, the couple's engagement only lasted for a few months. Will she have better success this season?
4. Crawley's appointment breaks tradition
It was a big surprise to viewers when Clare Crawley was announced as the lead for "The Bachelorette." It threw those who had formed their own theories for a loop because most lead bachelorettes have been chosen from Peter Weber's Bachelor season. This decision is changing things up a bit and it made history within the ranks of the franchise. This could be a good thing because it is going to infuse new life into the show and present something a little different for viewers. The announcement was made before Weber's season has ended with two airing left in the double night finale set to air on March 9th and 10th respectively.
5. Her split with Beausejour-Savard was amicable
For those of you who were wondering what went wrong with Crawley's recent engagement, the couple are not at odds with one another and they never have been according to her statement about the split. Both of them are looking for love that will last and they tried to make it work. They made a joint announcement to let the world know that they "think the world of each other" and although they were hopeful that marriage would work, it's just not the right move for either of them. Neither is willing to settle and they're not going to marry just for the sake of being married.
6. Clare Crawley is making history on a second front
In addition to being the first to break the timeline of the Bachelor Nation by being chosen early, and outside of traditional standing, Clare has made history in the franchise on a second front. She is currently 38, but when filming "The Bachelorette" begins, she will be 39 years old. This makes her the oldest lead Bachelorette in the history of the series, and it's been around for 17 years. This is quite remarkable as the oldest of Weber's finalists are age 25 or younger.
7. Clare is comfortable with her age
Clare Crawley realizes that he is a lot older than the traditional finalists for "The Bachelorette." She is taking the fact that she has nearly fifteen years or better on them in stride. She shared that she feels much younger in her heart than her 38, soon to be 39 age. She is proud of being the age that she is and she believes that it has given her the experience and wisdom to define what she really wants out of life, and she added that because of this she is not willing to settle for less.
8. Clare is more remarkable than the current Bachelorettes in competition
Weber hasn't been having a great season with his current lineup of Bachelorettes. This is what is believed to have prompted bringing Clare Crawley onboard as the lead for the upcoming season. Fans aren't generally thrilled with any of the ladies who have made their pitches, and none of them have left a good impression on fans of the show. This prompted executives to do something different and although it has left many fans a bit confused, it's likely to be a positive change. They had to do something to change things up.
9. Fans are getting behind Clare Crawley
After reading multiple reviews about the viewer's reactions to casting Clare Crawley as the new lead, it's a mixed bag. There are some negative remarks, but most of the comments are positive. Some fans have shared their optimism about Crawley's appearance and they give the executives a thumbs up for doing something tho improve the ratings of the franchise.
10. You can follow Clare Crawley on Instagram
If you want to keep up with what Clare is up to and see some great photos, check out her Instagram account. You can learn a lot about her just by viewing the photos that she has posted on the page. So far, she has just under 520,000 followers and there have been 924 posts made on the site. We can tell that she is a big fan of the outdoors and water sports.
Tell us what's wrong with this post? How could we improve it? :)
Let us improve this post!