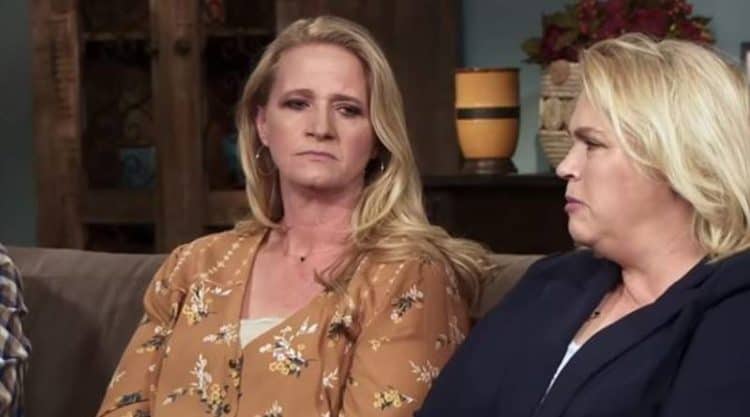 Christine Brown may be one of the more outspoken of the four women who are part of Sister Wives – the fascinating, and often controversial, TV series about the Brown polygamist family. Though Kody Brown, the husband and father of the large family, has described Sister Wives as a TV show which combats society's prejudices about polygamy and shares truths about the way they live, Christine often speaks plainly about her experiences. Kody is only legally married to his fourth wife. Christine and the other three sister wives are part of what Kody terms "spiritual unions". Christine's experiences are those shared by many women who decide to live in plural marriages, but she has kept her own personality distinct through it all.
1. Christine encourages her Instagram followers to "Embrace Sexy!"
The post appeared in May 2020 and prompted a ton of compliments from fans. Though Christine is noted for her "bold personality", she's also been married to husband Kody for more than two decades now. Her date night outfit surprised a lot of people. She wore ripped jeans, an animal-print blouse, a leather jacket, hoop earrings, and bright red pumps with lipstick to match. She posted the importance of dressing up for date night "even if you're just going for a drive" while listening to some favorite songs. She also posted the music she likes best including Muse, The Killers, and Kings of Leon. Many fans openly supported Christine's new look; approving "some red to turn on the heat" and posting how much they "love her style and personality on the show".
2. Christine may be sitting out the Covid-19 quarantine without Kody
According to The Sun Staff, fans have been keeping a close watch on Christine's social media and the only posts found with Kody in them are one to celebrate their 26th wedding anniversary and one for their daughter Truley's birthday. What has complicated opinions is that Christine continues to post cooking videos on her private Facebook page. She's also been posting plenty of family photos, but they don't include Kody and this is what has kept fans buzzing. The fan gossip is that Kody is spending his quarantine time with Robyn, who is his fourth wife. It's long been thought by Sister Wife fans that Robyn has always been his favorite wife because he spent so much time with her from the time when she originally joined the Sister Wife family group.
3. Christine has borne 6 of Kody's children
Kody has fathered 15 of the children in his extended family of four wives. He adopted his youngest wife Robyn's 3 oldest children, to make a total of 18 Brown children. Christine and her close friend Janelle functioned as co-parents for the years their children were growing up together. Janelle also has borne 6 of Kody's children, and the two sister wives grew up near to each other. For more than twenty-five years, the two have been the driving force among all the wives and children to create a strong Brown family.
4. Christine vacationed on a cruise to Puerto Rico without talking to her sister wife Meri
According to Newsweek, the 2019 LuLaRoe-hosted cruise was just another time when the two wives didn't really have any kind of "real conversations". The two had been good friends enjoying fun and crazy times together, but the strains of sharing a husband and preparing to move from Las Vegas to Flagstaff were evident. Christine was quite open about the lack of comfort she felt with Meri.
5. Christine hinted that her daughter Ysabel's painful scoliosis may become the topic of new episodes of Sister Wives
Christine was recently asked how Ysabel was doing lately with the doctors. Ysabel has worn a harness in the past and her spine is quite curved. Doctors have hoped to improve it without surgery. Christine wasn't telling whether or not the show would continue, but viewership of Season 14 nearly doubled from the first episode until the last.
6. Christine first challenged Kody's decision to make all his wives live under one roof
A year ago, Reddit.com posted Christine's bold challenge. She supported her belief when she said, in front of the camera crew, that Kody's expectation that his wives would "be best friends" was way out of line. Recently, Kody revealed that he wanted to have one large home built on their Coyote Pass property so the whole family could live together. Meri, Janelle, and Robyn joined Christine's position this past season and the argument continued throughout nearly every show.
7. Christine celebrated her 26th anniversary with Kody with a Home Depot date
In a video interview for Us Weekly, the couple described their entire upstairs as a loft with no door to their bedroom. They'd planned to put a door in place for a long time. Because of the Covid crisis, they decided to employ social distancing rules and headed out to Home Depot. They couldn't find what they were looking for in store, so they ended up ordering the door. They had a favorite dinner which they ate together with the girls and they also played some favorite board games. They took an Instagram photo at sunset and posted it. They celebrated their spiritual wedding anniversary on March 25.
8. Christine was the third wife to file for bankruptcy in the Brown family
According the The World News Daily, Janelle was first, Meri was second, and Christine was third. Janelle filed in 1997. Meri filed in 2005, at a time when she and Kody owed creditors $80,000 or more. Christine filed in 2010, which was the same year her son Truely Brown was born. Christine's claim was that she was unable to repay $25,000 in debt.
9. Christine never had new appliances before her Las Vegas home was built
In an exclusive interview for TLC, Christine gave an exclusive tour of her new home in Las Vegas. The first architectural point of interest she shared was her turret and her "faux moat" which was a front yard landscape design featuring river rocks placed in the desert sand to resemble a flowing streambed. She gently whispered that her moat didn't have any water in it. Then, she welcomed the camera inside the house for the next part of the tour. She described the open, light-filled entry way as "lovely". Several appliances in the basic black kitchen were bright red. For Christine, she felt that the best part of her house was her 6 children. She had their photos displayed on Scrabble boards with words describing each child. There was no TV in the living room because she wasn't a fan of having one on the main floor of a home. In September 2019, her home was sold for $535,000 when the family relocated to Flagstaff, Arizona.
10. Christine's estranged Aunt Kristyn has begged Christine to leave plural marriage
According to Radar Online, Christine's Aunt Kristyn's interview revealed that Christine isn't ready to leave Kody. Kristyn affirms that she will be there for Christine should the time come because she believes Christine is "miserable" in the plural marriage and has been for a long time. Kristyn is the author of Fifty Years in Polygamy: Big Secrets and Little White Lies. She left her 33-year marriage to her first husband because she came to view plural marriage as "cult-like". The Browns aren't speaking to Kristyn, who continues to believe that if the material gains brought by being in a TV show are keeping the family together. Without it, they would be more likely to leave their marriages, Kristyn believes. Christine speaks to her own truth in the family's book Becoming Sister Wives: The Story of an Unconventional Marriage. Christine confessed that "The sister wives relationship is super tricky because you're trying to be best friends with the woman who has a relationship with your husband."
Tell us what's wrong with this post? How could we improve it? :)
Let us improve this post!