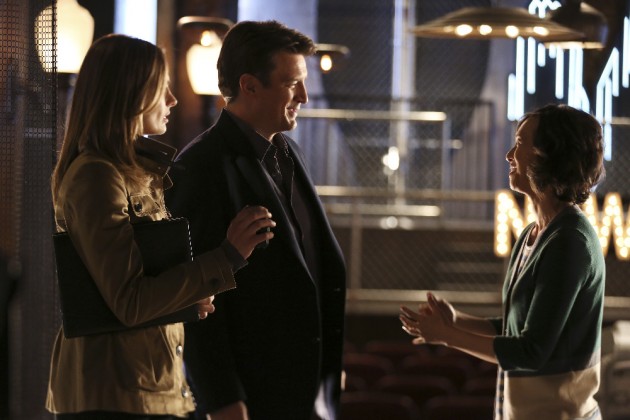 When this week's Castle began, I thought I would hear Don Pardo's voice at any moment. "Dead From New York" centers around a Saturday Night Live spoof where a legendary executive producer is dead, all the actors are suspects, and Carly Rae Jepsen gets Castle and Beckett to awkwardly dance in the wings. The episode started out fun and wacky in true Castle style, then seemed to turn into a different, more convoluted story, before shoehorning Carly Rae in and getting back to the wacky fun. It was a mixed episode for me.
Sid Ross, found shoved down an elevator shaft, is the EP of Saturday Night Tonight (doesn't really roll off the tongue, does it?) and a host of comedy films. Sid wasn't the kindest person, but when his wife doesn't have any answers, Castle and Beckett speak with Gene Vogel, the head of Sid's production company. They are escorted by Chad, a page, who is only missing a peacock pin on his lapel to complete the uniform.
"The majority of the nation's comedy was born from the minds of these geniuses. Except for this season, they sucked."
Everyone on the show was there that night ("Thursday night is re-write night"), so the entire cast and crew are suspects. First up: Mickey Franks, the star of SNT whose recent public meltdowns led Sid to want to fire him. Franks (played by Family Matters star Jaleel White) is found in the props department, in full armor, talking to himself. When he attacks Beckett and lands himself in interrogation, he pulls out a puppet lawyer. He drops the act, however, when he learns Sid is dead. The meltdowns were truly an act; he didn't kill Sid because he was firing him, that's what he wanted! The scene in interrogation played awkward for me because I didn't understand why Beckett would play along, but it did make me think about actual celebs and their actual meltdowns and I wonder: what are they trying to get out of?
With Franks in the clear, Castle and Beckett head off to their next lead: Danny Valentine, the week's guest host. They find him on set, spoofing Castle and Beckett's life.
"I'm a cop and a model, so I know when someone's lying to me. And when their outfit is clashing."
Valentine was supposed to meet with Sid and his ex-wife Evelyn, but he cancelled, taking a subway ride to a sketchy Brooklyn alley. There, shots ring out and Sid stumbles away from a crime scene. Rysposito head to that alley and discuss the virtues of improv comedy. Epso is a bit of a comedy snob, but Ryan took some improv classes and notes the value of "Yes, and…" (an improv comedy technique). Ryan WOULD take improv classes. I bet he tries out routines on Jenny and Sarah Grace to make them laugh.
The man who sped away from Sid's alleyway exchange was a recently released convict named Kurt Vanzant. Here's where the story begins to lose me. Vanzant, an infamous drug dealer, bankrolled the pilot episode of Saturday Night Tonight. Did he come to collect on his investment?
Castle and Beckett find him holding Danny Valentine out the window, but Vanzant claims he didn't kill Sid. Sid offered him shares in the sale of a project to an equity group in return for Vanzant getting him a gun. After giving Sid the gun, Vanzant stuck around to watch a masked man pick up a bag of cash before Sid started shouting and shooting at him. "Where is she?" Someone in his life was kidnapped.
Ryan realizes that Evelyn Ross, Sid's first wife is out of the picture. They track her location via her fitness tracker–which is actually a really cool way to solve a case. She says the man who kidnapped her was wearing a mask, not unlike one used in an old SNT sketch that bombed.
Caskett head to set and watch CRJ (do people call her that? It's so much easier to type) perform her musical number (someone get this song out of my head, please). Chad comes over to chat, but his ring outs him as a viable suspect for the kidnapping. But the evidence stacked against him is too "perfect," leaving Castle and Beckett to continue their search.
(I was so lost in the back and forth of the plot that I missed the return of the synchronous "I know who the killer is" from Castle and Beckett the first time around.)
It ends on the SNT stage, live during air. Vogel, Sid's company's CEO, was the one who killed him. He embezzled 4 million dollars, then kidnapped Sid's ex to replace the money with the ransom. Vogel bolts and Kate follows him to a take down in the final sketch of the night (which happened to be Model Cop). Live on TV. Castle preens, and Kate awkwardly follows along (I hope Vogel was in fact knocked out, because he could have totally ran–or hobbled–away while they enjoyed their five seconds of fame).
The subplot of this week's episode involved Martha being oddly nervous for the first previews of her Broadway show. Because she hasn't been on Broadway in over 16 years, she was hesitantly nervous about her "second act." Her "48 Hour First Line": "Is he dead," really made her ponder if her career was dead. She and Richard have a lovely talk about second chances and the power of social media to bring down an artist.
Other Things:
– As I briefly mentioned before, the saxophone intro to the episode really hit the mark on this being an SNL spoof right from the get go. I really wanted Don Pardo to introduce Nathan Fillion. He'd make a great SNL host.
– "Sid popped out." "Like a jack-in-the-box from hell."
– The show's (female!) head writer, Liz Bell, is a big fan of Castle, but more so Beckett: How do you fight crime and keep your hair like that? And do it in high heels?
– I kinda wish there was more for Jaleel White to do. Carly Rae seemed to get more screen time than he did.
– "Model cop down! I broke a heel!"
– Beckett flirting with Danny Valentine was weird, right? The hair twirling was so weird.
– What does a "Judge Booty" sketch look like?
– Model Cop was the final sketch of the night, kind of solidifying how awful it is, to be bumped to last when the at home audience is asleep…
– I'm sure Castle isn't quite on SNL's radar, but I wonder what the cast–and most importantly, Lorne Michaels–thinks about this week's episode.
– Next week is the season finale. Are you ready?
[Photo credit: John Fleenor/ABC]
Tell us what's wrong with this post? How could we improve it? :)
Let us improve this post!