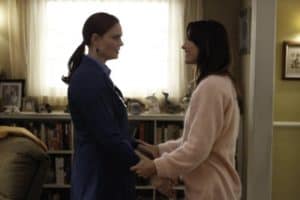 Bones often gives fans a pretty cool case of the week, but this one was not only personal, it was a pretty solid whodunnit with some mysterious (and clever) weapons.
Touched by an Angel. After a fight with Booth about her lack of spontaneity, Brennan stormed out of their house and went back to a mysterious case at work involving a man who fell off a bridge. While Cam and the other surgeons tried to stitch Brennan back together, Brennan had an encounter with her deceased mother, who tried to convince her that this was all real. But Brennan's hyper-rational mind couldn't understand these types of experiences, even after Booth assured her that he believed she did had an opportunity to speak to her mother "somewhere". In the end, despite her skepticism, it seems like Brennan's encounter with her mother really struck a cord and convinced her that there are some things that can't be explained.
The Mysterious Bullet. Shortly before being shot, a Jeffersonian security guard named Hal stopped by the lab to inquire about Brennan's work on the bridge victim. Later, the team was confused when there was no exit wound or bullet found in either Brennan or Hal, who was also shot and killed. Hodgins eventually figured out that the "bullet" was made from blood frozen in liquid nitrogen and that the shooter was very close to the Jeffersonian. In fact, he was Dr. David Batuhan, the head of Antiquities, who seemed to be involved in a smuggling and antiquities selling ring with the bridge victim and the security guard. After learning that Booth had little evidence against Dr. Batuhan, Brennan asked to go into surgery for a second time in order to retrieve fragments from the blood bullet so they could prove it was Batuhan's blood. The surgery was successful and they had the evidence to charge Batuhan.
Next week's all new Bones sounds like another heavy episode when the team investigates the death of a 15 year old boy and a young girl comes forward and confesses to being raped by a high school party attended by the boy (although the promo is full of some funny lines, including the whole "straight up" exchange!). Squintern Finn Abernathy also returns and he wonders if he should tell Cam that Michelle is in town visiting for the weekend.
Watch a preview below for the February 18th Bones on Fox.
http://youtu.be/C7K6ijk6TIw