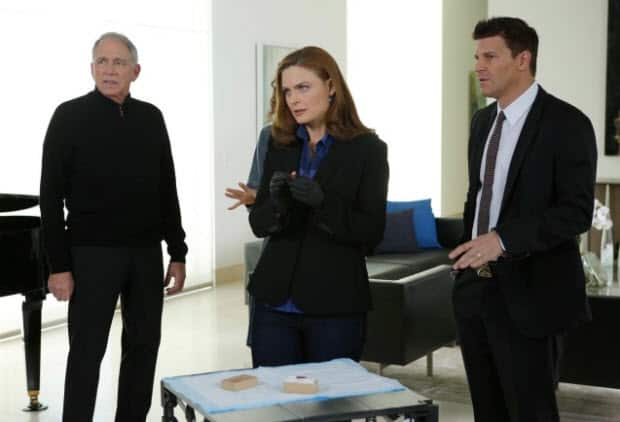 Bones fans were able to rejoice this week. The crime drama was renewed for a 10th season. Though it is pretty clear the show will take a bow in 2015, that still gives writers a whole year to come up with some juicy storylines. The ninth season has brought some exciting ones so, they will have some work to do. Before you head to your buddy's house to see the Seahawks take on the Broncos, check out this review from the latest episode of Bones, "The Heiress in the Hill."
The first five minutes were jam-packed with information. Booth (David Boreanaz) and Brennan (Emily Deschanel) are at home preparing for the day. These are my favorite moments on Bones. We do not always get to see the couple interact as husband and wife, so it is always a delight when this happens. Brennan just received a check for $75,000 from sales of her book and wants to share the wealth with Booth, who is less than excited his wife makes so much more money than he does.
It appears that rich families always have secrets and that is the case with Hodins' (TJ Thyne) family. An employee for a mental health home pays a visit to Hodgins and Angela (Micheala Conlin). He tells them that Hodgins has a brother named Jeffrey he did not know about. Since Hodgins has spent the majority of season nine as a background prop, he may get to actually have a storyline with this one.
And oh yeah, there is a dead body. It was buried, covered in lye, with crushed teeth. Whomever killed this person did not want anyone to be able to identify the remains. In minutes, the team figures out the body belongs to a 20-something female. The only downside is the squintern this week is Colin Fischer (Joel David Moore), who is one of my least favorite. His negativity can be humorous at times, but mostly he is annoying.
For once Cam (Tamara Taylor) was able to provide assistance to the team instead of spewing snarky comments. She steals Angela's thunder and identifies the victim as Lauren Frank. This allows Sweets (John Francis Daley) to join the case. He is working with Booth on Lauren's back story to compile a list of suspects, no more than the usual three suspects I am sure. Lauren's father owns a software company, so the family was well off. Lauren's parents arrive at the FBI and alert Booth and Sweets that Lauren was kidnapped and they were threatened to not call the police. To make the episode even more exciting, the kidnapper texts Lauren's dad requesting ransom money, which means he or she does not know Lauren's body has been unearthed.
Bones and Booth venture to Lauren's house to search for any clues that can lead them to Lauren's killer. Bones examines the pinky toe that was sent to Lauren's family to prove she had been taken. After examining it, Bones announces aloud that the toe was ripped off Lauren's body, much to the horror of Lauren's family. Though Bones is always straightforward, she has developed some social skills over the last nine years that would make me believe she would never deliver news like this in front of a grieving family. Maybe she has not grown as much as I thought.
Lucky for Hodgins and his storyline, there isn't a need for an entomologist in the beginning of this week's murder. He is able to visit the facilities where his brother is staying. Like is brother, he is a conspiracy theorist. They have a conversation that starts out great, but due to Jeffrey's illness things quickly take a turn for the worse. The meeting upsets Hodgins, especially because he knows his brother will have to be moved to a state facility. Booth decides to donate the $75,000 Bones received to help in Jeffrey's care. If you did not already think Booth was a good man, you should now! Of course, Hodgins refuses the money. If this were real life, I believe Hodgins would have been thankful for the donation and gladly accept it.
Back on the case, Angela finally has some work to do. She determines that right before Lauren's disappearance, she was to review Spanish with her TA Mauricio, who of course she was dating. They were planning on leaving the country on an excursion. Since Mauricio has a ticket to leave the country and no alibi, he is the # 1 suspect. He is most likely not the killer, but it is funny how the Red Herrings never have an alibi.
A shocking clue leads the team back to Lauren's house. Her cell phone, which the ransom texts are coming from, is still in her house. It is located with Lauren's stepmother's exercise equipment, which means she is now the top suspect. At this point, I am usually able to figure out who the killers is, but the writers still have me stumped. Lauren caught her stepmother having an affair. Booth asserts the stepmother killed Lauren because a prenuptial agreement was in place and she was not allowed to cheat. More evidence comes to light that the person who killed Lauren was actually trying to help her, another great twist by the writers. Lauren was ill and having a seizure, the killer gave her a dose of penicillin. She was allergic and died.
And yet another scandalous hint comes to light. Angela figures out that Lauren staged her own kidnapping with the dog walker and had the ransom texts set on delayed delivery. The toe Lauren cut off became infected and the dog walker gave her the antibiotics she was allergic to. The dog walker claimed he and Lauren were going to run off together, but Lauren was going to frame him for the crime. She sounds like a great girl. And there was no mention as to why he covered the body in lye so the remains could not be identified.
This episode of Bones was overall pretty good and kept me interested throughout. Sadly, Bones is not on next week, so spend your next Friday night hanging out with friends or cleaning out your DVR.
[Photo via Patrick McElhenney/FOX]