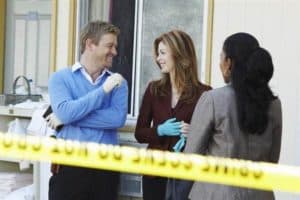 Once again, Megan proves how adept she is at her job and how ill-equipped she is in dealing with real people. For the most part, she is her job. She never knows who is married or divorced or having children. She's far more concerned with her immediate family and her desire to bring meaning to the deaths of her patients. Her acute observation skills are worthless outside of the medical arena.
The victim in tonight's crime of the week was a former neurosurgeon patient of hers, but she didn't recognize her face, her name or even her father. When they spoke, it seemed they had discussed things in depth (such as the death of her mother and it's affect on her) during the time she had surgery, but she remembers none of it. That really hit Megan when the victim's father told her she was her role model, and because of how she saved her life, she chose a career to make a similar impact on the lives of others.
I'm really enjoying the relationship between Chief Medical Examiner Kate Murphy (Jeri Ryan) and Megan. In the Pilot, the other medical examiners seemed to hope they could somehow get rid of Megan by tattling on things to Kate. But Kate had complete faith in Megan. This week, as she saw Megan struggle in her connection with the living, she attempted to reach out and give advice. Advice she thought was lost, but Megan heard her. Try as she might, however, the job always trumps personal conversation, especially when she finds a picture of herself and her current case on the victim's dresser. If anything, even while she's ignoring Bud, she is realizing the personal impact she has on others without even being aware.
The more I watch, the more I feel a bit of Bones in the show. I can see all of our players growing to have similar camaraderie. That doesn't mean that Peter and Megan will get romantic, but everyone seems to have a specialty in their role. Detective Bud is becoming a real joy to watch. He says the craziest things. "Remind me to boil myself later," after lying on a cheap hotel bed and "don't touch it unless you want pigeon poop disease." He's our funny guy.
Did anyone else see the conclusion of the case ahead of time? I was at a total loss. I had written off the baby's mother as soon as they spoke with her. No many shows are able to do that. I can almost always narrow it down to at least two and one of them would be right. I was so far off the mark on with this and I loved it! I love when a show can surprise me.
I was equally impressed that the case helped her to open up to those around her. Her talk with Bud about his divorce and her offer to sew his jacket gave her a more human feel. The show should get stronger as the interpersonal relationships do, as well.
I'm still on board with Body of Proof in a big way. What about you? I had a similar feeling when I watched the first episode of Off The Map, but quickly lost interest (or excitement) in what was coming next. It could just be the magic of Dana Delany. I don't think I will tire of Body of Proof any time soon.
PS: Am I the only one who can't stop thinking "He's married to Christina Hendricks!" when Elliott (Geoffrey Arend) is on screen?
Tell us what's wrong with this post? How could we improve it? :)
Let us improve this post!