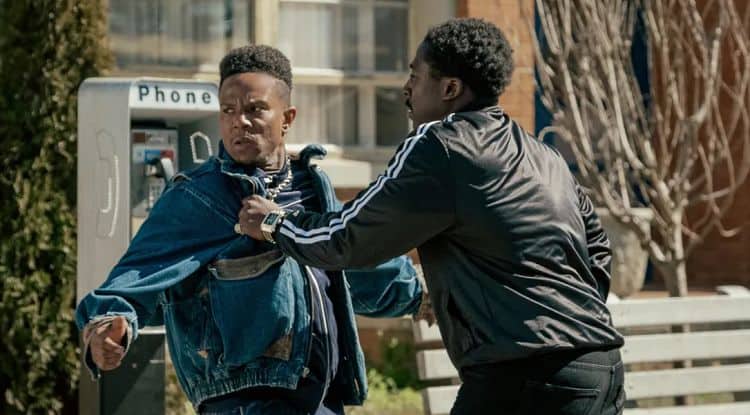 On BMF Season 1, Episode 5 Meech and Terry are handling business. Between the stash house getting robbed and the murder investigation of Jame-mo in which they are the prime suspects, their operation is falling apart at the seams. In this episode, Meech and Terry are determined to get a hold of things to ensure the success of the empire they are building.
Deposition
The episode begins with an intense meeting at the hospital. The Flenorys have decided to take legal action against the hospital for the botched surgery they performed on Terry's eye. But things aren't leaning in Terry's favor. The hospital is accusing Terry of being a drug dealer and their blaming his condition on his risky profession. They also bring out how Terry tried to leave the hospital but ended up falling which supposedly could have contributed to his injury. Further in the episode, the hospital offers Terry a $25,000 settlement but Monica believes it's a slap in face. Terry's dad, Richard on the other hand believes that they should take the offer rather than risk going to trial. Richard believes that Terry is involved in Meech's street business and a trial will put a microscope on their illegal activities. Monica asks Terry to look her into her eyes and tell her whether he has been working with his brother. Terry tells her no.
Disowned
Meech makes the difficult decision to end the business arrangement with Pat. Pat gets angry and goes off on him. Meech reminds Pat of the first lesson that he had ever taught him – "Never get high on your own supply." Pat punches him the gut and tells him that he's done with him and their relationship is over.
The Kidnapping
Everyone has a weakness, including Lamar who has tricked himself into believing that he was unstoppable. Lamar is on cloud nine because he's finally making headway with Monique. Monique tells him that it's okay to pick up Zoey their daughter from school but she makes him promise to be on time. Of course, Lamar is a few minutes late and Uncle Meech ends up picking Zoey up from school. When Lamar gets to the school one of Zoey's classmates tells him that she was picked up already by her "dad". Someone confronts Lamar and tells him that if he wants his daughter back he needs to get the stash back. Lamar is furious and rounds up his whole crew to help find his daughter. Tiny one of the goons speaks out against Lamar. He believes that searching for Lamar daughter doesn't have anything to do business. Lamar officially establishes his authority by choking him out with a belt to teach him a lesson.
Caught In The Middle
Lamar immediately reaches out to Kato to find out if she knows anything about Zoey's whereabouts. It doesn't help that Meech decides to bring Zoey to her house for a little bit while he handles some business. Kato lies and tells Lamar that Meech doesn't trust her enough to let her in on certain things. Lamar pops up over Kato house and searched the room. Fortunately, Meech came to pick up Zoey just minutes before.
Witness
Meanwhile at DRANO headquarters a witness comes forth in regards to Jame-mo's murder. The witness claimed that he saw the man that snatched up Jame-no and Detective Bryant was extremely nervous. The potential witness was shown Meech's face in the lineup but fortunately he was able to identify anyone. Detective Lopez mentions that Jame-mo might be missing a earring. Detective Bryant searches his car and finds it just in time. Pat meets with Detective Bryant and lets him know that he knows that he is on Meech's payroll. Pat offers to triple what Meech is paying but Detective Bryant refuses he doesn't want to controlled by no one. It's obvious that Pat has something up his sleeve since he feels that he was betrayed by Meech.
Surprise
The 12th Street Boys strap up and head to Terry's location but they are outsmarted by Terry's crew and thrown in the trunk. Meech gives Slick a proposition. He tells Slick that he can take Zoey back to Lamar if he gives up the location of their stash. He fails to do so, Meech promises to kill Zoey and send a note to Lamar telling him that Slick could have saved her. Slick does the right thing and when he brings Zoey home Lamar is relieved. However, Monique is livid and she doesn't want anything to do with Lamar anymore after finding out his street business affected Zoey's safety. Zoey doesn't realize that she was kidnapped. Since her mom had previously dated Meech she was comfortable with him
Secrets
One thing about secrets is that they eventually come to light. Meech sneaks into his parents house in the middle of the night to talk to Terry and check out the new product. Monica comes into their room overhearing everything. Now she knows that Terry was lying to her. Detective Lopez follows Detective Bryant and he observes him meeting Meech at a gas station and handing him back an envelope.
Tell us what's wrong with this post? How could we improve it? :)
Let us improve this post!