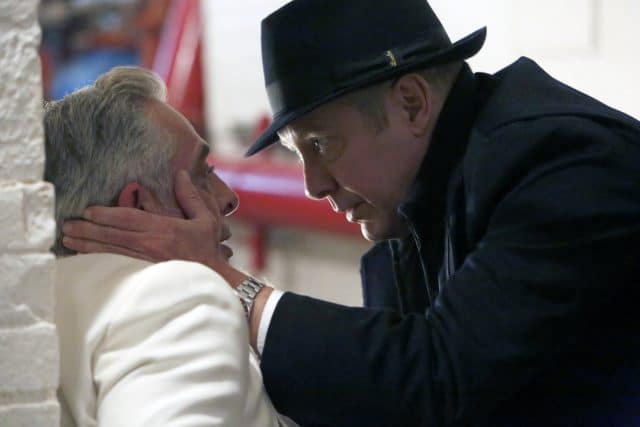 I'm still a little iffy on the direction that The Blacklist is taking this season. The 2017 episodes have been much better overall than the 2016 episodes, but I'm still not sure that it has enough stakes to be effective or continue to be interesting. Yet somehow, I can't look away.
This week on The Blacklist: A courier who works for Reddington was taken down by Isabella Stone, and her next target is a longtime partner. Reddington seeks the help of the task force to take down Stone. Ressler, conflicted by an ailing brother, grows increasingly tired of doing work to benefit Reddington. Tom begins to look into his father and his past, after receiving word that his father has died.
As I said, I'm conflicted. There is a lot of good stuff happening on The Blacklist right now, but it might be too little too late. One of my biggest complaints about the more recent seasons is the blatant favoritism of Tom, Liz, and Reddington, with very little happening in the way of other characters. But, with Samar, Aram, and now Ressler's situation with his brother, things seem to be shifting toward the supporting players more, especially with Redemption right around the corner. I've enjoyed Ryan Eggold's performance as Tom, but I'm not sold on the spin-off just yet. Anyhow, I'm pleased that the supporting characters are moving center stage, but what I want to know is A) is it enough? And B) is it too late? I find myself longing for more brief character moments with the supporting cast and ambivalent toward anything Reddington/Keen related.
Fan theory time. It's obvious to me who is behind the attack on Reddington's enterprise. The only person who knows enough details to bring him down: Mr. Kaplan. He doesn't know she's alive so he's panicking, becoming more and more reckless as he goes along. His recklessness directly correlates to his uncertainty about who is doing this and why. The intent is to shock the audience, but if it does turn out to be Mr. Kaplan… it might be over for me.
Here are a few other thoughts:
I appreciated that there was some meat to Ressler's story tonight, but you couldn't go be with your brother at all? Like you have ZERO personal time accrued? I don't buy it.
So casting Terry O'Quinn was a stunt so Tom has a famous father? I don't buy that. I believe we'll be seeing Tom's not-so-dead daddy sooner rather than later.
I really enjoyed Reddington's car theft victim act. Classic James Spader. Classic Reddington.
Also, Aram's little bet with Ressler before he presented the data to Cooper was a marvelous bit of television.
Sidenote: I always knew that Jan from The Office would go full-on villain one day.
Overall, I like all of the steps they're taking, but the stakes just do not seem high enough to carry it through the remainder of the season. Perhaps the spin-off will provide a welcome break, but for now, everything feels a little too weak and forced, and I'm not totally sure how to fix it.
What did you guys think? Did you enjoy the episode? Let us know!
The Blacklist airs Thursdays at 10/9c on NBC