The first time I had ever heard of Black Panther was when I was killing some spare time on a lazy weekend in college. I wandered into a local comic shop — not to buy anything, just to look — and I stumbled upon one of the character's comics.
A passing glance at its salacious cover told me everything that I thought I needed to know about the comic: a black woman with an afro and an Uzi posed in front of some typical ne'er-do-well types. I didn't even realize that it was a superhero comic, if I'm being honest. All I knew is that its title shared the name of a black nationalist organization, so I laughed it off and moved on to something else.
Fast forward almost a decade and I'm singing a very different tune regarding that particular franchise. After the Wakandan king's extraordinary debut in Captain America: Civil War, he's all that anybody in the superhero business can talk about (except for maybe Wonder Woman, that is). In the brief time that we were introduced to T'Challa of the afro-futurist nation of Wakanda, he's become a sensation: even headlining Marvel Studio's first solo black superhero movie early next year.
And while we have quite a while to wait on T'Challa's stand-alone movie — including two other Marvel movies to get through in the meantime — we're starting to get a rough idea about the movie we're about to receive. Early on Friday, Marvel released the movie's eye-catching poster. Later that same day, they dropped its first trailer.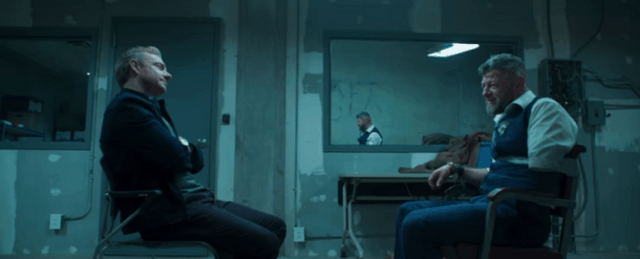 The trailer begins with Age of Ultron's Ulysses Klaw (the man Ultron bought Vibranium from before amputating one of his arms) talking to Civil War's Everett Ross (the guy who chipperly locked Zemo in a maximum-security cell in the film's final moments). Klaw tells Ross that his assumptions about Wakanda — which he thinks is just a third world country with a modest textile industry — are wrong. It is actually the real-life counterpart to El Dorado: a fabulously wealthy, technologically advanced society hiding in plain sight of a dismissive, Eurocentric world.
It cuts to an overgrown, fog-drenched patch of the Congo in the dead of night. A group of armed men nervously exit a jeep, armed with high-end machine guns. As they survey their surroundings, they lock their sights on a dog barking into the trees. They look up to see T'Challa — Black Panther armor silhouette against the night sky — who drops down and takes them out like they were nothing: throwing one into their car, kicking one at the tail-end of a backflip and casually walking through a flurry of gunfire just to flip the last one into the air.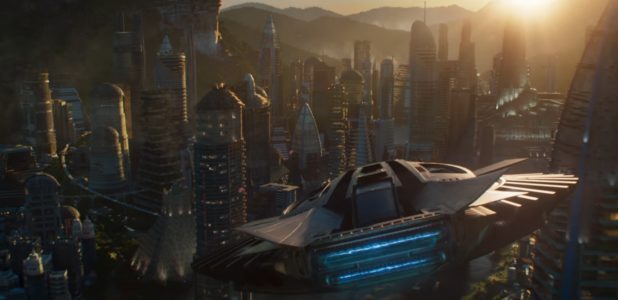 Klaw laughs as we cut to a futuristic hovercar descend into a breathtaking Wakandan city. Set against the African landscape and amidst chambers full of African dignitaries in their full regalia, it looks closer to something out of Guardians of the Galaxy than Marvel's terrestrial adventures.
A wizened old voice calls out amidst spectacular action sequences: "The world is changing. Soon there will only be the conquered and the conquerors." And as Black Panther flips a car on the highway, the ancient voice introduces us to its central conflict. T'Challa is "a good man, with a good heart, and it's hard for a good man to be king."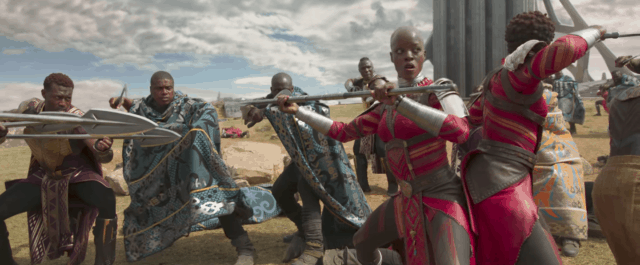 While I was excited about this movie since first seeing T'Challa don the Black Panther armor in Civil War, I am far more psyched about this than I ever imagined I would be, never mind my casual dismissal of the character in that long-ago afternoon spent browsing through my local comic book store. Black Panther promises to be Marvel's most visually arresting film to date, with its most diverse and interesting cast across its growing, soon-to-be eighteen film franchise. It will be every bit the important, ground-breaking film that Wonder Woman has already become.
Save