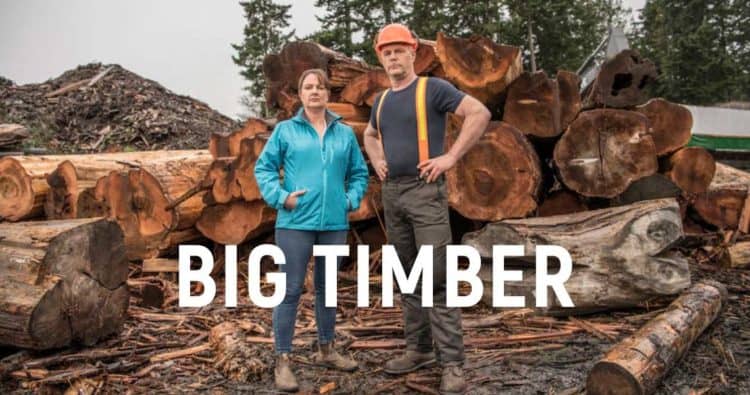 The logging industry isn't something that most people probably spend a lot of time thinking about. However, Netflix is hoping to change that with its new series, Big Timber. The series follows a logger and sawmill owner named Kevin Wenstob who works hard to take care of his family and keep his business afloat. If you're not interested in logging, you may think this is a show you should skip over, but lots of viewers have been pleasantly surprised by how interesting the show is. If you're looking for something new to watch (admit it, you are), Big Timber could be the perfect thing to add to your list. Keep reading to learn 10 things you didn't know about Big Timber.
1. The Show Was Filmed In Canada
Lots of people in the United States probably assumed that Big Timber is filmed in America, but the show actually takes place a little further north. Kevin's business is located in British Columbia so that's where the show is filmed. Specifically, the show takes place on Klitsa Mountain.
2. Kevin Purchased His Sawmill With His Own Money
People who love stories about hard work and dedication will definitely be drawn to Big Timber. Kevin bought Weston Timber with his own hard-earned money and he has been putting lots of blood, sweat, and tears (literally) into it ever since. We don't know exactly how much money the business makes, but it appears to be very successful.
3. The Show Premiered On The History Channel
Some may be under the impression that Big Timber is a Netflix original series, but that's actually not true. The show originally debuted on the History Channel in 2020. Being followed around by a production team was definitely an adjustment for the Wenstob family, but it has proved to be a great experience.
4. Some People Find The Show Problematic
Logging may be how the Wenstob family makes their money, but there are lots of people out there who don't agree with the concept of logging because of the impact it can have on the environment. According to Green Matters, "To many people, the logging industry is often used as a symbol for all the environmental problems our world currently faces, thanks to humanity. When left unchecked, logging can cause soil erosion, habitat destruction, and contribute to the climate crisis."
5. Big Timber Is Kevin's First TV Show
Kevin Wenstob isn't the kind of person who set out to become a reality TV star. Instead, the opportunity just presented itself to him based on the success of his logging and sawmill company. As far as we can tell, Kevin doesn't have any TV experience outside of Big Timber.
6. The Show Hasn't Been Renewed For Season Two
Waiting to get renewed is probably one of the most stressful things about the TV industry. As of now, it doesn't appear that Big Timber has gotten a renewal announcement. Now that the show is gaining popularity on Netflix, there's a good chance that producers will decide to bring it back for another season.
7. You Can Follow Kevin's Business On Social Media
Big Timber doesn't have any social media profiles of its own, but those who love to keep up with their favorite shows online will be happy to know that Wenstob Timber is active on social media. The business has accounts on both Facebook and Instagram and both profiles are updated fairly regularly.
8. Kevin Started Documenting His Journey Long Before The Cameras Came Around
Big Timber maybe Kevin's first time on TV, but it's not actually his first time being in front of the camera. Even before the opportunity for a series came along, Kevin and his wife were filming their journey on their own. Little did they know, this would prepare them for eventually having their own show.
9. Viewers Will Learn A Lot
There's no doubt that Big Timber is an entertaining show, but it also has an educational element to it. Since logging isn't something that most people know about, many viewers will be surprised by how much they can learn by tuning in. Lots of people will probably be a little surprised by how lucrative logging can be.
10. There's A Little More To The Show Than Logging
Logging is definitely the main focus of Big Timber, but that isn't the only thing people will get from the show. Since Wenstob Timber is a family-owned business, viewers will also get the chance to get a peak into the family's dynamics and learn more about Kevin and his loved ones as people.