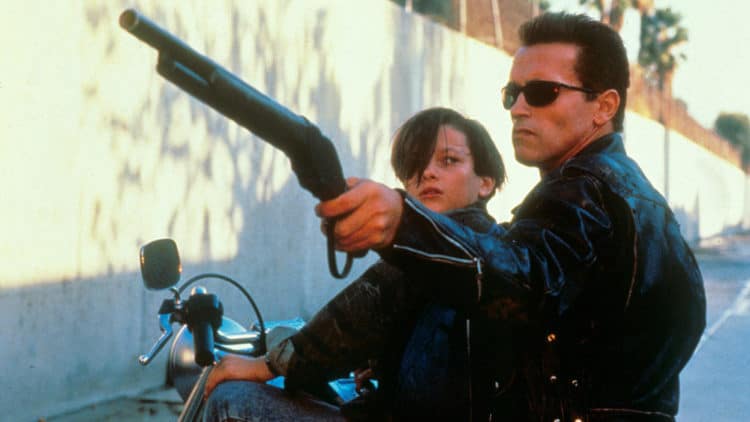 Action movies are one of the most popular film genres. Moviegoers love the excitement, suspense, and elements of danger included in these films. Highlights of films within this genre often include fight scenes, speedy car chases, and the main character facing risky situations. These are the sort of things that get audiences sitting on the edge of their seats. The 90s was a fantastic decade for fans of action movies, as many films of this genre were released during that decade. Here are 20 of the best action movies of the 90s.
20. Blade
Released in 1998, Blade is one of the Marvel superhero movies that includes some exceptional action sequences, says Retromash. The film starred Wesley Snipes as a vampire slayer who is trying to protect the human race. This is sometimes considered a trend-setting movie as it led the way to supernatural themes in action movies that became popular after the turn of the Millennium.
19. Face/Off
Face/Off is arguably John Woo's best film and also one of the most underrated action movies of the 90s. It also has one of the weirdest storylines, says Gamespot. John Travolta plays an FBI agent who has plastic surgery so that he can go undercover as Nicolas Cage's character, but things don't quite go to plan.
18. Desperado
Desperado is the 1995 follow-up film to El Mariachi, says Coming Soon. Both films were written, directed, and edited by Robert Rodriguez, who was also the composer for the two films. The movie has been praised for its action scenes and for its camera work. This film is about El Mariachi continuing his quest for revenge against a man who has wronged him. It stars Antonio Banderas and Salma Hayek, both of whom deliver electrifying performances.
17. Bad Boys
The directorial debut of Michael Bay, Bad Boys was released in 1995. According to Coming Soon, Bay faced many challenges when making this film, including a tight schedule and production woes. However, it all came together and became a smash hit. The storyline revolves around two Miami cops, played by Will Smith and Martin Lawrence, who are protecting a witness to a major narcotics robbery.
16. Lethal Weapon 3
Released in 1992, Lethal Weapon 3 was directed by Richard Donner, with a script written by Jeffrey Bloom based on characters created by Shane Black. It starred Mel Gibson, Joe Pesci, and Danny Glover. Also in this film are Stuart Wilson and Rene Russo in supporting roles. It was both a critical and commercial success as it received predominantly positive reviews and grossed $321.7 million at the worldwide box office from a budget of $35 million.
15. The Long Kiss Goodnight
This 1996 film starred Geena Davis in the lead role. It was written by Shane Black, who also penned Lethal Weapon. Directed by Renny Harlin, the movie perfectly combines all the explosions and hand combat you would expect from an action movie with an emotional connection to the assassin turned mother and housewife as the main character. Although Geena Davis' acting in this is outstanding, the rest of the cast also make this one of the best films of the 90s. Collider lists other cast members as including Samuel L. Jackson, David Morse, Brian Cox, and Craig Berko.
14. Air Force One
Air Force One is described as an action, drama, thriller film. It was released in 1997, was written by Andrew W. Marlowe, and directed by Wolfgang Peterson. The film is about how Air Force One is hijacked by Communist Radicals while the U.S. President and his family are on board. The President is a war veteran who bravely fights to rescue the hostages on board, while his Vice President in Washington D.C. negotiates. Harrison Ford stars in this film, along with Gary Oldman and Glenn Close. The critical response to this movie has included praise for the dramatic elements of the film and the excellent performances of the actors, with special mentions for Oldman's portrayal of the villain. It has been referred to as 'Die Hard on a plane'.
13. Last Action Hero
Last Action Hero differs from many of the other films on this list as it is fantasy action-comedy film. John Tiernan was the director and co-producer of the film, which was co-written by Shane Black, David Arnott, and William Goldman. Like many action movies of the 90s, it stars Arnold Schwarzenegger. Also starring in this movie are F. Murray Abraham, Art Carney, Charles Dance, and Frank McRae. Initially, Last Action Hero was both a critical and commercial failure. It received negative reviews and grossed only $137.3 million at the worldwide box office from a budget of $85 million. However, it has since become a cult film and has gained a new generation of fans.
12. The Fifth Element
According to Collider, The Fifth Element was director Luc Besson's first box office blockbuster. However, he had already released two successful films in the 1990s; The Professional and La Femme Nikita. Bruce Willis, a proven action film actor, starred in this 1996 film alongside the up-and-coming actress Milla Jovovich. This futuristic action film was all the more interesting thanks to the mysterious worlds with mystical creatures. The action-packed movie also had elements of comedy.
11. Con Air
Released in 1997, Con Air is an action movie you should definitely watch if you haven't seen it already. This film stars Nicolas Cage as a man who is convicted of manslaughter after hitting a man to protect his wife, who is pregnant with his child. When he is released on parole, he travels on a prisoner transport plane to see his wife and daughter for the first time in eight years, say The Young Folks. The other convicts hijack the plane led by Cyrus 'The Virus' Grissom, played by John Malkovich. The characters are amazing and you will soon decide which ones you hate and who you want to escape.
10. Independence Day
Timeout lists Independence Day in the top 50 movies of the 90s, a list which includes all genres. This 1996 science-fiction action film involves the fight between humanity and the threat of alien invasion in a story that gradually builds tension. The scene where the White House is destroyed is one of the most iconic movie scenes from the 90s. This film was directed by Roland Emmerich and starred Jeff Goldblum, Bill Pullman, and Will Smith.
9. Die Hard: With a Vengeance
Each person has their own favorite in the Die Hard series of films, but Die Hard: With a Vengeance is one of the most popular choices, according to Retromash. As with the other Die Hard films, this third installment stars Bruce Willis. It also stars Jeremy Irons and Samuel L. Jackson. This 1995 film has a strong storyline and some outstanding action scenes that make it one of the best action movies of the 90s.
8. True Lies
Gamespot lists True Lies in its list of top underrated action films from the 90s. There are many people who consider this film, which was released in 1994, as one of the best Arnold Schwarzenegger films ever released. His character is juggling the fact that his wife is having an affair with fighting terrorists. The film combines action, drama, and comedy perfectly. Playing opposite Arnold Schwarzenegger was Jamie Lee Curtis.
7. Point Break
Released in 1991, Point Break starred the late Patrick Swayze and Keanu Reeves. It is the opinion of many that Patrick Swayze's character was the role he was born to play. Many have compared Point Break to the Fast and Furious series of films, which were released much later, in terms of their style and action. One of the highlights of Point Break, according to Moviefone is the incredible surfing scenes.
6. Total Recall
Arnold Schwarzenegger was one of the biggest action movie stars of the 90s and he appeared in multiple films during this decade. Released in 1990, Total Recall was his first action film of the 90s. The film was an adaptation of a Philip K. Dick story that combined classic action film scenes with fantastic science-fiction elements, says Moviefone. This movie was directed by Paul Verhoeven.
5. Mission: Impossible
The successful Mission: Impossible franchise began with the first film in 1996, says CBR. Starring Tom Cruise as Ethan Hawke, this movie was directed by Brian De Palma and written by David Koepp. One of the most iconic scenes from 90s movie history is when Hunt is suspended over the NOC-List vault, and there were many films that followed that parodied this famous scene.
4. The Rock
Director Michael Bay had already enjoyed success in the 90s with Bad Boys, but its 1996 sequel The Rock exceeded this success, notes CBR. Looking rather different from his usual appearance, Sean Connery sports a long hairstyle in this film. However, it is Nicolas Cage's acting that really stands out. There are lots of things to love about The Rock if you are an action film fan, as it is full of fights, fireballs, and explosions.
3. Speed
Cultured Vultures describe this 1994 film as putting a unique spin on an action movie premise. Keanu Reeves plays a SWAT cop who must make sure that a bus driver, played by Sandra Bullock, keeps the bus going at a certain speed to avoid a bomb explosion. This film was the feature film directorial debut of Jan De Bont. It was praised for its interesting script and the inventive stunts.
2. Terminator 2: Judgement Day
Terminator 2: Judgement Day hit movie screens in 1991. It had been a long seven years since the first film in The Terminator franchise was released, so this was a much-awaited movie. This James Cameron film transformed the villain from the first film into the hero who was the only hope for humanity. The film starred Arnold Schwarzenegger in the lead role, and it was praised for the action sequences, the performances of the actors, and the innovative special effects, says Cultured Vultures. This film stands out from others in the franchise, and the films that followed could never quite stand up to its brilliance.
1. The Matrix
The Matrix is often ranked in lists of the best action movies from the 90s, including the list by The Young Folks. It is described as an intelligent film with an intriguing story that has many philosophical themes. This film was released in 1999 and it was written and directed by The Wachowskis. Keanu Reeves plays the lead role, and others who starred in this movie include Laurence Fishburne, Carrie-Anne Moss, Hugo Weaving, and Joe Pantoliano. The movie is set in a dystopian future with humanity trapped within The Matrix, which is a simulated reality.