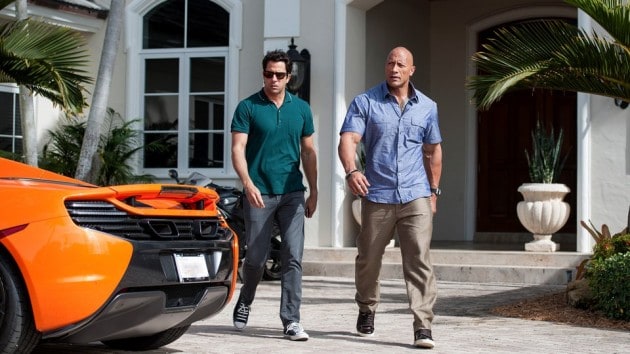 Ballers fans, I have great news! I'm sure you've heard by now, but HBO has renewed Ballers for a second season. I, for one, am excited by this news. As the world this show has established continues to expand, I find myself more and more enthralled by this comedy that also has such a dramatic construct. Ballers has been an unexpected joy in my life, and I'm excited for my coverage to continue.
This week, on Ballers: Joe makes a bold move to try and sign a major client. Ricky struggles with hazing as a new player. Charles is nervous about divided attentions between his wife and a woman he met at the party. Spencer, at Tracy's behest, pays a visit to a neurologist. Jason, Spencer, and Reggie all have different ideas about Vernon's new contract, which creates a rift.
Things on "Heads Will Roll" leaned toward the dramatic. From the beginning, I've had the debate with myself on whether this should be a drama or comedy series. After the last few episodes, I had sold myself on comedy. This episode was designed to make you rethink your stance on that. While it was still funny (because Rob Corddry, that's why), the dramatic chops of our leads were on full display, and it should make for quite an interesting rest of the season. All that being said, I could definitely see this show working as a drama. The actors are talented enough, and the material is there. But, I remain content with the chosen medium, because hey: I love to laugh!
I don't think that Dwayne Johnson's acting prowess should go underestimated. There have been hints about Spencer's possible neurological damage from his football playing days in the previous episodes. However, when moved to the forefront, it brought out some serious insecurities in usually-confident Spencer Strassmore. This show has these little moments that are extremely well crafted, and one of them was the entire scene between Spencer and the doctor. There was quite a bit of nuance in Johnson's performance. My particular favorite moment had Spencer getting his eyes examined, and the doctor asked him a series of questions. Every single answer Spencer gave was a joke. This illustrates a larger picture that the show is trying to paint, which is that we don't think of (retired or current) football players as humans, sometimes. In fact, we often don't think of them at all. Perhaps the greatest element of the show is that these are men with real wants, problems, and needs, rather than a figure on a sports page.
The entire cast gave extremely strong performances this week. Omar Benson Miller and John David Washington both took things to the next level for Charles and Ricky. There is so much depth to be explored for both characters. Miller's Charles is so compelling to watch wrestle with temptation. There is little else that gives a male character so much flaw and humanity to explore. I thoroughly enjoy watching Washington's Ricky in just about any scene. He has charisma and a temper, and it's so compelling to watch him try to control his desires and anger to do the right thing (or more likely, simply continue to play football).
As always, here are some of my favorite quotes/moments from the episode:
-"I'm de captain now"- Joe, as he takes control of the yacht for one more day.
-"You ain't married to a ninja"- Charles, explaining to Ricky why it's bad that a woman has his number
-Ricky: "Shula teach you that?" Larry: "Phil Jackson seminar"
-Joe doing the Victor Cruz dance to Victor Cruz.
-Victor Cruz having lines and not sounding like a robot. Excellent.
There is so much to be pleased with on this show. I didn't laugh as much this week, but partially because I was enthralled with the characters I have become invested in. Ballers has a phenomenal cast, and both the comedy and drama chops to make it last. Congratulations on Season 2.
Ballers airs Sundays at 10/9c on HBO.
[Photo via HBO]