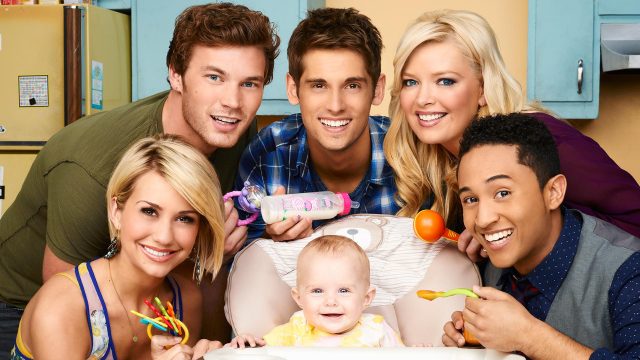 It has been twenty-nine years since the film Three Men and a Baby came out in theaters. The film depicted three men, each with their respective careers, forced to be surrogate fathers when a baby appears on their apartment doorstep. Fast forward to 2016, we see a similar narrative in Freeform's, a cable channel branching off of ABC Family, Baby Daddy, which premiered on June 20th, 2012.
Though I have never seen the film in its entirety, the show reminds me of it in certain aspects. The three men in the show also have their own careers, Ben works in a bar as a bartender, Danny is a professional hockey player for the New York Rangers, and Tucker Dobbs works as a producer for former Entertainment Tonight host Mary Hart's fictional talk show. One minor difference between the show and the film is that two of the men, Ben and Danny Wheeler, are brothers and the third, Tucker Dobbs (Tahj Mowry), is Ben (Jean-Luc Bilodeau) and Danny (Derek Theler)'s best friend/roommate.
Another similarity is that Sylvia (Nancy Travis), the mother of Mary and Angela, the mother of Emma, are both up and coming actresses. They got impregnated by Jack (Ted Danson) and Ben respectively after a night of passion. Talk about your unplanned one night stands. Take note, gentlemen, this could happen to you! Another similarity is the grandmother figure. In the film, it's the landlady Mrs. Hathaway while in the show, it's Ben and Danny's mother Bonnie (Melissa Peterman). They both come to the rescue, so to speak, when there's no babysitter available.
The show is hilarious and at times, a little predictable regarding character personalities and interactions. In the episode "The Dating Game", I knew that Tucker would assume that Zoey wants to go out with him. She was asking if Ben is available for dinner, Tucker thought otherwise. Another example is when Danny was talking to Sam at the bar, trying to set up the latter with Ben. Sam thought that Danny broke up with Riley (Chelsea Kane) and wants to date her. The awkward encounter at Ben, Danny and Tucker's apartment pretty much says it all. I think that the show is not a rip-off, but rather an inspired piece that draws on the film.
Baby Daddy airs on Wednesdays at 8:30/7:30c on Freeform. Photo via Freeform