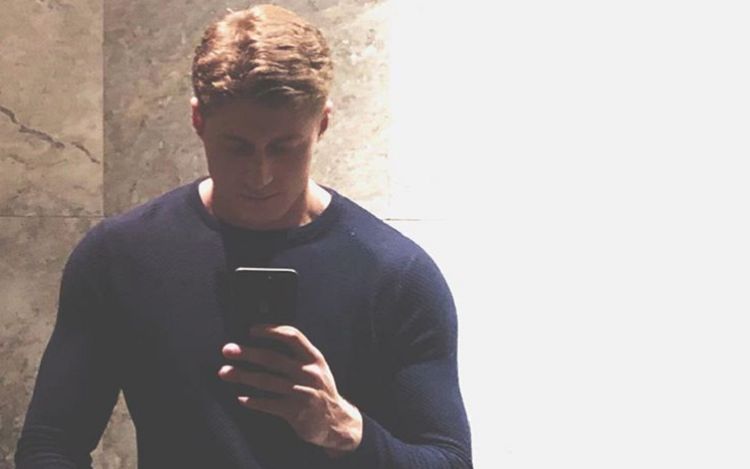 Series based on comics have always been popular as proven by how much "The Flash," "Gotham," and other DC Comics have had a positive reception. "Riverdale," based on Archie Comics, has been so addictive since it premiered in 2017, and now that it is in its fourth season, new faces have been cast. One person who has attracted a lot of curiosity is the handsome Austin Miklautsch. Although he has managed to stay out of the limelight for so long, here is everything we know about him so far.
1. His appearance in "Riverdale."
Austin barely stayed on the screen, but it was enough for him to be noticed. He appeared in season 4, episode three, as Darius, a young male nurse hired by Toni Topaz to look after Nana Rose. When we were getting curious to see how his part would play out, Cheryl Blossom fired him out of her guilty conscience. Cheryl was afraid that Darius would discover the body of Jason that she was hiding, but in a twist of events, it is Toni who finds it.
2. He might have made a lucrative amount from his "Riverdale" casting
According to StyleCaster, the leading cast of the series has a deal of $40,000 per episode. The amount translates to around $800,000 per season for people like KJ Apa, Lili Reinhart, Camilla Mendes, and Cole Sprouse. The rest of the cast does not make as much since Casey Cott allegedly gets $100,000 per season. With Austin making only a brief appearance, he must have made a few thousand dollars, which is a good deal. If he can get to be a regular cast, then the amount will slowly increase to compete with the rest.
3. He has been in plays
Most of us have only known Austin recently, but before he came to the screen, he was already entertaining his audience through plays. Most actors, including Lea Michele, Sarah Jessica Parker, Hugh Jackman, and many more, made their start through theatre. Given that these actors are now in Hollywood and their stars are on an upward trajectory, we can conclude that Austin is the right direction. One play that he has been credited for is "Let us Go out into The Starry Night," where he starred alongside Monika Jesenicnik. The play was directed by Massimo Frau, who also directed "Out West" and "Welcome to the Moon."
4. He has been cast in "The Man in the High Castle."
Fans of "The Man in the High Castle" are upset that the series is coming to an end with the last season that will premiere on November 15, 2019. Austin is in the upcoming season 4 in episode 2 titled "Every Day Out," in which he will play the role of Weltkommando. The show is based on a novel by Philip K. Dick with a similar title and comprises different genres including drama, thriller, science fiction and dystopia.
5. He can be secretive
So far, there is no information about Austin's family, background, or anything else. Matter of fact is that there is no place to get his biography, and he has never given an interview. Although he is relatively new to the television industry, Austin should have let a few details of his life drop, but he is yet to do so.
6. He is already attracting some female attention
Wesley Snipes, one said that he does not see himself as handsome. Instead, he thinks he can charm everyone into liking him, and that is what Austin seems to have mastered. With just a single appearance on television, women are already throwing themselves at hi. On Instagram, one could not hide how much she was stricken by the handsome face saying she has met her future husband. As far as his love life is concerned, Austin is still keeping it under the wraps, so anyone interested might as well make their move now.
7. He is not bashful
Some actors would never go in front of the camera naked no matter how much they are offered, but if Austin were given a chance, he would have no problem. On his Instagram, Austin posted a picture of himself nude, although we can only see the backside. He claims that he is choosing a costume for Halloween, and one fan commented that he already was in a solid costume. Having shown how comfortable he is in front of the camera without any piece of clothing, we hope that producers are keen in case they need an actor to act in a nude scene.
8. He exercises regularly
From the naked picture, it is clear that Austin takes care of his body. After all, that much muscle does not come from eating junk food and remaining inactive. It is, therefore, no surprise that one fan commented that while choosing his Halloween costume, he would have to find one in which all the muscles could fit. Another said that Austin has buns of steel and since he also posted a picture of himself riding along Venice Beach, the work out is doing a lot of good for his body.
9. He cherishes his fans
No matter how famous you get, you should not ignore the people who helped you rise to the top; otherwise, Halsey's "Without Me" will apply to you too. It can be a bit of a challenge trying to respond to all the direct messages that fans may post on your social media, but replying to some comments shows that you at least take your time to go through them. Austin is, therefore, very active on his Instagram, keeping his fans in the know.
10. He has attracted critics
You can never please everyone regardless of how nice you try to be, so you might as well be yourself and do what it is best for you. Some fans wish they had a body like Austin's or got to be as talented as he is praying they never get to audition for the same role as his. Others also like his wardrobe, but some people post their hate in his account. On one particular post, when Austin wears a uniform to resemble Tom Cruise in "Top Gun," one person comments that his ego is writing checks that his body cannot cash.