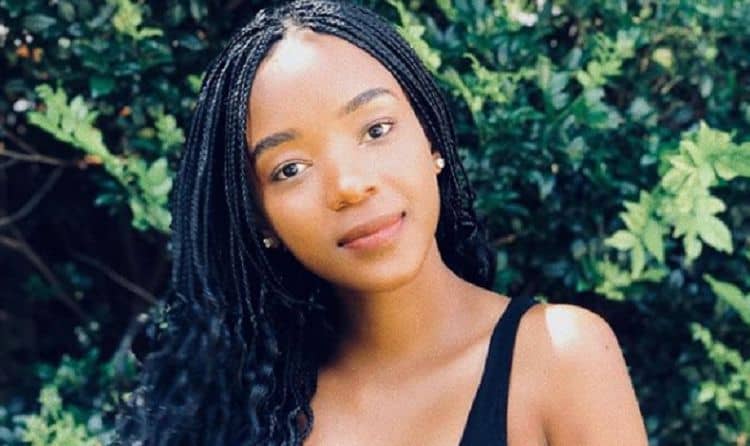 Ama Qamata is a 21-year-old South African actress who Pearl Thusi, the lead in "Queen Sono," said is among the four next big things. Ama has her own credits, having starred in "Gomora," "Rhythm City," "My Perfect Family," and "Commandos: The Mission." Currently, she is hitting the headlines since she will also be in an upcoming Netflix Original series "Blood & Water" alongside Gail Mabalane and Thabang Molaba. Here is everything else you need to know about the actress.
1. She is the lead in "Blood & Water."
Netflix is flaunting a new show "Blood &Water" that will be the second African original series on the streaming platform. It is set to debut on May 20, 2020, and Ama Qamata is playing the lead role of Puleng Khumalo, who investigates the cold case of her older sister, who was abducted at birth. Netflix made a press release saying that Puleng will meet with Fikile Bhele, played by Khosi Ngema, who will be making her debut on the show.
2. What sparked her interest in acting?
Most actors in Hollywood, like Drew Barrymore and Kyla Pratt, started as child actors, and they have become successful even in their adulthood. Ama is following the same path, having portrayed her acting skills in her primary school. She starred as Snow White in a school play, and the performance was so good that teachers and students alike gave her a standing ovation. Since then, Ama knew she could carve a career out of her talent.
3. She has put her studies on hold
Thanks to an early start to her acting career through school plays, Ama joined the University of Cape Town to study theater and performance after completing her education at Reddam House School. Even before getting her degree and becoming a professional actor, Ama booked a role in "Gomora," thus put her studies on hold to film in Johannesburg. In the series, the actress plays Buhle Ndaba, daughter to Thati Ndaba, who rose from a humble background to become a trophy wife and socialite. The series was released in March 2020.
4. She was handpicked for her role in "Gomora."
Angelina Jolie once handpicked several men who were up-and-coming actors to cast in her movie "Unbroken." Quentin Tarantino also handpicked the late Luke Perry because he felt he would be perfect for a role in "Once Upon a Time in Hollywood." That being said, directors usually know which actor will best bring out the character they have in mind, and that was the case with Kutlwano Ditsele. According to Dispatch Live, Ditsele, the executive producer of "Gomora" had worked with Ama in "Blood & Water" where he was the casting director. He, therefore, handpicked her for the role of Bhule in the series.
5. She is a go-getter
One of the things that attracted Ama to her role of Bhule in "Gomora" is how similar she is with the character. Although she agrees that most people will view Bhule as a spoilt child, she saw more than that; according to Ama, she learned that people are complex and not one dimensional. Therefore Bhule only acts as she does due to her upbringing. Still, despite the negative traits, Ama sees herself in Bhule in that she is also confident and always goes after what she wants. It is, therefore, no wonder that she postponed her education to pursue her dreams of being an actress.
6. She is ready to fight for equality in the industry
When she talked to Cosmopolitan, Ama said that people take advantage of young talents by underpaying them because opportunities are limited. However, she is not going to stand for it because as a young actor herself. She wants to ensure that the future generation of actors will find a level playing field. Ama, therefore, urges other new actors to fight for their rights to facilitate the creation of a sustainable and fair acting industry.
7. She is already attracting endorsements
It is no secret that Ama Qamata has a body that most women would be jealous of and one that would make men turn heads. She also does not mind flaunting it on her Instagram with skimpy bikinis, crop tops, and short dresses. Well, if she was looking for attention, she got it because on one of her Instagram posts, Sandwater Swimwear said they would love to work with her as their brand ambassador and she could DM them if she was interested. Sandwater Swimwear is based in Australia, providing swimwear and clothing for the ideal summer look.
8. She comes from a close-knit family
Love is expressed in the little things we do for our loved ones, and Ama could not hide her joy in having her family go to her to celebrate her birthday. She posted on Instagram that during her 21st birthday, she was in Cape Town shooting "Blood & Water," but that did not stop her family from being with her on her special day. They flew from Johannesburg to Cape Town and surprised her. Though she was caught off guard, Ama was so excited to have them that she did not mind being seen with a face mask.
9. She is a Christian
In everything she does, Ama does not fail to recognize God for His grace. She also is an avid listener to Bishop TD Jakes, as revealed on her social media, where she remarked on one of his sermons about jealousy. She also thanked God for giving her a great support system in her family, who took their time to surprise her on her birthday.
10. She has an eye for fashion
Besides her flawless skin and petite frame, Ama could be a good stylist. Nine weeks ago, she posted a picture on Instagram where she wore a green dress during the premiere of "Queen Sono," saying that Louise Boni Clothing Studio turned her vision of the dress into a reality. She looked stunning in the photo that garnered 5,785 likes, with fans saying she looked like a star.
Tell us what's wrong with this post? How could we improve it? :)
Let us improve this post!