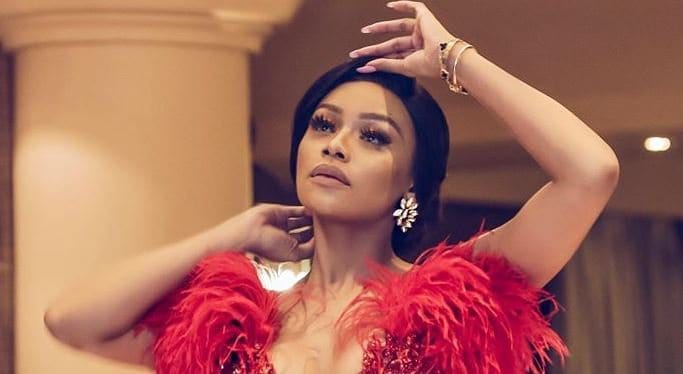 In an alternative world, South African media personality Bonang Matheba would be a primary school teacher. In this one, however, she's an exceptionally talented award-winning television personality with more Christian Louboutin shoes than we can count, a vibrant personality, and a philanthropic spirit to match. Up until she got the call that she was going to be the host of Live Amp, she was just like the rest of us, hoping her dreams would come true. Not one to let an opportunity go to waste, Matheba jumped headfirst, marking her beginning as a force in the South African entertainment scene.
Matheba's career is as diverse as they come. In August of 2012, after a successful run at Live Amp, she called it a day and moved on to host other programs on television including Afternoon Express, the Basetsana Kumalo-run Top Billing, KFC Taste Kitchen, and Clash of the Choirs SA. On radio, Matheba hosted a show dubbed The B* Hive on Y FM, having earned the nickname 'Queen B' during the course of her journey. In 2015, she joined Metro FM, a station with nationwide reach, as the host of The Front Row, a role she gracefully held until 2017.
Outside presenting on television, Bonang Matheba has earned herself the nickname 'The Host with the Most.' For years, she used her solid fan base and impeccable skills to establish herself as an events host, altering her time between club appearances and high-profile events such as the MTV Africa Music Awards, the World Economic Forum, and Miss South Africa. In a 2019 argument with a Twitter user who questioned the rate at which she was getting jobs, Matheba said, " I get those jobs because I'm the best!!" The best she is indeed because her business acumen is second to none. In 2008, Bonang unveiled a clothing line in partnership with Legit dubbed 'Just B'. She would later come up with a handbag collection named 'Baby Star', a linger collection titled 'Distraction by Bonang Matheba', and a champagne brand named 'The House of BNG.' This is in addition to being the ambassador of top brands such as Revlon, Ipanema, Ciroc, Cell C, Samsung, and Courvoisier.
'Being Bonang' and 'Public Figure'
In 2011, Bonang launched the very first South African online reality television show dubbed B*Dazzled. Years later, she would return to the scene with Being Bonang, a reality show that would further catapult her brand, and thrust her cousin Tebogo 'Pinkygirl' Megwe into the limelight. The show premiered on Vuzu, and showcased the media mogul's life; her work, relationship dynamics with friends such as Lorna Maseko and Nigeria's Toke Makinwa, and her then-relationship with rapper Kiernan Forbes. Being Bonang ran for three seasons, after which Bonang hang her boots. Rumors of a sour work relationship with showrunner Legend Manqele rent the airwaves, with Bonang tweeting; "…making Being Bonang Season 3 was one of the worst working experiences of my life!! Glad it's ending…remind me to tell ya'll one day."
In 2019, Bonang released Public Figure, a documentary in which she was both co-producer and subject. Directed by Brian Corso, the documentary was centered around fame, social media, and how famous people handle the attention that comes with the business. Besides having Bonang as a subject, it also featured actress and activist Rose McGowan, who was one of Harvey Weinstein's accusers, Gregory O'Gallagher, Donterio Hundon, Sebastian Tribbe, Rianette Leibowitz, and Emma Rose. Public Figure premiered at the Manchester Film Festival, before making its way to her home audience that received it well. It marked the beginning of Bonang's entry into the film space and production, paving way for A Very Bonang Year.
'A Very Bonang Year'
In 2020, Bonang Matheba Entertainment, in collaboration with Red Button Films, brought us A Very Bonang Year, a two-part series that showcased one of Bonang's busiest years yet. The show followed Bonang on the next chapter of her journey; going global. It featured The Breakfast Club's Charlamagne tha God, and actor Djimon Hounsou. "The bigger you are, the more opportunities you have. I think everybody wants to expand their territory, touch as many lives, influence as many people, experience as many cultures as possible; a little bit in Europe maybe, America. I think that is something that takes a lot of time, a lot of patience, a lot of planning. It takes a great team. One step at a time, hopefully." Bonang said at the beginning of her docuseries. Upon its release on SABC 1, the show broke the channel's viewership records, with more than 1.8 million viewers tuning in . The documentary received a nomination at the South African Film and Television Awards, and most recently, it was re-released on MultiChoice's streaming platform, Showmax. In an enthusiastic tweet, the streamer said it was 'giving the people what they want', much to the excitement of bonang's army, 'the B-Force.'
A Very Bonang Year is not the last we are seeing of Queen B, since she always has something up her sleeve. If her recent move to New York is anything to go by, it's only a matter of time before another film hits our screens, or another product floods our timelines. The Host with the Most is always in competition with herself. In an interview with MTC Namibia, Bonang said,"  I got into the industry thinking, 'I want to please Bonang', because I want Bonang when she hits that pillow at night… I'm the only person. I'm alone. I have to be happy. Everybody else I only see when I switch on my car, drive to a studio, switch on my phone, or whatever it is. So, the gratification had to happen within myself." Gratify herself she has. She lives and breathes her passion, and it's the magic that keeps her on her toes. It's easy to do it when you love it, right? Bonang recently celebrated her 34th birthday, and her move to New York is only but the beginning. She fully abides by her mantra, regardless of what comes her way, and we'd like to pass it on to you: " Rise Above. Return Hate with Love. Kill Them with Kindness, and Bury Them with Success."