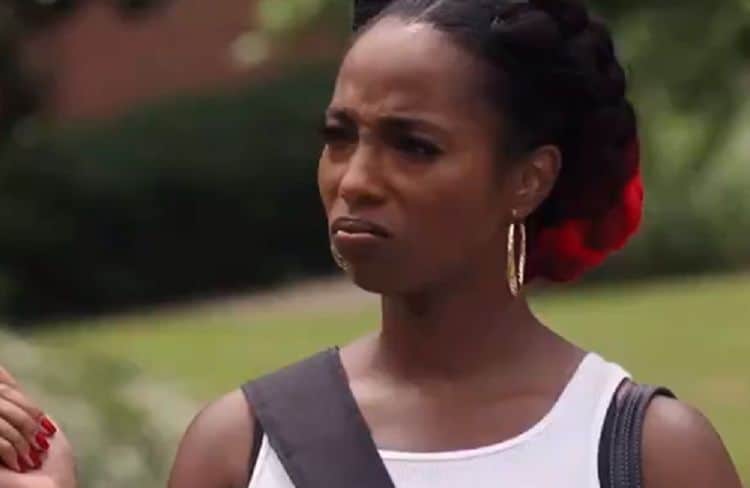 If BET is your channel of choice, then high chances are that you have come across the American comedy series Bigger. The show focuses on five friends, all in their thirties trying to get a bearing of their lives in Atlanta. The show's main cast is five friends. Of the friends, Tracey Davis has the personality, and behind the role is Rasheda Crockett. A glance at the character she assumes at the show may generate interest in who she is. If you have an interest in knowing more about Rasheda Crockett, you are in the right place as we furnish you with ten things you did not know about her.
1. Her Childhood
According to Mylife, Rasheda was born on 27th July 1985, which means she is currently 34 years old. She was born in seven fields Philadelphia before later on moving to New York, where she stayed in long island. Not much information is available about her parents and whether or not she has siblings. Looking at her complexion, it is safe to land on the conclusion that she is of African American ancestry.
2. Her Beginnings
Many entertainers pay heed to their calling when they are young and gives them a bearing of where to head with their dreams when they come of age. This fact is actual when you bring Rasheda Crockett into play. On her website she states that she started in the film industry when she was quite young, getting roles as a child actor. However, due to schooling and other stuff, she had to shelf the film plans and got back when she was done with school. At school, she had valuable lessons that would see her flourish in the entertainment industry.
3. Education
Rasheda Crockett is quite the learned fellow with honors to her name. Having an education makes her adaptable to various situations and is a perfect complement to her career in the entertainment scene. After high school, she got admitted to Temple University in 2003. She graduated in 2007 with a degree in business administration. She, later on, proceeded to her post-graduate studies in 2011 at the Duquesne University School of Law. She graduated in 2012 with a Doctor of Law degree. It is surprising, to say the least, when you find out that the comic actress is a law degree holder.
4. Writing Career
Rasheda is versatile, and looking at her website confirms this fact to you, courtesy of the various job titles she holds. Among her job descriptions is a writer. Writing in the entertainment sector is a tremendous complementing career as it introduces you to a whole new dimension in acting, more so in character development. She has written extensively, with her focus being in short films and web series. Among her notable works is Yes And, a web series focusing on the lives of two roommates in New York City and their juicy career and love lives.
5. Stints In Production
When you say that Crockett is an all-round professional in the film scene, you may as well hit her proper description, aside from acting and writing, she has also had behind the scene stints in the production level as a manager and coordinator. She created production schedules for the set and was also the link between the executives and actors and directors. She also made the hiring of both professions, forming aa vital cog in the gears system of production. With such experience, she has the right know-how of the filming industry that can push her to incredible heights.
6. Career In Comedy
An interaction session with Rasheda can have you in one ride of a tongue in cheek moment. She is quite funny, and, surprisingly, she did not fully venture into standup comedy. However, she made another venture into the comic side of acting and features both as a comedy writer and actor. In most of the roles she assumes, there is the comedy aspect that she brings and helps elevate the show.
7. Her Thoughts On Marginalization
It is no secret that there is marginalization in the comedy sector, especially when looking at black comedians. While over the years, they have been able to make the cut and several talented comedians cementing their place as one of the best, it is not the same case for black comediennes and comediennes in general. According to MIC, she thinks that there is a need for some equality in the sector, both in pay and opportunities.
8. Relationship
It is no secret that Rasheda Crockett is a looker, and her beautiful appearance defines her. The situation brings the question of who she is dating and who she dated before. In keeping up with her closed book persona, no information is available about her relationship status. The same applies to whether she has kids or not.
9. Her Hidden Skills
Aside from acting and writing, she has other skills that may not be evident when you see her on the screen. One of the skills is balloon animal making. It is a remarkable skill that maybe can be topped by her almost perfect impersonation of Olivia Pope. Be good to her, and she may give in to your goodness, and she will show you this side of hers.
10. Her Net Worth
While she is very private about her personal life, it is not enough to quell the curiosity fire from her fans, who, among many things, want to know her worth. Though not clear, some sites put the value somewhere between $100k and $250k. It is a decent sum that shows how much hard work she puts in whatever she does.
Conclusion:
Rasheda Crockett is a versatile name in the entertainment sector, and she is proficient in several roles from acting to writing. She is very private about her life though we have some sneak peeks into her life that may interest you if you are her fan. You can catch her in various shows on the BET channel or her website and get in touch with her blogs.