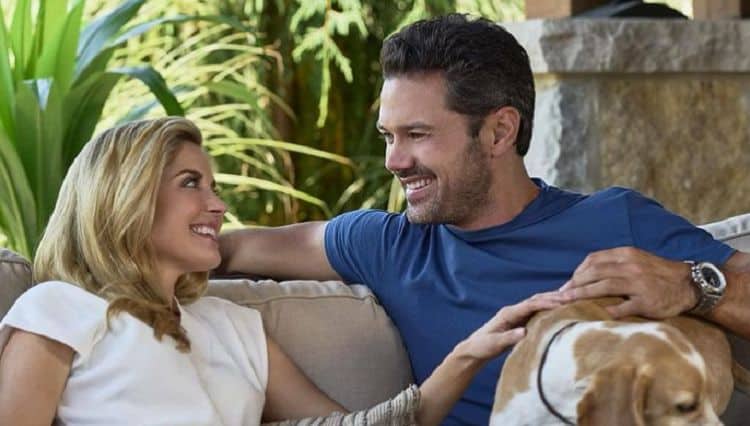 Jen Lilley is a face you recognize. Her name is one you recognize. Whether you know her from her time on daytime television or you know her from her many Hallmark movies, you know Jen Lilley. She's a lovely human being who has done amazing things with her life. She has a large fan base, and she's constantly doing new things that make her fans fall even more in love with her than they already are. If you aren't familiar with Jen Lilley, it's time for you to get to know her.
1. She's a Daytime Soap Star
She's most famous for her famed roles in daytime television. She is most famous for her role on "Days of Our Lives," where she was cast as the newly created Theresa Donovan – she went on to cause a lot of problems on the show as her character…exactly what fans love. She also worked spent time working as a temporary Maxie Jones on "General Hospital," when Kirsten Storms was on medical leave.
2. She is an 80s Girl
Lilley is a girl from the 80s. Her childhood did not include cell phones. There was no such thing as social media. She can hear the dial up internet sound in the back of her mind – but she likely didn't even hear that sound for the first time until she was in her teens. She was born on August 4, 1984.
3. She is a Virginia Girl
She was born and raised in Virginia. Specifically, she was born and raised in Roanoke. She and her two brothers and her one sister lived with their mom and dad. She graduated high school in her hometown, and she did not venture far to start her college career. She graduated magna cum laude with honors from the University of Virginia. Of course, this intelligent young woman also graduated early.
4. She is Married
Jen Lilley is a married woman, and she's been married a while. She and her husband, Jason Wayne, got married back in 2007. They had a lovely May wedding, and they had a good decade together after their wedding that was just for the two of them. They eventually had kids, and their family has expanded significantly.
5. She's A Mom
What sets Jen Lilley apart from so many other moms is that she has her own biological baby, but she also has two adopted babies. She and her husband became foster parents in 2016, nine years into their own marriage, and they adopted both of their foster sons in 2019. Shortly after their adoption was finalized, she and her husband welcomed their daughter into the world after she gave birth.
6. Their Adoption Process Was Long
When they adopted their two foster boys, it was not at the same time. They first adopted their son, Kayden, on June 10, 2019. He was with them for 984 days in foster care prior to their adoption. Their second son, Jeffrey, was adopted at the age of 2 on October 30, 2020. They had him in foster care for 846 days with them before they were able to finalize his adoption. Jeffrey is the half-brother of their son Kayden.
7. She Knew her Son's Mother Was Pregnant First
"I have loved this little one since his momma's first sonogram. She didn't know, but I knew she was pregnant, and I prayed for this little baby boy every single day. When we got the call that he was in foster care, and they weren't sure if he would be able to come live with us, I was wrecked. How could I ever explain to the boys that we didn't keep them together? Where would he go? Not all foster homes are loving," she said of their journey to get this little boy into their lives.
8. She Appreciates Her Husband
Lilley is a woman who is not in her marriage for 'the time being,' or until things are rocky. She's in it for life. She calls her husband kind, sweet, the most secure, and so many other loving, kind things. She is a wife who is in this for life, and she comes across as the kind of woman who does not make things complicated. They love one another, they respect one another, they are a team. That's really all there is to it, after all.
9. She is a Singer
In case you thought she was just a talented actress, a loving wife, and a beautiful mom, you'd be mistaken. She is a woman who is also a talented singer. Truly, we have yet to find anything she is not good at doing.
10. Her Family Comes First
We don't even have to hear her say this. We can just tell. Her family is the most important thing in the world to her, and there is no decision as easy as the one that allows her to always put them first. She will not go out of her way to do anything else.
Tell us what's wrong with this post? How could we improve it? :)
Let us improve this post!