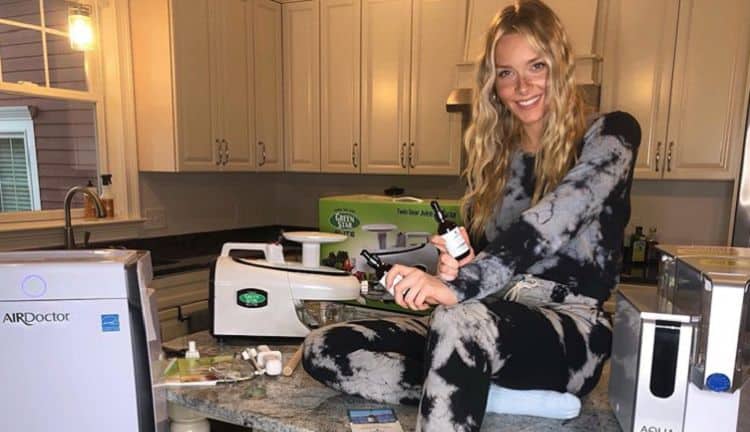 In the world of models there are simply too many to keep track of at times since they seem to come and go so often. But right now Camille Kostek is riding a pretty big wave of popularity that has a lot to do with who she's with and a lot to do with what she's done in her life. She's been a model now for a while and despite what a lot of people might think she is an intelligent young woman and she has had to work for it for a good deal of her life. Models do seem to live the life of luxury but at the same time they also have busy lives that take them all over the place and keep them hustling to stay in shape and to stay relevant. Being beautiful and seen as a prominent sex symbol is something that a lot of people are divided on when it comes to thinking that it's important or not, but overall she's made her own reputation and is sticking with it.
Here are a few things you might not have known about Camille.
10. She's the girlfriend of Rob Gronkowski, tight end for the New England Patriots.
This is a big reason why she's so well known at this point since the Patriots did just win one of the most lackluster Superbowls, but it was their sixth title and therefore they've become one of the absolute greatest dynasties in the NFL. And she's the girlfriend of one of them so that makes her a bit more famous by association.
9. Camille is also a Sports Illustrated swimsuit model.
This too is a very big up in her career since it's not every model that gets to be featured in SI and for some it's an absolute dream since it is a rather prestigious magazine that gets distributed throughout the world and as a result gives its models a great deal of exposure.
8. She's very active on social media.
A lot of models seem to have followers in the hundreds of thousands if not millions and it would seem like a lot of effort to keep up on all this. But quite honestly it's likely that she only has to share so many posts and pictures every so often to keep her followers and even attract new ones.
7. Camille is a former cheerleader for the Patriots.
This too is a big reason why she's popular probably since she's been around the organization for a while now and has been pretty involved in the workings of the team in her own way. Cheerleaders are just as competitive as anyone after all since you can't just walk onto the squad and expect to be picked.
6. She's actually friends with Rams quarterback Jared Goff.
This had to be kind of rough during the last Superbowl since cheering on your man and watching a friend get manhandled on the field isn't always that easy. But since she's with Gronk she had to kind of just shrug and watch it happen as she cheered on her team.
5. She has no problem clapping back at Patriot-haters.
This is the team she cheered for and that her boyfriend is a big part of after all so it's not too surprising that she would go ahead and clap back at the many haters the team has. The whole idea of 'they hate us 'cause they ain't us' attitude though is going to wear thin after a while, especially if the Patriots ever get beaten down the ranks.
4. She's been dancing since the age of 3.
It's fair to say that she had high hopes for what she wanted to do since she was very young since she's been involved in dance for quite a while. At this point it would seem that she's focusing more on her modeling career but there's no doubt she could go back into dancing if she wanted to.
3. Camille hosted a university news show when she was in college.
She was pretty passionate about a few things in her younger years and while it wouldn't be surprising to see her diversify in the future it also seems as though she's pretty happy doing what she's doing at the moment.
2. If you can believe it, she actually got rejected by several modeling agencies.
When you're first starting out in any business rejection is something that you almost need to become intimate with since it's bound to happen at least a few dozen times or so until you find your groove and someone decides to take a chance on you.
1. She's made brief appearances in TV and films.
It's likely that you'd have to slow down whatever show or movie she's been in just to see where she's at, or not, but she's had limited screen time at this point in her career.
Right now it would seem she's riding pretty high on her boyfriend's career.