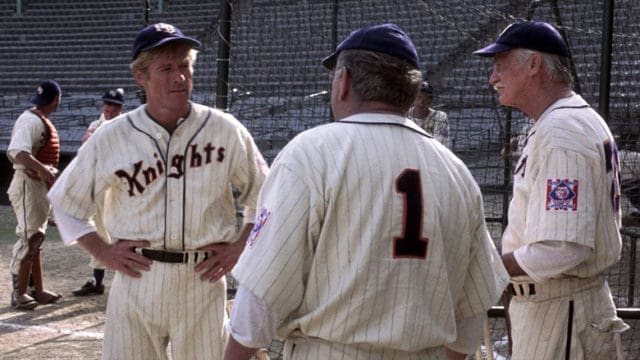 Many of us who are baseball fans still remember the 1984 film "The Natural." It starred Robert Redford as the male lead and a young Kim Basinger just starting out in her young career. And who could forget Wilford Brimley has head coach "Pop?" It's widely considered to be one of the greatest baseball movies ever made. However, even after close to 40 years there are some things we still don't know about the film. Here are 10 things about the movie that you didn't know.
1. The movie was inspired by a real story
In 1949 a woman who was stalking one of the baseball players in Chicago, actually shot a player with a gun. This inspired Bernard Malamud to write a book about it in 1952. The book and the story served as the inspirations behind the 1984 film "The Natural."
2. The woman who committed the crime disappeared
For many years, the woman who committed the crime of shooting the ball player seemed to disappear off the radar. The incident seemed to be forgotten until somebody noticed that her obituary appeared in a Chicago Tribune Newspaper. Ruth Ann Steinhagen passed away at the age of 83.
3. Steinhagen was a teenager at the time
At the time of the shooting, Ruth Ann Steinhagen was only 19 years old. This seemed to be a senseless shooting, but as investigators dug a little deeper they discovered that she had developed a crush o teh first baseman Eddie Waitkus of the Chicago Cubs. She would set a place for him at the family dinner table and had built a shrine to him in her room. She even slept with his photo under her pillow at night. When Waitkus was traded to the Phillies, something in her twisted mind told her that she must kill him and this is when she committed the crime.
4. Steinhagen invited the player to her hotel room
Ruth reserved a hotel room near Wrigley field and wrote a note to Waitkus telling him that she had something important to share with him. He took the bait and after arriving at the room, she invited him to sit down. She said she had a surprise for him and went to a closet where she had a rifle. She shot him in the chest but he survived the ordeal and lived to play baseball again.
5. Redford's character is based on the life of Waitkus
Although the film doesn't follow the Waitkus story precisely we do see some basic elements that let us know it was at least inspirational.
6. The original "Natural" baseball player passed away before the film was made
Eddie Waitkus didn't die as a result of his shooting. Although it was a near brush with death, the player recovered and went on to play for five more seasons. He lived until 1972 when he passed away. He lived for twenty three years after his terrific ordeal.
7. The shooter in the movie differs from the real life femme fatale
Barbara Hershey plays the role of the character that shoots Redford's character Roy Hobbs. She commits suicide after shooting Hobbs. The real life shooter Ruth Steinhagen went on to live her life to the ripe old age of 83.
8. "The Natural" takes place nearly 20 years earier than the actual event
While Waitkus was shot in 1949, "The Natural" was set in an earlier time period. It happened in the 1930s. Waitkus was a major leaguer at the time that he is shot, but Hobbs has a great deal of talent, but has not yet made it to the majors.
9. Steinhagen was ruled as being insane.
It was obvious to law enforcement who handled the case that there was something deeply disturbed about Ruth Ann. She was committed to an insane asylum instead of going to jail. She underwent electroconvulsive shock therapy in an attempt to treat her mental illness. After yet more extensive therapy methods, she was determined to be cured and was released to live out the rest of her life.
10. There was never a trial or conviction for Waitkus shooting
Because of her mental condition ruled as insanity, Ruth Ann Steinhagen got off with a plea of insanity. After a few years of therapy, she was ruled as sane and released into society. She was never required to stand trial for the crime that she had committed and didn't have to go to jail for the premeditated attempted murder of the ball player.