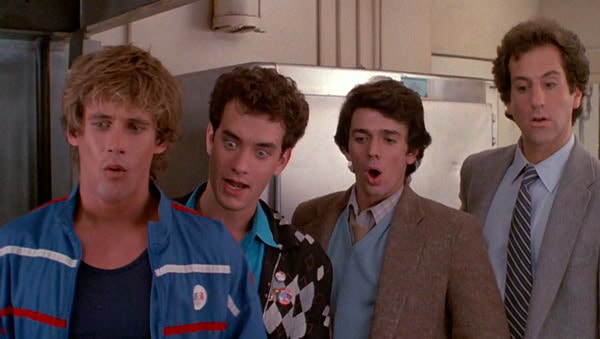 A lot of men look forward to that magical night right before their wedding when they get to enjoy the wonderful debauchery and good time that is known as the Bachelor Party. No, most men won't go and watch the movie unless they're under strict orders not to do anything stupid or otherwise suspect. But a lot of guys will at least have friends that are willing to treat them to something illicit or at least questionable when it comes to their last hurrah. The only thing is that a lot of guys say stuff like 'this is your last night as a free man', when quite honestly the groom wasn't a free man for a while before the wedding.
Honestly, monogamy to some guys is thought to be a type of wood.
10. Kelly McGillis and Paul Reiser were picked originally for the lead roles.
The unfortunate part is that they didn't have an onscreen chemistry so the pairing wasn't successful at all. For a movie like this the leads need to be able to stand each other.
9. This movie was inspired by a real bachelor party.
Producer Bob Israel was given a bachelor party very similar to this one, and much of the cast and crew were there when the idea to make a movie about it came around.
8. Kelly McGillis was fired early on in the production.
She was fired due to the fact that she just wasn't pretty enough for the role.
7. Some of the films in the theater scene are real while others are just made up.
It's easy enough to see that some are fake from the names that have been switched around while those that are real are films that were popular during the time.
6. Ted McGinley had to turn down a role in this film.
He was going to play the part of Ryko but he had a scheduling problem since he was filming Revenge of the Nerds at the same time.
5. The sequel didn't come out until 24 years later.
Originally the sequel was going to be a remake instead but it was decided that it would be a follow-up to the original movie. It didn't do all that well since a lot of people have actually forgotten about the original.
4. One of the writers has a cameo.
It's not much really, he plays the role of a screaming man that's kind of there and gone within a few seconds.
3. The movie had to contend with the ongoing success of Police Academy.
This could be why it was so easily forgotten, following in the wake of a movie like Police Academy is kind of a difficult task for any film.
2. It came out to mixed reviews.
Some people thought that the humor was too vulgar and inappropriate while others absolutely loved it and thought it was one of Tom Hanks' best performances.
1. It had a very modest budget.
The budget was around $6 million and it made well over $30 million so it definitely counts as a success, but a moderate one.
It's the kind of night that a lot of grooms look forward to, but never fully expect.
Tell us what's wrong with this post? How could we improve it? :)
Let us improve this post!