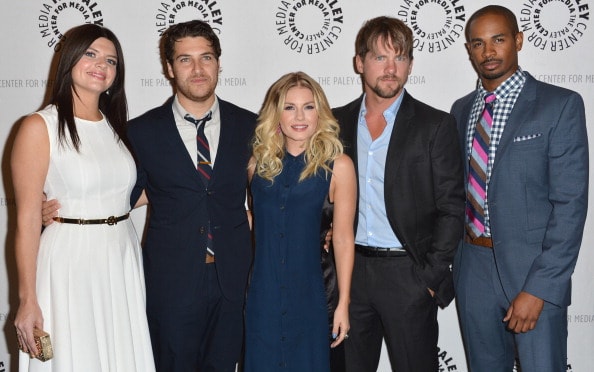 Last week something ah-mazing happened. The twitter account belonging to the writers of the beloved ABC comedy Happy Endings, tweeted a message that would link its followers to a countdown with the message "It's almost a new day." The countdown will take us to April Fool's Day, which could mean this is all one big joke, but fans of the series that was cancelled in 2013 are all hoping this could mean a reunion of sorts for the funniest ensemble to appear on television since Friends. The twitter account continues to leave fans baffled with the added tweets of YouTube videos featuring Ketchup. The bio for the account has also been updated to read: Winter comes twice in 2015. With all this hype devoted to our favorite sitcom, we decided to provide a list for our readers about the series' cast. Here are ten things you may not know about the cast of Happy Endings.
1. Love is in the air
Casey Wilson may have played the looking for love Penny Hartz, but in really life Wilson has found her true love. Wilson began dating Happy Endings creator David Caspe in 2011. The two first met when Wilson auditioned for her role on the series in 2010. The couple would eventually tie the knot on May 25, 2014 after getting engaged in September of 2013. The couple is now expecting their first child this Spring. Caspe is also the creator of the NBC comedy Marry Me, which stars Wilson and Ken Marino.
2. Work through the pain
Eliza Coupe recently starred in the USA comedy Benched, which was just as funny as Happy Endings. Sadly, USA decided to cancel the series which also starred Jay Harrington and Oscar Nunez after the first season concluded earlier this year. Coupe's ankle was broken while filming the entire season of the series. Since she was playing a lawyer, her outfits would require the actress to wear high heels. However, when the camera was not showing her feet, Coupe would have her ankle wrapped in ice to help with the pain.
3. Working for Disney
Before he decided to follow in his family's footsteps and become an actor, Happy Endings' David Wayans Jr. had other career ideas. He briefly went to school to become an animator with hopes of one day working for Disney. Once he found out how much an animator makes, he decided to give acting a try. Wayans was still able to work for Disney as he just voiced the character Wasabi in the film Big Hero Six.
4. Law & Order Alum
The Law & Order franchise has been know to recycle stars on all of its show. This holds true for Happy Endings' Zachary Knighton. The actor starred in a 2001 episode of Law & Order that was about a reality star that ends up murdering one of his castmates. Three years later, Knighton would make an appearance on a 2004 episode of Law & Order: Special Victims Unit. The episode was about a murdered girl and how she was bullied by her classmates.
5. A former model
If Happy Endings' Elisha Cuthbert did not make it as an actress, she could have fell back on the career she started as a child. While she was living in Canada, Cuthbert was a model for children's clothing. Additionally, the actress was a foot model for a brief period of time beginning at the age of 10. She was contacted by a company that found her resume and she ended up modeling their shoes.
6. Improv Group Member
After Happy Endings' Adam Pally graduated from the New School University in New York City, the actor would go on to join the improv and sketch comedy group The Upright Citizens Brigade. Other members of the group include Pally's cast mates Casey Wilson and Eliza Coupe. Pally has joined other groups including Chubby Skinny Kids and Hot Sauce, which he still performs with today.
7. Saturday Night Live vet
Casey Wilson got her first big break on television by starring on the late night sketch comedy series Saturday Night Live. Wilson auditioned for the part in 2007 and would be filling the void of the recently departed Maya Ruldolph. Wilson would be the first new addition to the cast in two years and be the first star of the series to be born in the 80's. She was fired from the show after the end of the 2009 season. Some of the characters that Wilson played include Rachael Ray, Jennifer Aniston, and Katy Perry.
8. A Hot 100 Contender
Elisha Cuthbert has the honor of being named to Maxin magazine's Hot 100 list 10 times between 2002 and 2013. She was not included on the list in 2005 and 2010. She reentered the list after making her debut on Happy Endings in 2011. She rated as high as number six for the 2008 issue of the men's magazine. She has also been included on FHM's list several times.
9. Stand Up Comedy
Prior to acting on television and movies, Damon Wayans Jr. decided to brave the world of stand up comedy. In order to become more independent from his family's name, the Happy Endings star used the stage name Kyle Green when he performed. He would even appear with his father on the sketch comedy series The Underground, where he also served as a writer. The actor appeared on Way Out TV, an internet based comedy show that his father launched in 2007.
10. Nominated for Numerous Awards
The cast of Happy Endings have received numerous award nominations for their work on the comedy series. Damon Wayans Jr. was nominated for a Teen Choice Award, Image Award, and Critics Choice Award for playing Brad Williams. In 2013, Adam Pally received a Critics Choice nomination for playing Max Blum during season 3. Casey Wilson was nominated that same year as well and also in 2012. Plus, she received a Teen Choice Award in 2012. The series was named the Unsung TV Show of the year by the Gay and Lesbian Entertainment Critics Association in 2013.
Do you know any other interesting facts about the cast of Happy Endings? Let us know in the comments section below.
Photo by Alberto E. Rodriguez/Getty Images