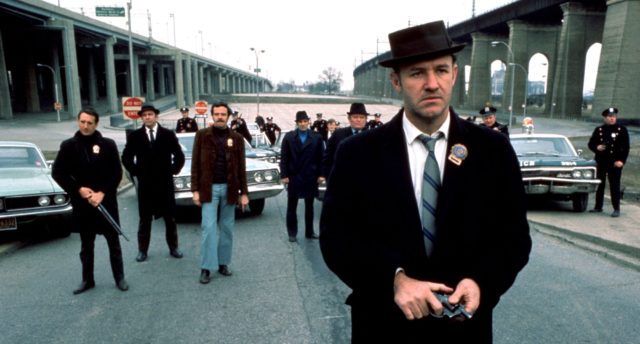 The notorious Popeye Doyle was made famous by this film that features two cops that are onto something when they suspect a drug deal about to go down in their town and almost bust it up. The dealers get away and even taunt the cops, making it a personal matter as Doyle and his partner, Cloudy, make it their personal mission to hunt down the drug dealers and catch them in the act. When the time finally does come for the bust to go down the cops manage to nab several of the criminals, but the one that Doyle wanted the worst manages to get away. The rest are given lighter sentences due to a lack of evidence.
It's not a necessarily feelgood movie when it comes to drug dealers getting busted.
10. The car crash was very real.
The crash at Stillwell and 86th was very real. The man whose car was hit was about to go to work when his vehicle was smashed into. Thankfully he was compensated for the damages.
9. The Santa Claus trick was a real thing.
This was used because criminals had grown wise to undercover cops and could spot them right away. No one ever suspected Santa Claus.
8. The proper permits weren't obtained for the car chase through the city.
They had a lot of help from police officers both on and off duty to do crowd control for some areas but in others the near-misses were all too real.
7. The movie didn't have a huge budget.
This explains the weird camera angles and the shaky quality of the shot at times since they would have a guy being pushed around in a wheelchair holding a camera.
6. The straw hat in the back of the car meant the undercover cops were on duty.
This was a universal sign that most, if not all, cops knew in New York.
5. Hackman and Scheider had to ride around with the real detectives that inspired the movie.
It's said that Hackman was kind of sickened by what he saw in the city and had to help restrain a suspect at one point. He was worried that he would be charged for impersonating a cop.
4. The extras used in the first bar scene were all police officers.
If it was a cop bar it would make sense considering that not a lot of people tend to go to such bars that aren't related to or have something to do with the police force. At least that used to be a thing.
3. Hackman had a hard time speaking Doyle's lines.
Doyle had a lot of racist lines that Hackman had a hard time saying during the film.
2. The heroin test used actual heroin.
I get the feeling that a lot of movies wouldn't be able to pull this off today. Usually you would hear about cornstarch or some other substance that looked similar to heroin.
1. There were no sets built for this movie.
That's how low the budget was, they had to use what they could and do what they could with their surroundings.
For all the hardship it took to make this film a lot of people still remember it fondly.