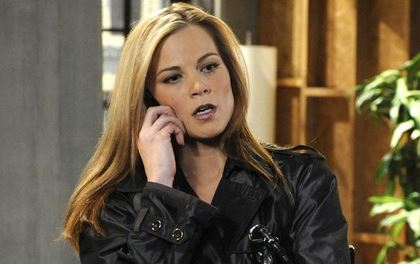 Young and the Restless spoilers tell us that Phyllis is going to make a few life-changing decisions in the near future. She's been on board with Jack for a while, but she's got to stop. She knows now that Billy does not care for Jack and won't have anything to do with him. She wants to keep Billy in her life, and she can't spend any more time with Jack if she'd like to make that happen. She's got to cut ties with him completely, so she's working on that right now.
She has to do this so she can beat Victoria, and that means she's going to need to take her side. She's finally realizing that the best way for her to take down this enemy is to treat her well. She can't offend Billy by offending Vickie, and we have to say we are impressed with her new attitude about all this. She's working quietly behind the scenes to get what she wants, which is the best way to do it.
Of course, Jack might not like it and might make it difficult for her to leave his control. Could he blackmail her? Could he flat out tell her friends what is going on and that she's been behind the scenes trying to take down Vickie? That won't go over well with Billy, but he might just decide it's time to let this one go and see if he can work her from another angle. Jack does very little without the actual help of his own devious plans, so he might just let her walk away from him so he can use her later. It might be more useful to him this way. Either way, we can't wait to see her tell him she's done. It's going to be good.