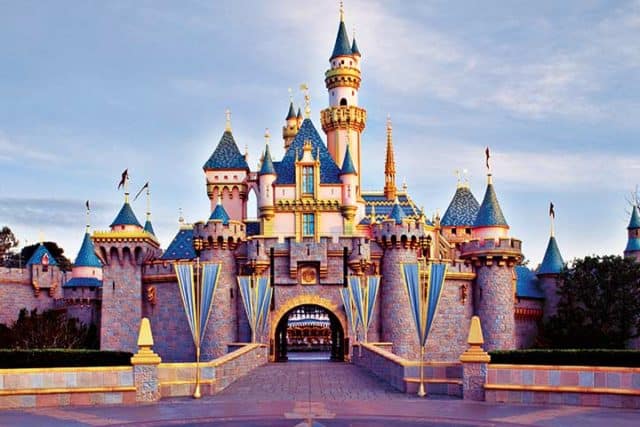 Have you ever been to Disneyland and wondered why you never see a janitor or a groundskeeper picking trash bags out of the many trash cans that are to be found around the park? Well you can try but you'll never see them unless you manage to stick your head into the can, which wouldn't be good idea. There are piped hidden under every trash can in Disneyland that are able to suck trash downward at around 60 mph into the rubbish tunnels that exist below the park. This happens around every 20 minutes, which is why you won't be likely to see a trash can overflowing unless the traffic is that heavy or something is stuck. But again, sticking your head or hand down there isn't a good idea, and thankfully it's kind of impossible in some cases.
Obviously Disney wants to keep everything in the park clean so you won't see anyone riding around on a golf cart that's laden with trash bags that are bursting at the seams. But a lot of people might not have known that there is a tunnel system beneath the park and that a good part of it is dedicated to trash removal. So as to keep the park as neat as possible and no showcase any gross, overflowing trash cans that are spilling stuff into the street, the tunnel system works to keep the image of Disneyland as neat and clean as possible. If you figure that every 20 minutes the cans are emptied into these tunnels it should be easy to reason that tons of garbage per month are eliminated without anyone being the wiser. Because really, what is a person going to be doing at Disneyland, watching the characters and the attractions, or watching the trash cans?
That same tunnel system is for more than just the garbage too. The entire network of tunnels beneath the park also serves as a means for workers and characters to move around so that people won't ever see a character in the wrong land. These tunnels also include wardrobes where the characters can change and a hairstylist so that those, such as the princesses, that don't wear a full-body costume can get a quick change of character so that they can go out and play the designated part. The secrets that Disneyland doesn't share with people on a regular basis seem to come as a shock to many, but in truth this is how Disneyland maintains its high standards and magical appearance.
If people really knew about the effort and the hardships that went into working for the Magic Kingdom they might stop grousing about the cost, just a little not a lot, and realize that if people were really getting paid what they wanted then only the super-rich would be able to visit the park. It's not a cheap visit to start with by any means, but with the kind of lengths that are taken to keep the park functional and continually glamorous now you can at least understand why.